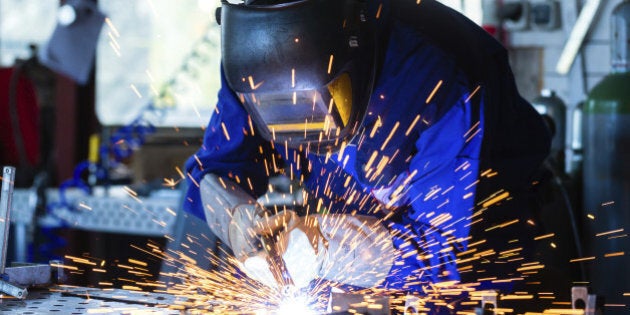 Canada's manufacturing sector is experiencing something of a recovery. The loonie is down, helping exports, and the U.S. economy -- the largest source of demand for manufacturers -- is undergoing what appears to be a sustained recovery.
Ontario, which accounts for about half of all manufacturing jobs in Canada, saw manufacturing sales jump 2.3 per cent in May. But manufacturers shed more than 4,800 jobs, or about 0.7 per cent of the total.
As bad as that sounds, it's actually an improvement. Between 2006 and 2011, Canada lost an average of 3.9 per cent of all manufacturing jobs, or one in 25, every year. Clearly, the pace of job losses is slowing down.
But why are these losses happening in the first place? Many have long blamed offshoring for the phenomenon, and that is certainly part of the story. But economists are increasingly coming around to the idea that automation -- the process of adopting new technologies -- is actually the larger part of the story. Simply put, machines are taking these jobs.
Economists call automation a productivity gain -- you make more using less, and in the long run, higher productivity means a wealthier economy. But in the short run, it means job losses.
There is also the fact that Canada's economy is changing, and money is flowing to different places than it used to.
While manufacturing suffered deeply during the Great Recession, rock-bottom interest rates spurred housing construction and high energy prices brought billions in investment to Canada's oil and gas sectors. These industries boomed, while manufacturing withered.
The long-term effect of this is obvious: The number of manufacturing jobs in Canada has shrunk by 14 per cent in the past six years, with the total now at 1.47 million jobs, down from 1.7 million before the start of the Great Recession.
Ontario has about 649,000 manufacturing jobs today, down from 760,000 before the Great Recession.
With the U.S. economy expanding at a brisk 4-per-cent growth rate in the latest quarter, most Canadian economists expect to see manufacturing sales accelerate in the second half of this year. But at this point we can be almost certain this will be a jobless boom.
But get this: Even in Alberta, the number of manufacturing jobs is lower today than before the Great Recession -- 135,000 in May of this year, versus 140,000 in May of 2008, before the recession.
That alone may be the strongest indicator that these jobs aren't coming back. If booming Alberta can't stop the rise of the machines, probably no one can.