It's not surprising that Canada would choose meaningful names for its provinces and territories, but thanks to a map created by Expedia Canada, we now know the exact origins of each.
While some are pretty obvious, such as British Columbia and the Northwest Territories, others reveal the Great White North's fascinating history.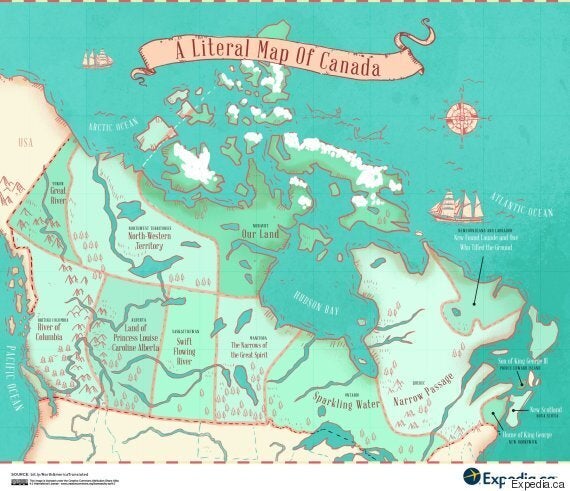 Alberta, for instance, translates to "Land of Princess Louise Caroline Alberta," who was the fourth daughter of Queen Victoria. According to the Government of Canada's website, Alberta was originally a district of the Northwest Territories in 1882, but became an official province in 1905. It's kept the same name ever since.
New Brunswick ("Home of King George") and Prince Edward Island ("Son of King George III") also got their names thanks to Canada's connection with British royalty. The former was named after King George III, who was also known as the Duke of Brunswick in a town in Germany, while the latter went by many names but was renamed after Prince Edward — the fourth son of King George III and the father of Queen Victoria — by the English in 1799.
A number of provinces and territories also originated from indigenous words. Ontario, for example, comes from the Iroquois word "kanadario," meaning "sparkling" water, and Yukon comes from the native word "Yu-kun-ah," meaning "great river."
Expedia also created a map of the U.S. revealing the name origins of the country's states.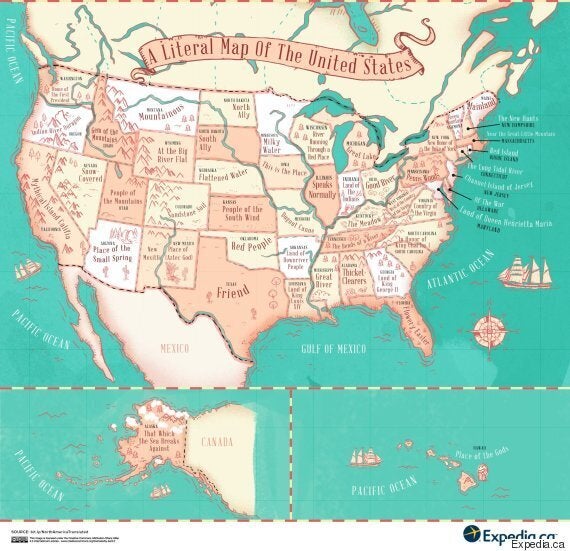 One standout name is Texas, which translates to "friend." This is because the Mexican province used to be independent of the U.S. and was originally pronounced "ta-shas." This pronunciation came from the name "taysha" — meaning "friends" — that was used by a Texas tribe called Caddo.
Popular in the Community