Marc Hull-Jacquin is in the business of changing lives. He's the founder and executive director of The Shelter Movers of Toronto, a non-profit that offers moving services to women leaving abusive homes. But on top of offering trucks and moving boxes to women in abusive situations, the non-profit moving service also offers emotional and physical support to those who need to re-enter their former homes.
It's a huge undertaking for one person but Hull-Jacquin is no ordinary man. He's proven his worth as a community leader and a worthy opponent of the status quo and he does it while raising his three children.
He's the embodiment of the INFINITI driver -- progressive, driven and dedicated to making a difference in the world -- so in partnership with them, we introduce you to one Canadian you should know.
1) What was the moment in your life when you realized that you needed to do something big?
I started Shelter Movers while I was on parental leave. I have three kids and I was thinking about raising girls today and what they face. When I started learning about violence against women, I realized that it's something we can't just accept anymore. I thought maybe I could invest a bit in my daughter's future and also educate my son about what it means to be a better man. So really, my kids are my inspiration for Shelter Movers.
2) The day-to-day operations of an organization can get a little mundane, what fuels your passion and motivates you to keep going?
We make it a point at Shelter Movers to ensure that everyone, even our most senior people, are involved on the ground and living the experience. I was helping with a move just last night. It's rewarding to meet the people we serve and hear their stories. Their courage is what keeps me going.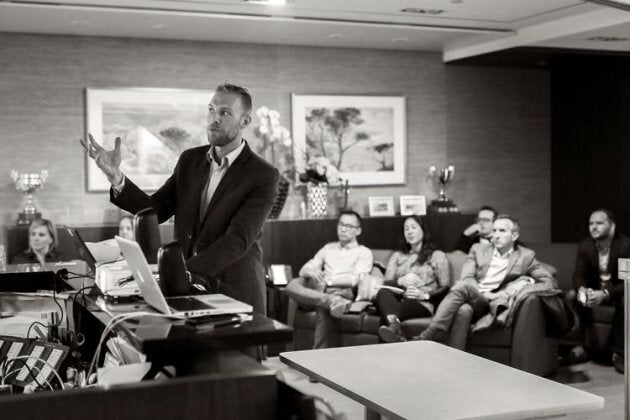 3) What's been the most challenging part about running a non-profit?
It's been hard to balance Shelter Movers with my day job and family. The challenge we're facing right now is keeping up with demand. Shelter Movers is the only service of its kind in Canada.
What we're noticing is that word of our service is getting out in the community and beyond. We're getting phone calls from across the country asking if we exist there and why don't we open there. So we're figuring out how we're going to grow, how many families we can serve and how quickly can we serve them. It's a good problem to have. The rate of responsible growth is a bit of a challenge because we want to offer a high level of service wherever we work.
4) What can we do as ordinary citizens to ensure people who are in these situations feel comfortable coming forward and asking for help?
I think the first question we need to ask ourselves is whether we're okay with violence against women. If the answer is "no," then we have an obligation to let people in those situations know that they are not alone and that help is available.
Violence is allowed to persist when it's kept out of the public eye, so when we are approaching potential survivors of abuse, we can let them know there are people they can talk to confidentially. There is also the opportunity to contribute to organizations like Shelter Movers through our website or by volunteering.
5) What does it take to be a community leader?
Having a personal investment in solving the issue is what drives most people to change. People don't just get up and change the world because they just feel like. They usually have something tied to their family or life. I don't have personal experience with domestic violence but I've met enough people who have and that's enough for me to know that we have to do something about it.
Dare to be a leader and experience a drive that represents the best in human potential by visiting INFINITI.