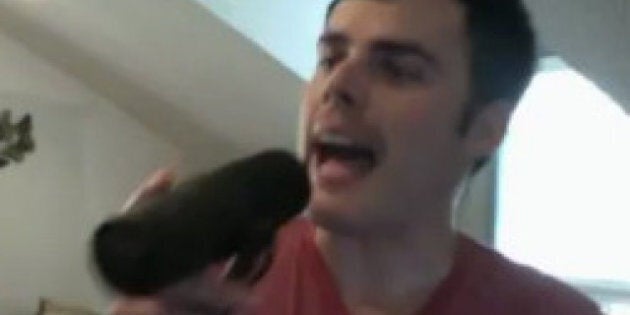 By the time Marc Martel finishes his Freddie Mercury impression -- a stripped down, living-room rendition of a Queen classic -- it's clear that we have found somebody to love.
Since 'Somebody To Love' was posted on YouTube on September 20, the 34-year-old Canadian's home recording has amassed nearly 1.2 million views.
The clip was part of an audition for the Queen Extravaganza, a contest marking the 40th anniversary of the legendary rockers. Mercury, their iconic frontman, died in 1991. Drummer Roger Taylor is organizing the event, which will see selected singers taking stages across North America to pay tribute to the band.
While voting doesn't start until Nov. 14, Martel has already emerged a landslide favourite.
"If Marc Martel doesn't win," tweets Nick Seaman, "It will be a travesty."
The performance itself couldn't seem less contrived, except, perhaps, for the 'dirty moustache' Martel cultivated for the audition -- a nod to the iconic Queen frontman who died in 1991.
Martel distills the song to its bare essence, a no-frills performance anchored by a voice that's almost eerily Mercuryesque.
"I thought lyrically, that song is so perfect for right now," he told the Wall Street Journal. "It's just a guy crying out that he's tired and can't get ahead, and most people in America can relate to that…I know I can."
While their vocal styles bear an uncanny similarity, Martel doesn't seem to share much else in common with his unlikely muse.
A consummate showman with a penchant for on-stage spectacle, Mercury was born in Zanzibar as Farrokh Bulsara. While he had dated women, Mercury was known to be bisexual.
Martel's band, Downhere, was formed at a bible college in Saskatchewan -- a Gospel and Christian rock outfit that would subsequently earn three Juno awards. The band has since moved to Nashville, Tennessee.
"Our music may come from a biblical standpoint but we don't shy away from true experiences – doubt, loss, pain, sorrow – we want to deal with all of that," Martel told the WSJ. "Queen's repertoire deals with those emotions and feelings too and I love singing their music because at the end of the day, it's just true."
He also seems to be loving the sudden catapult to internet stardom.
"I'm not gonna lie," he tweeted Thursday. "This is really fun to watch. Thanks everyone!"
Later that day, he added, "Just broke half a million views, so I think I'll peel myself away from the computer for an hour and have dinner with my wife :)"
Popular in the Community