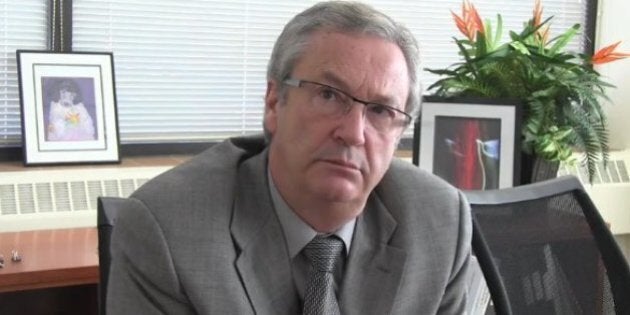 OTTAWA — The head of Elections Canada says he's worried political parties are increasingly targeting their messages to certain segments of the population to win power while writing off the rest of the country.
In a wide-ranging interview with The Huffington Post Canada Wednesday, Marc Mayrand said that's concerning because it means political parties are not reflecting the views of the whole citizenry.
"When parties start to write off large segments of the population, I think you need to be worried about that," he said.
The Conservative Party of Canada is better known for its ability to target certain messages to political communities, such as gun owners, anti-abortionists, and certain immigrant communities like the Tamil diaspora in the Greater Toronto Area, but it's not the only political party to engage in micro-targeting.
Although Mayrand said he expects Canadians will see more refined targeting, as is the case in the United States where political parties design specific messages aimed at engaging people on issues they care about, he urged Canadians and parliamentarians to think of ways a broader collective of Canadians could be engaged in the democratic process.
In responding to a HuffPost reader question, the chief electoral officer suggested mandatory voting would be one solution since it requires parties to reach out to a "broader base of electors rather than targeting certain groups." He also suggested that adopting a system of proportional representation would give parties and candidates an "interest in reaching a broader group of electors rather than simply focusing on those that they need (in order) to win the campaign."
It is up to Parliament, of course, to change the laws. Mayrand and Yves Côté, the commissioner of Elections Canada, have called for updated legislation, saying they need the power to compel witnesses to speak and gather physical evidence, and stiffer penalties to deter election fraud. However, the federal government still hasn't tabled the long-promised changes.
"We remain committed to strengthening our electoral system," she said.
HuffPost sat down with Mayrand to talk about the changes he wants to see and the ongoing robocall investigation. He also took several of your questions. Here's an edited transcript of that Questions and Answers session.
Q: Why are there no consequences when MPs, such as Manitoba Conservative Shelly Glover, currently the minister of heritage, exceed election spending limits?
A: "I don't think we should say there are no consequences."
Mayrand said Glover filed updated returns after he wrote to the Speaker of the House of Commons this spring and he suggested that, as is the case with any candidate, the overspending is being investigated by the Commissioner. "The file is continuing its due life."
Q: Why is Michael Sona the only person charged so far in the robocalls case? One of the investigators said he didn't think that Sona was working alone. Does Elections Canada still believe other players are involved?
A: "The evidence gathered so far points to Mr. Sona. The Commissioner is looking at other matters related to robocalls and he has indicated he will table a report this spring so we will find out more where things stand with regards to robocalls."
"They can't speculate, they have to be guided by the evidence that they can collect and so far that evidence has pointed out to the individual in Guelph."
Mayrand would not say whether evidence suggests Sona was solely responsible, only that the evidence supports charges against him.
Q: Is it possible that there will be other people charged in the robocall cases in other ridings — such as the six that were the subject of the federal court case?
A: "Yes, but it will be up to the commissioner to determine whether the evidence warrants further charges."
Q: Do you think public confidence in Elections Canada will take a hit if the agency loses the case against Sona?
A: "That will be up to the courts. I won't speculate. We have to understand that that investigators certainly are of the view that they have the evidence they need to support the charges, the commissioner is also, and we shouldn't forget that the director of public prosecution believes that the evidence supports the charges. Now it is up to the court to determine what sort of verdict should come out."
Q: Why does it take so long for Elections Canada to complete an investigation?
A: "I think that's one of the issues Canadians are concerned with. The law currently forces investigators to go through alternative routes to get information that could otherwise be provided easily. It adds time, it adds complexity, and if people don't want to talk, at some point in time, it may lead to a dead end for the investigators."
Mayrand said the length of time investigations take bothers him personally and he believes they should be wrapped up during the same electoral cycle. "We shouldn't have to wait three elections to find out whether there was cheating or not."
Q: What powers would Elections Canada like to have in order to fully investigate cases of electoral fraud?
A: "Power to compel witnesses. People who have information or can be reasonably expected to have information about a case should be compelled to provide testimony to the investigator, and also produce documents or evidence that they may have in their possession."
Mayrand said some regulators, such as the CRTC and the Competition Bureau, and several election provincial agencies, like those in Alberta, Manitoba, Ontario, Quebec, N.B., and N.S., currently have broader powers than Elections Canada.
Now, those powers are central to Elections Canada's ability to carry out investigations, he said.
Mayrand said he would also like political parties and riding associations to fork over more details about their spending — right now, only candidates file detailed financial reports — so Elections Canada can do a better job of following the money. He has also called for stiffer penalties that could deter crimes from happening in the first place.
Q: Why can't cases just go to arbitration for a ruling?
A: "We can't under the current legislation."
In 2010, Mayrand recommended Parliament look at alternative measures for enforcement, such as fines in cases of inadvertent overspending. He suggested that a campaign that overspent be denied a large portion of their reimbursement — 60 per cent of a candidate's expenses are reimbursed by the taxpayer. Fines would be more appropriate and proportionate, Mayrand said, and criminal prosecutions should only be reserved for the most severe non-compliance.
"Right now, there are over 400 offences created under the Elections Act and many of them require proof of intent, they all require the proof beyond a reasonable doubt and they all have to go in front of a criminal court. I don't think it's a proper or effective use of public resources to use such a hammer for dealing (when) many of the offences do not put the system in jeopardy."
Q: Why did Elections Canada accept at face value the help with the investigation that the Conservative Party of Canada offered?
A: "Why not, if they have information that is relevant?"
Mayrand said investigators go out "with the limited powers they have" and knock on doors asking people if they have information. "The responsibility of the investigator is to assess the quality of the information and whether it is corroborated by other sources and that's what investigations are all about."
"Our investigators are top notch, very experienced and that they do have access to the resources they need to carry their work. But again, without a proper legal framework, again it adds time and complexity to their work."
Q: Why did Elections Canada allow Conservative party lawyer Arthur Hamilton to take part in the questioning of witness and/or attend their interviews?
A: "It is not unusual for people to ask to be accompanied, either by a friend, a family member or a lawyer."
Mayrand said the witness has to agree to the presence of the third party.
He said allegations that Hamilton was there to represent the Conservative Party of Canada rather than the witnesses will be dealt with in court. "I think everyone will be able to assess what was done exactly in these matters."
Q: Why is Elections Canada focusing just on Guelph, rather than all the other ridings where election fraud occurred?
A: "The Guelph investigation was the most advanced. It was the first one that was brought to the attention of the commissioner and the commissioner was able to hit the ground very quickly on this one, so it is not surprising that it is more advanced than the others. But the commissioner is carrying investigations with regards with the other cases, and he will be tabling a report on the status of the investigation by early spring."
Mayrand said Elections Canada prioritizes what investigations it will pursue based on the nature of the complaints, how complete they are, and the specific nature of the offence that is being alleged.
"Priority will be given to cases where the offence really jeopardizes the whole system, e.g. robocalls, overspending, illegal contributions, that sort of things comes first because our whole system is based on the notion of having a levelled playing field. And the legislation places pretty specific standards on how much you can spend, and how much you can raise and from whom and those are the tenets of our political financing regime and it is designed to ensure that there is fairness in the system. So, anything that has to do with those matters would be considered a priority, as opposed to a report being late."
Q: Have you investigated cases of prête-nom (strawmen) voting regimes at the federal level?
A: "We have to somewhat careful. As long as they are written from a proper source and under the limit provided by the legislation, there is no reason for us to inquire further. The whole system is based on the vigilance of Canadians, they may know things about certain fundraising events that they may or should bring to our attention, that may warrant some further action on our part. But currently, we have no other information than the name, the amount, and the address of contributors."
Mayrand said Elections Canada doesn't even know if the individual whose name is behind a contribution is the person who claimed the equivalent tax receipt.
Q: I think Canadians would be surprised to hear you say, "the whole system is based on the vigilance of Canadians." I think Canadians mostly believe that you are in charge of policing.
A: "Yes, but the system is based on self-reporting. It's based on candidates and their official agents, and parties and their financial agents, and EDAs and their financial agents producing financial information and having that information rendered public so Canadians can assess what is happening. We can and do have an audit service that detects quite some things (he points to Conservative MP Peter Penashue's overspending as an example).
But we also depend on the vigilance of Canadians bringing wrongdoing to our attention. The robocall investigation happened because Canadians brought it to our attention."
Q: You mentioned it is important to create a level playing field. Right now, political campaign spending is only capped during election campaigns. Do you think there should be laws governing how much parties are allowed to spend between elections?
A: "That is something for Parliament to consider. I pointed out to them that with the fixed election date now, the legislation we have doesn't deal with pre-writ expenditures and knowing well in advance that the next election will be on October 19, 2015. I would not be surprised if we see an avalanche of spending. Some provinces have been more or less successful in dealing with this matter. I think it is something that would probably come up in the next election — I would be surprised if it doesn't come up. Parliament has been alerted, hopefully they will have a look at it and decide whether they should be doing something or they are happy with the status quo. But again a level playing field may be taking a different sense at that point."
Q: Are there any sitting MPs who you think shouldn't be there because they, or someone working on their behalf, broke the rules governing their election?
A: Mayrand points out that there are several MPs accused of breaching the law, including most recently Peterborough MP Dean Del Mastro. But he said, it's hard to tell whether overspending helps any candidate win their seat.
"It's very difficult to tell. Money seems to be quite important in campaigns — to such an extent that sometimes parties or an individual will overspend, so they believe that money will help. But I am not aware of any expert study that has found conclusively that money will necessarily, in all cases, determine a quantified advantage to campaigners."
Q: This government seems to have a very antagonistic relationship with Elections Canada.
"I'm not sure what is the benefit of doing that honestly. I try not to assume intentions or malice from some people. Our job, especially when we deal with compliance issues, is to deal with the facts that are in front of us. And other considerations are minor in that regard."
Q: Are you frustrated with repeating the same message for three years?
A: "Hey, you have to be persistent to be heard!"
Mayrand said he hopes that the federal government passes new legislation before next year's summer break. "We need much lead time for Elections Canada, but also for campaigners, for parties and for voters. We all need to know the rules in advance so that we can adjust our behaviour accordingly."
Canada's chief electoral officer says his agency needs more power to fully investigate election law breaches like the misleading robocalls in Guelph during the last federal election, as well as more money to ensure political parties follow the rules in what will soon be 338 federal ridings.

Marc Mayrand and elections commissioner Yves Côté are both speaking out in advance of next week's Throne Speech about what they feel must be done to ensure clean elections.

In his first annual report released last week, Côté said he aims to conclude a robocalls investigation before March 31, 2014. The probe will shed light on how automated phone calls were used to misdirect Guelph voters to the wrong polling stations.

Côté also called for changes to the Canada Elections Act to give him more power to investigate serious violations and quickly deal with minor infractions.

On Wednesday, Mayrand is sitting down for an interview with HuffPost Canada's Ottawa bureau chief Althia Raj — and we want to know what questions you'd like answered.

Do you want to know...

Why Michael Sona, 24, is the only person charged so far in the robocalls case?

What can be done to get young people involved in the political process?

What is needed to ensure political parties are transparent and accountable?

While we expect tough questions, you'll be more likely to get an answer if you keep things respectful.

Leave your questions in the comments below or reach out to us on Facebook or Twitter. And don't forget to check back here to read the answers.