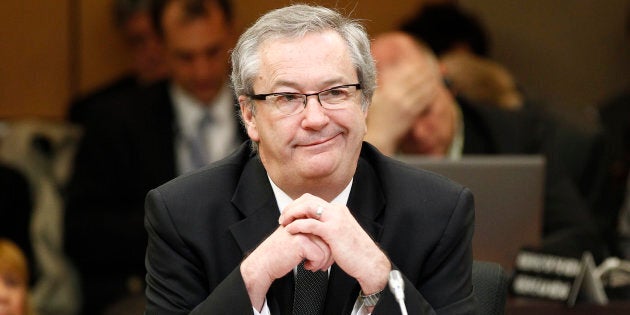 OTTAWA — The federal government's new election bill falls seriously short of expectations when it comes to safeguarding Canadians' private information, Canada's former chief electoral officer says.
"On the issue of privacy, I must say, I would have liked much better," Mayrand told HuffPost. "I'm surprised, given all the discussion around privacy, that government and political institutions, like political parties, would not show the lead on issues of privacy.
"How can they pretend to impose all sorts of rules on Facebook and Google and all other social media when they are declining to have them apply to themselves?"
In what Mayrand judged "a very small step," the new bill will require political parties to post a policy on the treatment of people's personal information: how they use, collect and protect it. Parties will be required to state how they train employees on safeguarding private data, and to provide contact information for a person to whom concerns can be addressed.
The bill also states that parties must publish the circumstances under which personal information may be sold, although federal officials said they were unaware of any cases in which this had happened.
The Elections Modernization Act, however, contains no independent verification measures and no penalties for violations.
"It certainly falls short in terms of enforcement," Mayrand said. "... There is no monitoring of how the policy is being applied."
There are also, he noted, no assurances that Canadians will find out about breaches, nor avenues for them to request to see the information parties hold about them. The legislation is silent on whether parties can trade the data to anybody or whether they must obtain people's consent to collect the data, he said.
"We've all heard about people signing petitions and suddenly finding their way into the database of political parties, I don't think that those people signing a petition necessarily meant to consent to have their data collected and being used by political entities."
There are a number of universal principles about privacy that the government ignored, Mayrand said.
Following the robocall scandal of the 2011 general election — in which a Conservative party list of non-supporters was used to call some voters and direct them to nonexistent polling stations — the chief electoral officer made a number of privacy-related recommendations.
"Robocall was a breach of privacy when you think about it. It's somebody downloading a list from the database of a party, so that was a significant breach."
He recommended parties use third-party privacy auditors who could sign off on whether policies are in place and whether they are being adhered to — similar to the way financial auditors look at political parties' records.
Another expert blasts 'cosmetic' fix
"I had proposed ... that, should they fail to get a third-party certification of their compliance with the policy, that they not be allowed to get the list of electors, which is gold for them. That would have been a significant incentive for parties to take privacy, certainly more transparently and, in my mind, more seriously."
Teresa Scassa, Canada research chair in information law at the University of Ottawa, has also blasted the government for what she calls "an almost contemptuous and entirely cosmetic quick fix designed to deflect attention from the very serious privacy issues raised by the use of personal information by political parties."
Scassa, in a blog post, also raises concerns that parties won't have to meet the same standards that are applied in the private sector, let alone the federal government. Like Mayrand, she notes:
there is no requirement to obtain consent for any collection,

no requirement that collection be limited to only what is necessary to achieve any stated purpose,

no data retention limits,

no right to access or correct the information held by parties,

and no external complaints mechanism available.
"This is clearly not good enough," she writes.
The acting minister of democratic institutions, Scott Brison, told reporters last week that he will be asking the House of Commons committee studying the bill to review recommendations on privacy standards and will ask its MPs to conduct a longer term study on political parties' privacy responsibilities. The Commons' procedure and House affairs committee had previously discussed privacy recommendations but couldn't come to an all-party agreement.
Blake Richards, the Conservative critic for democratic institutions, told HuffPost he is "reasonably comfortable" with what's in Bill C-76 and he sees no need for an outside auditor.
"I think it's important that Canadians should expect that political parties will be respecting their privacy, and there should be some policy around this. This bill certainly puts that in place, so I'm not uncomfortable with that."
Green Party Leader Elizabeth May, however, thinks political parties should have been placed under the jurisdiction of the privacy commissioner.
May plans to introduce an amendment to make parties subject to the Privacy Act — something she tried to do during debate on the Tories' Fair Elections Act. No MP voted with her that time.
Mayrand doesn't think the privacy commissioner needs to be looped in. Yasmin Dawood, the
Canada research chair in democracy, constitutionalism, and electoral law at the University of Toronto agrees.
While the privacy commissioner isn't given the ability to oversee political parties, Dawood said, her sense is that "what the bill is trying to do is try to buttress the ability of Elections Canada to engage in that oversight with a little bit more of a robust power behind it."
If parties fail to post a privacy policy, the bill suggests, they could be denied registration by Elections Canada.
Dawood is one of the law professors who wrote an open letter warning that the Conservatives' previous changes would make elections less fair and less open. The Liberals' new bill, she feels, is aimed at reversing a number of changes brought in in 2014 (by returning the use of vouching for a voter's identification and the use of voter information cards as a secondary form of identification) and is an attempt to address new challenges, such as the spread of fake news and foreign influence in the election process.
The bill, she and Mayrand both argue, does a good job of making the democratic process fairer and more accessible to voters, especially disabled voters, and to candidates.
But one thing she feels is probably "under-addressed" is the new threats governments all round the world are struggling to deal with.
"It's hard to know how to address it. ... How would we have an administrative or a regulatory structure that would actually address those problems, but doesn't interfere too much in people's privacy and doesn't interfere too much in people's liberty?"
Mayrand also feels the provisions in Bill C-76 won't stop what happened in the last U.S. presidential election or what we saw in the United Kingdom's Brexit referendum.
"It's new territory, nobody around the world has figured out how you effectively, efficiently manage foreign influence and foreign money."
While the new legislation introduced measures that should facilitate tracking foreign money, as well as false and misleading documents, fraudulent or misleading information, it's only a first step, he said.
"I'm not sure how much further the government could have gone, given that this is new territory. I think we need to keep an open mind and be ready to continue to adjust as things evolve."
The task of implementing these proposed changes will fall on the shoulders of a new chief electoral officer: Stéphane Perrault. Perrault's candidacy for the top job was announced Tuesday. He is currently the acting chief electoral officer, having served as Mayrand's deputy for nine years.
Last month, Perrault warned the government that if it wanted a smooth-running and trouble-free election in 2019, it needed to pass legislation before the end of April.
"Time is quickly running out," he told MPs then.
"We are now at a point where the implementation of new legislation will likely involve some compromises."