Could Quebec Cardinal Marc Ouellet become the next pope?
Following the sudden resignation of Pope Benedict XVI the former Archbishop of Quebec has emerged as a real contender for the papacy.
Another British betting house, Ladbrokes, gives him one-to-three odds of getting the job.
Cardinal Peter Turkson of Ghana, who heads the Vatican's justice and peace department, is also in the running, while Nigerian cardinal Francis Arinze, rounds out the top three for both bookies.
Story continues under gallery.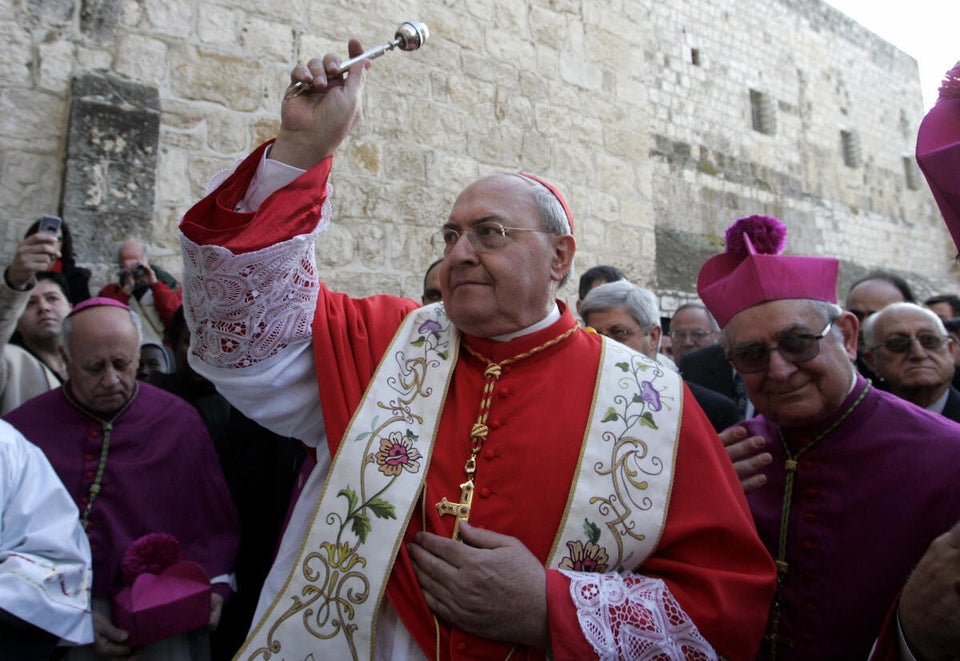 Who Will Be The Next Pope?
Pope Benedict XVI , born Joseph Aloisius Ratzinger, had only spent seven years as pontiff before announcing his departure -- becoming the first pope to step down from the post in almost 600 years.
He cited "advanced age" for his decision. Benedict assumed the title at the age of 78.
Ouelett was born on June 8, 1944 near Amos, in northwestern Quebec. According to policymic, he's one of eight children born to a headmaster father and housewife mother.
Ouellet has proven no stranger to controversy in his time with the Church. The Canadian Press characterizes him as a determined opponent to same-sex marriage legislation, even testifying at a 2005 Canadian Senate hearing on the subject.
At the time, he expressed concern that Bill C-38 would brand people of religion bigots and homophobes.
As the Montreal Gazette reports, Ouellet became head of the Congregation for Bishops in July 2010, the Vatican agency that appoints bishops worldwide.
That appointment sparked speculation that he was in a position to be a serious contender for the papacy.
"And I don't think that I will become a pope someday, I don't think so."
That same year, he told LeSoleil that the papacy was not something he aspired to.
In the light-hearted interview, Ouellet said becoming pope "would be a nightmare."
Last year we said that our money was on Ouellet. His rank among the betters has shot up dramatically.

What His Election Would Mean: It's a global Church now. His work in helping to vet and select bishops would give him the ability as pope to dramatically shape the Church for a generation or more.

Reasons He'll Get Elected: Most qualified. He speaks English, French, Portuguese, Italian, Spanish and German fluently. He has done missionary work in South America.

Reasons He Might Not Get Elected: He might decline. (You can decline your election) He has given every indication that papacy is a "crushing responsibility" that he would hesitate to take. Then again, that is exactly what makes him an attractive candidate.
More from Andy Blatchford, The Canadian Press:
MONTREAL - If a Canadian does become the next pope and spiritual leader to the world's one billion Catholics, the story of his ascension will begin, appropriately enough, with a hockey injury.
The moment of divine inspiration when Marc Cardinal Ouellet decided he should pursue the priesthood came as he nursed a broken leg, sustained during a game.
As the 17-year-old future cardinal rested his aching leg, he had a lot of extra time to think.
"That was the special moment," Ouellet told The Canadian Press in a 2005 interview before Joseph Ratzinger became Pope Benedict XVI.
"I lost my season, but I was stopped. I was very much active — over active, hyperactive — and suddenly I started to pray and to read a little more spiritual things because I was unable to play. It was decisive for my vocation."
Longtime friend Lionel Gendron, a Quebec bishop, said his pal was a good hockey player. He was studying in the province's northwest to be a teacher, and the injury gave him time to think.
"He reflected on the meaning of life," said Gendron, a bishop from the Saint-Jean-Longueuil diocese who first met Ouellet in 1965.
Ouellet, 68, is now being touted as one of the likeliest successors — perhaps even the favourite — to take over from Pope Benedict XVI.
On Monday, Benedict became the first pontiff to step down in 600 years when he declared he would resign Feb. 28, citing a lack of strength to do the job.
A pair of foreign bookmakers have ranked Ouellet, who heads the Vatican's office for bishops, as one of their three likeliest candidates.
One Canadian who will help elect the next pope was reticent Monday when asked about Ouellet's chances.
"I've known Cardinal Ouelette for many, many years," said Thomas Cardinal Collins, Archbishop of Toronto. "He's a wonderful cardinal... I think it's too early to speculate upon the profile of who should be the next pope."
Collins, Ouellet and retired cardinal Jean-Claude Turcotte will travel to Vatican City to participate in conclaves during which ballots will be cast for Benedict's successor.
Ouellet, named a cardinal in 2003 by Pope John Paul II, hails from the tiny Quebec village of La Motte, nearly 500 kilometres northwest of Ottawa. He was named by Pope Benedict in 2010 to head the powerful Congregation for Bishops, which vets bishops nominations worldwide.
One expert in the church described Ouellet's resume as one packed with impressive credentials — including his intellectual abilities, his experience as a bishop and the Roman Catholic Primate of Canada, and the fact that, theologically, he is very astute and orthodox.
His relative youth is another element that could work in his favour, said Douglas Farrow, a professor in McGill University's religious studies department.
But his qualifications don't make him a lock on the papacy, Farrow added. He said the cardinals believe their choice to be divinely inspired, and the process can produce real surprises.
Other experts expressed doubt that the former Archbishop of Quebec City is a contender.
Church historian Benoit Lacroix suggested Ouellet's experience in Quebec City could hardly be described as a success.
He said his lengthy time abroad had left him unprepared for the rapid secularization of Quebec society, and he struggled to deal with it.
"He got there without understanding the evolution of Quebec — that Quebec had changed a lot over 10, 15 years," said Lacroix, a professor at Universite de Montreal.
"Quebec was no longer actively Catholic like it was. He got there with this image from his childhood, I'd say. From that standpoint he was maybe surprised, almost too surprised I believe, with respect to those events."
Ouellet, who speaks several languages, has decades of experience at different levels of the church.
He has advanced degrees in theology and philosophy from two universities in Rome. He served in Colombia, and as rector at the Grand Seminary in Montreal between 1990 and 1994 and of St. Joseph's Seminary in Edmonton from 1994 to 1997.
In Rome, he was chairman of dogmatic theology at a branch of the Pontifical Lateran University, and from 1995 to 2000 was on the staff of the Vatican's Congregation for the Clergy.
Ouellet's name was mentioned as long shot in 2005 to succeed John Paul II.
Last year, Ouellet shared his thoughts about whether he had hopes of becoming pope.
"I don't see myself at this level, not at all... because I see how much it entails (in terms of) responsibility,'' he said in response to a question on the subject in an interview with the Catholic news organization Salt + Light TV. The exchange was published online last April.
"On the other hand, I say I believe that the Holy Spirit will help the cardinals do a good choice for the leadership of the church, the Catholic church, in the future.''
Ouellet has been vocal in political debates at home.
Anti-abortion remarks he made in May 2010 solicited angry reactions from a number of politicians and women's rights activists in Quebec.
At the time, Ouellet told media during a pro-life rally in Quebec City that abortion was unjustifiable, even in cases of rape.
In 2005, he testified before a Canadian Senate committee studying legislation on same-sex marriage. He urged lawmakers to block the bill and defended the role of religious people in participating in the debate.
Ouellet said he feared that the adoption of Bill C-38 would inevitably lead to religious people being regarded as bigots and homophobes.
He urged parliamentarians to remember that while Canada's Charter of Rights guarantees equality for all, it also states in its preamble that Canada was founded on principles that include the supremacy of God.
"The state must treat homosexuals with respect and find accommodations that are consistent with their rights, without placing them in a category to which they do not belong, the category of marriage," Ouellet told the 2005 hearing.
His arguments failed to turn the debate. The same-sex marriage legislation, Bill C-38, was approved by the Senate several days later.
In Ottawa, Prime Minister Harper said Monday that he was shocked to hear Pope Benedict was renouncing the papacy due to his declining health.
Harper noted that two Canadian saints — Brother Andre Bessette and Kateri Tekakwitha — were canonized during Benedict's papacy. Collins, an archbishop, was elevated to the College of Cardinals.
If some of the predictions ring true when a successor to Benedict is chosen, in the coming weeks, many more tales from Canada will be told at the Vatican.
Ouellet's mother, Graziella Ouellet, told a local newspaper that her son had a knack for bringing home the biggest catches using only small pieces of bread as bait.
"He only had to put his rod in the water and he caught many fish," she told the Echo Abitibien in an July 2010 interview.
Graziella Ouellet said that God guided those fish, because her son often prayed before he headed toward the water.
Gendron agreed that Ouellet, like most young Quebecers at that time, was religious long before his hockey-related revelation led him to shift gears and become a priest.
The cardinal's connection to hockey, meanwhile, has remained intact despite the injury. Gendron said Ouellet still laces up with his nephews when he visits his family in Quebec's Abitibi region.
"Physically, he's in very good shape," Gendron said.
- with files from Magdaline Boutros, Diana Mehta in Toronto and James Keller in Vancouver.