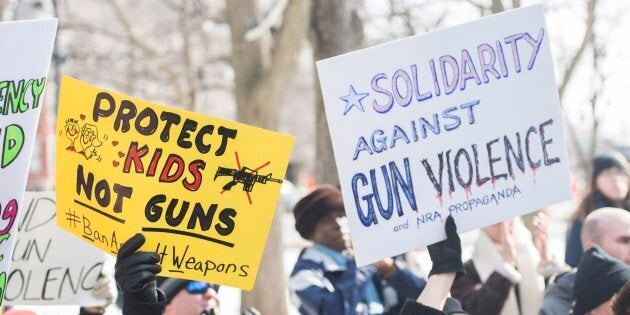 People in cities across Canada held marches on Saturday to stand in solidarity with students in the United States who are calling for action to end the country's mass shooting epidemic.
Last month, 17 people were killed at a high school shooting in Parkland, Fla.
In both Montreal and Toronto, several hundred people joined local events in support of the massive March for Our Lives march in Washington, D.C, which was organized by American students calling for change in the wake of the tragedy. Large gatherings also took shape in other American cities including Boston, Houston, Minneapolis and Parkland, Fla. In Canada, marches were planned in over a dozen other cities, including Calgary, Ottawa and Vancouver.
In one of Montreal's two marches, hundreds of protesters swayed together singing 'Glory, Hallelujah' before setting off towards the city's U.S. Consulate.
Ellen Gozansky Malka, a Montrealer now living in Parkland, told the crowd that two of her children were at the school during the shooting and saw things that no child should see.
A few blocks away, a slightly smaller event was organized by 11-year-old elementary school student Lexington Vickery, who led about 150 cheering classmates and supporters on a raucous march.
"It's about making them feel better, and making them feel more supported and working to help them so they can have more courage to go to the government and get their gun legislation," the sixth-grader explained in an interview beforehand.
In Toronto, marchers carried signs protesting both gun violence in the United States and recent shootings that have plagued the city as they marched from a downtown square to the U.S. Consulate.
An organizer told local news station CP24 that while Canada doesn't experience mass shootings on the same scale as the U.S., Toronto has seen a number of high-profile fatal shootings recently.
Police said that last weekend, an innocent man was gunned down in a "cowardly" attack after visiting friends. The following day, two people were shot and killed outside of a bowling alley — one of the victims was allegedly targeted, and the other was described by police as a bystander.
"I think it's important to have this march today in solidarity with students in the United States because gun violence is taking its toll on families, individuals, communities across North America. In Toronto we've seen a hundred per cent increase in gun violence homicides over the last three years," said Louis March, a co-founder of Toronto's Zero Gun Violence Movement.
Bodil Geyer, who organized the march in Vancouver, said hundreds of people showed up despite a fake Facebook event showing the wrong time.
"We had a great turnout, all things considered," she said.
Geyer said the real event page was also peppered with pro-gun comments she believed were generated by bots or international users, because the grammar was often incorrect and some messages were threatening.
While the march was largely a show of support for the American gun control movement, Geyer said gang violence in Surrey also makes it a local issue.
All of the speakers at the Vancouver event were students, said Geyer, who represents both Democrats Abroad Vancouver and March On Vancouver.
"The crowd was amazing, they were awe-inspired, everyone was quite emotional listening to these kids," she said.
Melissa Hennig, a survivor of the Oct. 1 mass shooting at an outdoor concert in Las Vegas, joined about 150 people for a rally outside the Alberta legislature in Edmonton.
"While I don't know the ins and outs of assault rifles, I can tell you what it's like to be on the other end of one," the Edmonton-area woman told the crowd. She said it's difficult to talk about the "terror, confusion and panic.
"I can tell you something more needs to be done — something more than thoughts and prayers."
Canada's Coalition for Gun Control, which was founded in the wake of the Montreal Massacre, released a statement about the marches, saying that they wanted to see Canada move towards stronger gun laws.
"While on the one hand, the experience of Canada compared to the United States clearly shows the effectiveness of stronger laws, Canadians ought not to be complacent," president Wendy Cukier said.
"For the first time in 30 years, police report more crime guns originated from legal owners in Canada than were smuggled in from the US... In the last decade, ownership of handguns and assault weapons and other restricted and prohibited weapons has doubled – there are now more than 1 million. This increases the risk to public safety," the statement added.
The recently tabled Bill C-71 is a step in the direction of tighter gun control measures in Canada. It proposes additions to the existing background checks system, including a provision that mandates the RCMP look at a person's entire life history for red flags, rather than the current five year period, before awarding them a firearms license.
Other changes include the way gun retailers document firearm sales. Vendors would need to record all inventory and sales. These records would need to be kept for 20 years, and police would only gain access to them with a warrant, CBC News reported.
Some gun control advocates in Canada still maintain that Bill C-71 isn't enough since private sellers wouldn't need to keep records if the bill passes.
Bill C-71 also proposes changes to some gun transportation regulations.
Marches and gatherings are also planned for cities outside of North America. In England, dozens of protesters rallied outside London's U.S. Embassy.
Students, families with children and other protesters raised placards reading "Protect kids not guns," "'Never again," and "Enough is enough" outside the new embassy building in south London.
Amnesty International U.K.'s director Kate Allen referred to the 1996 school killings at Dunblane Primary School in Scotland, in which 16 students and a teacher were killed.
She said: "After our own school shooting at Dunblane, new gun ownership laws were introduced in Britain and that's exactly what's needed in the United States, where gun deaths are a national tragedy."
With files from the Canadian Press and the Associated Press