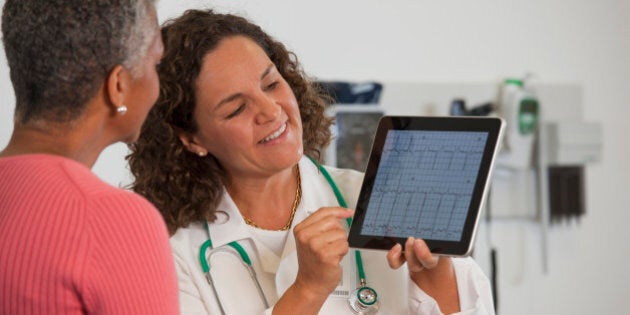 Recently, Globe and Mail columnist Gary Mason lost his family physician to retirement. In an eloquent post, he reflected on how much he was going to miss his physician of 22 years, and how difficult it was to find himself in the position of not having the family physician. Unfortunately, as he pointed out, a growing number of Canadians are finding themselves in the same position.
Understandably concerned about his predicament, and wanting to know what's going on, he did what most reporters and politicians do to find out about health care. He asked a health-care policy consultant, in this case Steven Lewis.
As an aside, it never ceases to amaze me how when people want advice with what's wrong with health care, they always turn to health care consultants. Why not just ask a physician instead? If I have a leaky faucet, I don't ask a Water Flow Policy Analyst from the Ministry of Environment what's wrong. I call a plumber.
At any rate, I happen to think that Mr. Lewis gave Mr. Mason some pretty bad advice. Mr. Lewis suggested that newer Family Docs were incentivized to "do less." This led Mr. Mason to opine that "in other words, Marcus Welby is dead."
While I agree the situation is complex, the main reason that younger family physicians are taking fewer patients has nothing to do with either a lack of dedication or desire to help their patients, but rather that medicine has become far more complex in the past 30 years.
The past 30 years have seen an exponential increase in the number of screening and preventive care tests, all of which the family physician is expected to order.
For example, when I took over my current practice 24 years ago, I recall looking at one patient's chart, and seeing the notation: "April 26, 1990. Strep throat. Penicillin." This was clearly all the family physician at the time, really needed to know. However, there is no way on God's green earth that you could get away with such a note in this day and age.
Since the 1990s there been a number of regulations on documenting patient visits set by Provincial Colleges and physician funding agencies (eg. OHIP in Ontario). In principle, the rules are put in place under the very reasonable rationale that there needs to be some accounting for spending public funds, and that documentation will prove those funds were spent wisely. In practice, that means that even a notation for such a simple problem, requires a minimum of four to five sentences in the chart. All of which means that there is less time in the day to see patients.
Additionally, contrary to what Mr. Lewis has told Mr. Mason, the responsibilities of the average family physician has actually increased since 1990. The past 30 years have seen an exponential increase in the number of screening and preventive care tests, all of which the family physician is expected to order.
For example, we never used to do bone density test on men. These were exclusively a test done on women, as they were thought to be at higher risk for osteoporosis. The guidelines have changed and now men over 50 are also being tested based on certain criteria.
In the past week, I have had six bone density results, four of which came back with a diagnosis of "low bone mass," which require the patient to be called back, and counselled on the importance of the intake of dietary calcium, and vitamin D, weight bearing exercise etc, to preserve bone health and reduce the risk of fractures as patients get older.
I happen to be one of the relatively few physicians in Ontario lucky enough to have a superb Nurse Practitioner working with me, and she is really enthusiastic about counselling patients about these type of lifestyle changes. As a result, I am able to get patients to see her to learn about these lifestyle issues while I deal with some more complex cases. I appreciate that this may seem to be a "clinic" to Mr. Mason, but it certainly does maximize the value of both my time and hers.
Similarly, we now screen (in appropriate patients) for aortic aneurysms, colon cancer, breast cancer, diabetes and several other diseases. All of which require more time per patient, and result in abnormalities found, which result in time required to address those abnormalities.
One of the benefits of having an electronic medical record system, is the you can program them to have the system remind your patients when they are due for appropriate screening test. This could never be done on the old patient's chart.
Recently, a patient came in to see me with a sore foot. Marcus Welby would undoubtedly have looked at the foot, and wrote in the chart: "Gout. Indomethacin."
In contrast, my note documents when the pain started, that there was no history of trauma, a review of previous blood work to check his uric acid level (a contributing factor to gout), whether the neuro-vascular status was affected, how far up the foot the redness goes, and his vital signs. To which I add, "Assessment: Gout, Treatment: Indomethacin."
At his visit, I also looked at the reminder screen of his electronic chart. I've included a snapshot (with personal information removed) of what I saw.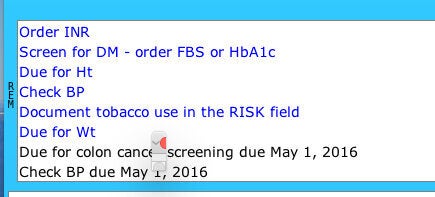 So now, not only did I treat his gout, but I ordered all of the investigations this fellow was due for (he tends to avoid coming to see doctors). If you do this on enough patients, you will find abnormalities, which will then require follow up.
Lest you think I'm complaining, let me categorically state, all of this is a good thing. Reports have shown that investing in primary preventative care, is good not only for the patient, but also for the population as a whole. These are wise investments to make, as they prevent far more expensive complications from occurring in the future. It's like that old commercial about getting your oil changed on time in your car. You can either pay a little now, or pay a lot later.
However what it also does a significantly increase the workload per patient per family physicians. Which means it is no longer possible for a family physician to look after the same number of patients as Marcus Welby did. It is not as Mr. Lewis was quoted as saying "A desire to do less", rather the work per patient has increased.
I've generally enjoyed Mr. Mason's columns in the Globe and Mail. I wish him well in his quest to find a family physician. If he moves to my neck of the woods, I would probably consider taking him on, if only because I rather enjoy funny stories and debating politics with people. As a bonus, I don't drink, so Mr. Mason would not even have to give me the expensive bottle of scotch he promised. (I would however, demand some inside dirt on his fellow columnist and health care reporter Andre Picard!)
Follow HuffPost Canada Blogs on Facebook