Dads waiting in the delivery room with cigars to hear if their partners had given birth to a boy or girl was status quo not that long ago. Canadian hospitals wouldn't even allow men to witness their child's birth -- until Margaret Trudeau changed all that.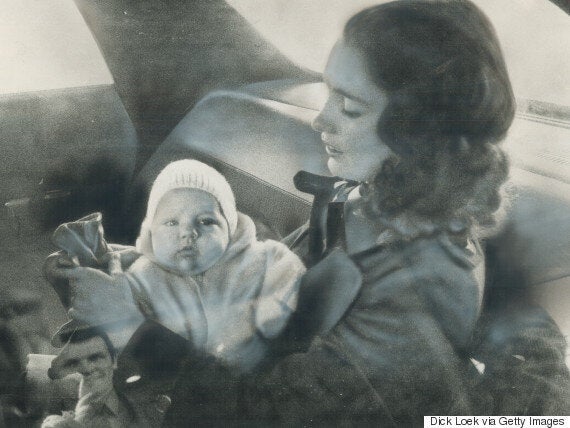 With son Justin in her lap, Margaret Trudeau sits in a car outside the Inn on the Park to visit the home of friends.
In his memoir Common Ground, Prime Minister Justin Trudeau revealed how his mom did away with this old-style of thinking.
"In 1971, the Ottawa Civic Hospital still excluded husbands from accompanying their wives in the delivery room. My mother was furious … If her husband couldn't be at her side in the hospital when she gave birth, she would have the baby — that was me — at 24 Sussex. When word of my mother's protest reached the hospital's board of directors, they promptly abolished the old-fashioned restriction, followed by other hospitals in Ottawa and eventually across the country. And I like to think that, along with my father, I helped my mother strike a blow against old-school patriarchal thinking."
Excluding men from the delivery room was customary in the United States, too.
"Some hospitals allowed the men to briefly visit their labouring wives; most did not provide this access until the 1960s," writes Judith Walzer Leavitt in her book Make Room for Daddy: The Journey from the Waiting Room to the Birthing Room.
"During the 1960s, most hospitals, under pressure from birthing women, laymen, the women's movement, and childbirth reform groups, admitted men into labor rooms, but not until the 1970s -- and in some hospitals the 1980s -- were the doors to the delivery room open to men."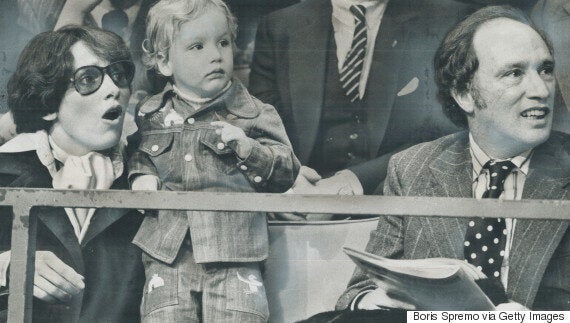 Pierre, Margaret and two-year-old Justin Trudeau watch pole-vaulting at Toronto Star Maple Leaf Indoor Games in Maple Leaf Gardens.
British hospitals changed their "no men allowed" policies around the same time, as more and more women opted out of home births.
While some men still choose not to watch the birth experience (ahem, Gordon Ramsay), this is now a rarity.
Right from the get-go, Trudeau has been battling against patriarchal thinking and he has made no secret that he remains a feminist. He and his wife, Sophie Grégoire Trudeau, are also raising all three of their children to support gender equality.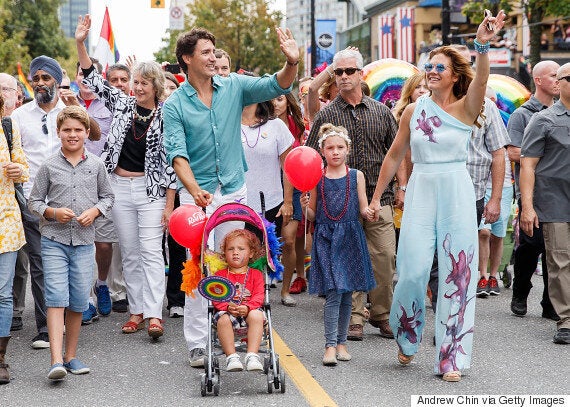 Justin Trudeau, Sophie Grégoire Trudeau and their children, Xavier, Ella-Grace and Hadrien, attend the 38th Annual Vancouver Pride Parade on July 31, 2016.
"To me, parents have a moral obligation toward the children they bring into this world," Grégoire Trudeau said in an interview with Canadian Family. "That's the whole purpose of becoming a parent — to love kids and to make them feel what's wrong and what's right with respect to themselves, others and the planet."
And that starts in the delivery room.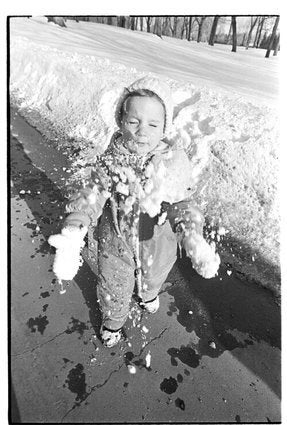 Photos Of Justin Trudeau Playing In Snow In 1974 Are Just So Canadian