 Imagine being one of the only people left in the universe. That's the basic premise of "The 100," which has echoes of "Battlestar Galactica" and has the polished, lush look of movies like "The Hunger Games." Canadian stunner Marie Avgeropoulos plays Octavia, one of the teenagers sent down to Earth from her space colony (the "Ark") to see if the planet is habitable again.
Octavia is tough-as-nails and doesn't take any bullying from anyone, and she's one of the de facto leaders of the 100 teens, along with her brother, Bellamy. HuffPost Canada TV spoke with Avgeropoulos about this starring role on "The 100," Octavia and her "Neil Armstrong moment."
HuffPost TV Canada: What did you think about the story of "The 100" when you were first presented the script?
Marie Avgeropoulos: When I first got the script, I was like, "Wow, what would that be like ... to set foot on Earth for the first time." When I saw that my character, Octavia, got to have her own Neil Armstrong moment, I couldn't refuse.
How did you get into that mindset, of being that first person?
I basically just tried to imagine seeing things through the eyes of a child, seeing things for the very first time. We shot in beautiful British Columbia -- and the rainforest there was breathtaking. Everything is so lush and green. It didn't stop raining on us the entire time! [Laughs] It looks like green screen a lot of the time, but the fact is it's all natural. The set designer didn't have to do too much; it was already there.
Prior to this role, did you like space-y stuff? Did you like sci-fi?
I've never really been into the sci-fi genre myself. That's probably why, when I looked at this script, I was so down for doing it. I've never dipped into this side of things. [Laughs]
How do you like it so far?
I love it! Anything is possible in sci-fi. Things are a little off ... there are different characters and creatures introduced as we go on. It's not just a "normal" sort of story.
Maybe. [Laughs] Spoiler alert!
How would you describe Octavia?
Well, she's one of the juvenile offenders, one of the 100 sent down to Earth. Octavia's crime was just being born in blasphemy - no set of parents are allowed to have a second child. "The Ark," the space station the survivors are living on, is dying. It's running out of air. Any crime is punishable by death, unless you're under 18. My mother kept me hidden under the floor in our tiny room. When I was discovered by the guards, they executed my mother and ejected her out into space; I was promptly thrown into prison. Octavia, as a result, naturally has a chip on her shoulder because she's been locked up in some way or another for her entire life.
Even in the first episode, you can tell that Octavia doesn't take any bulls**t from anyone.
Yeah. She was dealt a bad hand of cards right from the start. She's tasting freedom for the very first time; she's not going to let anyone interfere with that.
How does her relationship with Clarke [Eliza Taylor] develop as Season 1 goes on?
Clarke is the responsible, nurturing one. She feels responsibility for the survival of The 100. Octavia and Clarke seem very yin and yang off the top, they don't necessarily see eye-to-eye. Naturally, Octavia resists her control. But later, all the teens realize that they're dealing with survival ... and the danger also lurks within them. They have to agree on some sort of society to find strength in one another. The two girls develop a mutual understanding about that as time goes on.
Watching the premiere reminded me of "Lord Of The Flies." Does it ever feel that way, with kids running around without rules or adult guidance?
A lot of people have been saying "The 100" reminds them of "Lord Of The Flies," "Lost" and "Battlestar Galactica," and all of those titles have been very successful and interesting to watch. Any time anyone refers to any of those great shows, I'm flattered.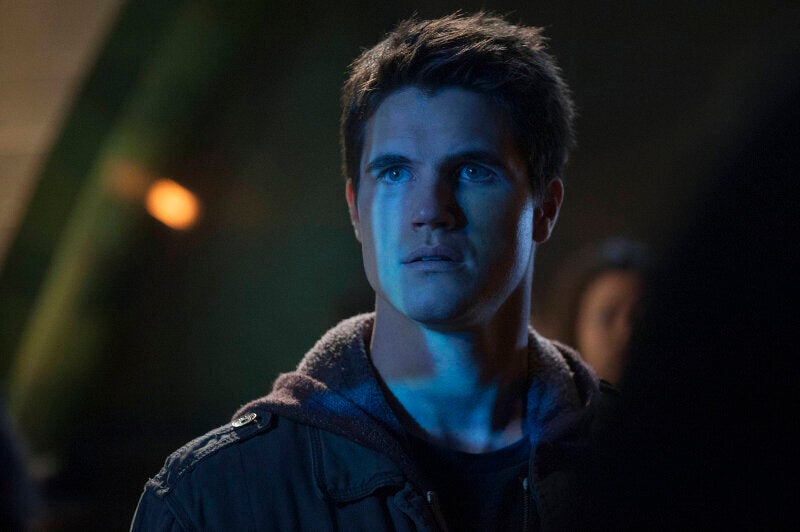 The CW's New Shows 2013-2014