 Marineland -- the captive animal park in Niagara Falls, Ont. -- has faced opposition for decades. However, the statements delivered to the Toronto Star this summer by 15 ex-employees has exploded this issue. News coverage has been global, all levels of government have been brought in and the park has seen record demonstrations -- culminating in a 800+ person protest on the park's closing day (Oct. 7), which included hundreds of advocates jumping the turnstiles and shutting down the last dolphin show of the season.
Marineland has tried to counter this growing public concern by taking to the courts and filing what I believe is a SLAPP suit -- a Strategic Lawsuit Against Public Participation -- a common tactic to try to shut down public debate. The park has launched a $1.5-million suit, as well as injuctions, against me. They have tried to use to the press to their advantage, releasing a statement that groundlessly accused activists of a "campaign of intimidation and harassment."
The timing of Marineland's lawsuit is a great indication of their motivations and intentions. A day before Marineland filed their suit, news broke that the Ministry of the Environment was going to begin an investigation and possible excavation of Marineland's four mass graves -- two of which are allegedly full of over 1,000 of animals who have been buried during the park's 50-year history without the knowledge of the Ministry of the Environment. Advocates have made the graves a focus for decades, and this announced investigation sent the news viral -- exposing yet another aspect of apparent callousness at the captive animal park.
The next day, Marineland filed their suit in St. Catharines Court. Interestingly, before the suit was even filed, I was contacted by Sun Media paper the Niagara Falls Review for a comment. That left me wondering, did Marineland leak the story to the Review in an attempt to wash the mass graves story out of local press?
Marineland has been cautioned by its own industry lobby group, the Canadian Association for Zoos and Aquariums (CAZA) -- to which it pays membership dues -- to conduct an independent assessment of the park's water system to determine what if any update may be needed. Months later, no assessment has been conducted, according to news reports.
Despite this, Marineland has attempted some jaw dropping PR spin, rolling out social media sites in an apparent attempt to quell public outrage. Evidently, for the park, protecting profits comes first, and animals are a distant second.
In 2011, Marineland Animal Defense launched as a campaign, marking Marineland's 50th anniversary. Ahead of launch, John Holer -- Founder, Owner and President of Marineland -- had been successful in his move to evict 47 families from a trailer park he had recently purchased, which sat near his Marineland property. Those families fought the evictions -- many of them low income, marginalized families with homes that were "fixed" and could not be moved off site. Many of them lost thousands. Nearly two years later the park still sits untouched.
The last resident in the park -- Paula Millard -- threatened that she would kill herself before she would leaver her home. On the night of March 31, 2011, that is what she did. For months, she had complained to other park members about what she felt was harassment by John Holer. Apparently, she saw suicide as her final act of resistance. I have been told by Paula's cousin and best friend Teresa that before Paula took her life, she wrote on the walls of her trailer: "John you will get it back ten fold."
From the beginning, Marineland Animal Defense organized with the residents that fought their eviction through the GoHomeless.ca campaign. This summer I got the opportunity to meet Teresa. As we hugged and cried I promised her that I will see this through and that I will make sure that Paula's struggle, as well as the struggle of the animals captive at Marineland, doesn't fade away. John Holer has money, influence and lawyers. I've got the promise I made to Teresa.
As I move forward with my defense, I am calling for support. Marineland will be attempting to "spend me into the ground." We will be organizing to use what resources we have to neutralize them. I am calling for statements of support and solidarity from animal advocacy and social justice organizations, and will be setting up speaking events throughout Ontario and Western New York.
An effective response to a SLAPP suit depends on a refusal to trade in fear and intimidation -- and also a broad base of support. That's why I need you. I've got some promises I need you to help me keep.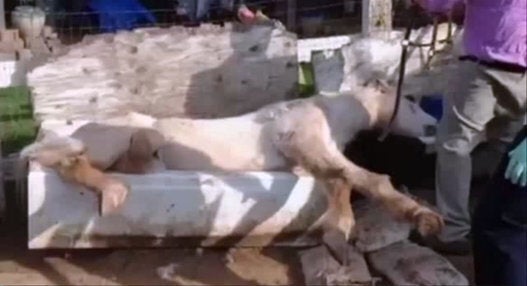 Animals In The News
Popular in the Community