Even if you don't care about beluga whales or how animals are treated in captivity, you may still be interested in what's happening at Marineland. In this age of widespread protest -- from the Occupy Movement to the Québec student protests to the Arab Spring -- Marineland reminds us that it is not just governments that may seek to silence their critics.
Marineland, a marine mammal park in Niagara Falls, Ontario, was the subject of an investigative series by the Toronto Star last year. The series was based in part on allegations by former employees, of abuse and mistreatment of animals. Marineland has denied and responded to the allegations, and is suing the Star as well as several of the former employees. Marineland has also set its sights on protesters and activists who demonstrate outside the park -- launching lawsuits against at least two protestors -- and has gone to Ontario courts for injunctions to order that protestors refrain from certain activities.
The Ontario government recently introduced a Bill that would make it easier for individuals faced with lawsuits like Marineland's to get the cases dealt with quickly. Where the lawsuit aims to curb expression on a matter of public interest, it could be dismissed on an expedited basis. This anti-SLAPP legislation (a SLAPP is a strategic lawsuit against public participation) is designed to keep threats of legal action being used as a way to silence debate and discussion on issues of interest to the public. We should encourage the government to pass this legislation promptly to send a message that freedom of expression deserves robust protection in a democracy and that our scarce justice resources shouldn't be used to halt peaceful protest activities.
The Marineland lawsuits are a case in point.
Make no mistake, Marineland has a right to deny some people entry to its park and to try to ensure that those who want to visit the park can access it safely. However, the steps that it has taken in court to date, and those that are threatened by its legal team, go well beyond these rights. Marineland has used the courts to prevent protesters from using certain words, like "abuse," on their protest signs. A Court in St. Catherines, Ontario granted this order, effectively restraining, pre-emptively, what activists can say about Marineland.
Never mind that some individuals believe that even keeping marine mammals like orca whales in captivity is abusive -- the Court has determined that, at least for now, this is an opinion that protesters can't express.
Marineland also sought to create a "bubble zone" around the park, arguing in Court that protesters should not be allowed to demonstrate within a certain distance of the park. While the Court didn't grant this order to Marineland, the park managed to purchase its own bubble zone by leasing land close to the park from the City of Niagara Falls. Now protesters found on these lands will be trespassing.
Clearly the paradigm of protests is shifting: increasingly we need to watch not only the tactics of the state, but also consider how private corporate actors can use our justice system to further their own ends and skew discourse on subjects of public interest in their favour.
Earlier this month, on Labour Day, a relatively small number of activists demonstrated outside of Marineland, encouraging visitors to go spend their hard-earned dollars elsewhere. Some of the messages that activists wanted to convey may have been stifled by the court orders in place and the aggressive tactics of Marineland and its legal team. In the days before the weekend, a lawyer for Marineland wrote to a lawyer for one of the activists, threatening all manner of legal action if any person demonstrating violated a Court order that, at least on its face, appears to apply to only one individual.
The Court's order has also been used by Marineland's legal team to threaten more legal proceedings if certain web postings reporting on allegations against Marineland are not removed from websites. Effectively, the Court's orders are being used as a way to try to dictate the narrative on the issue of animal treatment at the park. Regardless of your views on animal rights, those who care about freedom of expression should be worried about these tactics and the use of our courts to silence ordinary individuals.
I don't know the truth about what is happening inside Marineland. The Star did their investigation and Marineland has responded. It is up to each of us to decide what to believe and to ask the questions of all sides that will allow us to come to our own, informed conclusions. And importantly, we all have a right to hear responses from all sides. Further, we should all be allowed to protest on issues that we believe in without fearing a lawsuit and without being told which words we can use to make our point. And we should all be concerned when our courts, already overburdened and inaccessible to so many with pressing legal needs, are used by a corporate actor to silence its critics.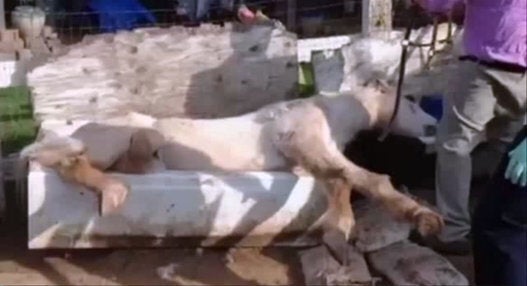 Animals In The News