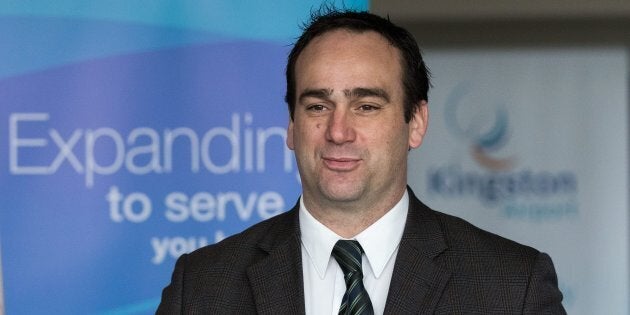 OTTAWA — A Liberal MP has walked back using the term "fake news" after sparking backlash with a tweet about an award-winning journalist last week.
Mark Gerretsen has since deleted his original tweet where he used the hashtag #FakeNews in an exchange with Global News' chief political correspondent David Akin about the Liberals' election promise to balance the budget.
"I should not have said it, even in jest," the Kingston and the Islands MP said Thursday.
1/2 re: previous tweet to @davidakin - I have a good relationship with @davidakin and we often make comments to each other in jest. There was certainly no ill will intended but I completely understand why my tweet could be interpreted differently.

— Mark Gerretsen, MP (@MarkGerretsen) October 25, 2018
2/2 I recognize this is a loaded term and I should not have said it, even in jest. I have great respect for the work that David, the Parliamentary Press Gallery, and all journalists do across the country!

— Mark Gerretsen, MP (@MarkGerretsen) October 25, 2018
Gerretsen's use of the term strayed from his party's concerted effort to advocate press freedoms. All of Prime Minister Justin Trudeau's mandate letters to his ministers contain a line encouraging "meaningful engagement" with the Parliamentary Press Gallery and journalists.
The term "fake news" has been popularized by U.S. President Donald Trump as a tool to convey his displeasure with critical stories. Journalists have warned its adoption into mainstream vernacular works to erode the value of a free and independent press in a democratic society.
"Fake news," a dismissive shorthand meant to ostracize specific journalists and outlets, is mostly used stateside, but it's creeping into Canadian politics.
Last year, Tory MP Cheryl Gallant accused outlets such as The Globe and Mail, CBC, and Toronto Star of publishing "fake news story after fake news story" about the federal government's $10.5-million settlement with Omar Khadr.
She made her comments in a Facebook Live broadcast, dubbed the "Gallant Night News" with a logo styled similar to CNN's.
After some pushback, the longtime Renfrew-Nipissing-Pembroke MP deleted her video.
Federal Conservatives appear to be getting testy with reporters.
Earlier in the day, Conservative MP Pierre Poilievre accused a Bloomberg journalist of being a "Liberal reporter" for sharing a statement issued by the Business Council of Canada praising new details of the government's carbon pricing system.