OTTAWA — China's best-known Canadian says he's optimistic Prime Minister Justin Trudeau will succeed in warming relations with the People's Republic.
Canadian-born Mark Henry Rowswell is an immensely popular performer known to Chinese audiences as Dashan. He's now doing stand-up comedy, but for years he appeared frequently on television and is often described as the most famous foreigner living in China.
On Chinese social media site Weibo, his 3.8 million followers turn to him to explain all things Canadians. And this prime ministerial state visit has been no exception.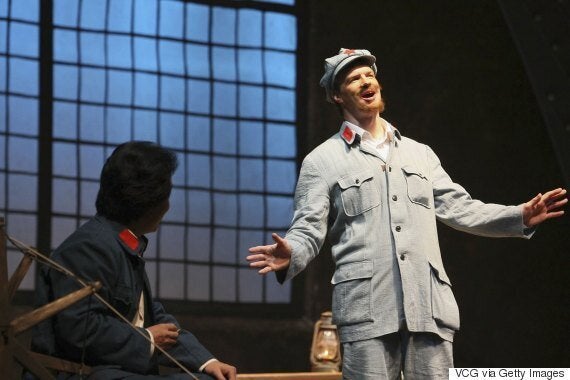 "Dashan" is seen in a performance of 'Red Star Over China' in Shanghai in June 22, 2016. (Photo: Hou Xiao/VCG via Getty Images)
"I do tend to get sucked into these things because I am Mr. Canada, I guess," he told The Huffington Post Canada on Monday via Skype.
Six years ago, during former prime minister Stephen Harper's visit to China, the Conservative government named Rowswell Canada's goodwill ambassador to China.
"As far, as I know there is no expiry date," he said, laughing.
While the title is honorary, Rowswell considers it a recognition of what has been doing in the Chinese media for the past 28 years.
He has participated in every Canadian prime ministerial visit since 1994, he said.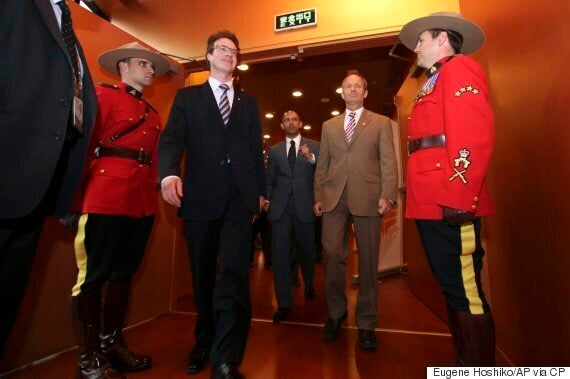 Mark Henry Rowswell and former Tory cabinet minister Stockwell Day walk into the Canada Pavilion at World Expo site on May 16, 2010 in Shanghai, China. (Photo: Eugene Hoshiko/AP via CP)
"That was the very first big team Canada event," he said, describing former Liberal prime minister Jean Chrétien's first visit to the People's Republic of China. Chrétien brought with him nine provincial premiers and close to 300 Canadian business representatives.
"That was huge, because it was only five years after [the government's massacre of protesters at] Tiananmen Square, so it was another restarting of the relationship," Rowswell noted.
Rowswell was involved in former Liberal prime minister Paul Martin's visit in 2005 and in Harper's visits in 2009, 2012 and 2014.
The relationship with the Conservative government in 2009, he said, was much more difficult to build. "We were trying to dig out of a hole."
While in opposition, Harper had been critical of the Liberals' Chinese trade missions suggesting they favoured business interests over human rights.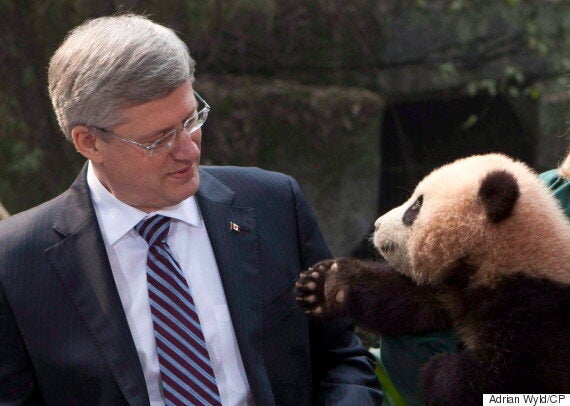 A panda reaches for Prime Minister Stephen Harper during a photo at the Chongqing Zoo in Chongqing, China on Feb. 11, 2012. (Photo: Adrian Wyld/CP)
As prime minister, Harper appointed as his parliamentary secretary, Jason Kenney, someone who had gone to China in 2005, met the family of a well-known deceased dissident, and, as National Post columnist John Ivison recalled, stood in Beijing and called the country "a totalitarian one-party state" while raising concerns about its forced labour camps and continued lack of respect for freedom of religion and of expression.
A few months into Harper's first term, the prime minister also bestowed honorary Canadian citizenship to the Dalai Lama, the exiled Tibetan leader.
It was perhaps not a surprise then that the Chinese president, Hu Jintao, snubbed a request for a meeting with Harper during an Asia-Pacific Economic Co-operation summit later that year. Harper explained the embarrassment away by suggesting he was standing up to China on principle over human rights.
Trudeau aims to 'reset' relationship
While the prime minister pledged to stand up clearly for human rights, he also suggested the new Sino-Canadian relationship would be marked by more robust and stable engagement.
Rowswell is a bit cynical about all this talk of "fresh starts" — something "we've done before and we'll probably do again in the future, in another 10 years from now" — but he does believe Trudeau's trip will prove to be much smoother.
The primary reason is Trudeau's father.
"There aren't many Canadian prime ministers that are household names in China apart from Pierre Trudeau," he said. "So even though Chrétien had a more positive relationship with China and Harper was in the news, I don't think the man on the street remembers those names, but they remember Pierre Trudeau 'cause that is the era of Chairman Mao and establishing relations and in the 1970s, that was a real big deal."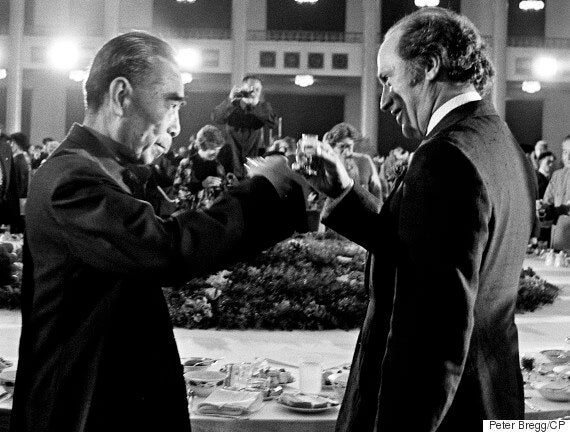 Chinese Premier Zhou Enlai toasts Prime Minister Pierre Trudeau during a banquet held at the Great Hall of the People in Beijing on Oct. 11, 1973. (Photo: Peter Bregg/CP)
In 1973, Trudeau senior visited Beijing to renew diplomatic relations between the two countries. He flattered his hosts and was later credited with helping China open up to the West.
"On a sentimental level, that has a big impact," Rowswell said.
Trudeau junior is also generating some buzz.
While it's "superficial" — "it's that he's young, and attractive, and active and that he takes his shirt off" — Rowswell said it's having an impact with the younger generation.
"The whole Pierre Trudeau thing has an impact on the older generation, and the Internet celebrity thing has an impact on younger people, so his public profile in China is probably already as high as any prime minister since his father," Rowswell said of Trudeau's cross-generational appeal.
China also wants visit to be seen as 'warm'
Rowswell, who will be involved in two events this visit — a Canada China Business Council meeting in Shanghai on Sept. 1 and a river cruise to promote Canadian tourism on Sept. 2 — said it's not just Canada but also China that wants to present this visit as "much more positive and warm."
"Both sides are trying to put things on a more friendly ground," he said.
"The Chinese will put a lot of emphasis on trying to, themselves, position this as a new start and that sort of historical connection to Pierre Elliott Trudeau, and the fact that Justin came here with his father," he said.
Trudeau has visited China three times, twice accompanying his father on prime ministerial visits.
'Soft side of the relationship'
And while Rowswell, whose brother, Ben, is Canada's ambassador to Venezuela, cautioned that warmer relations will not necessarily mean a deal on trade irritants, such as canola, or a big breakthrough on free trade — "those discussions with continue to be very hard nosed and self-interest based" — he said the soft side of the relationship will benefit.
A good personal relationship between leaders sets the tone and has a trickle-down effect, he said.
"I feel pretty good about it in general…. I think the soft side of the relationship is looking pretty positive."
Trudeau arrived in the People's Republic of China on Tuesday for a eight-day official visit that will take him to Beijing, Shanghai, Hong Kong, and Hangzhou, where he will also participate in the G20 Leaders' Summit.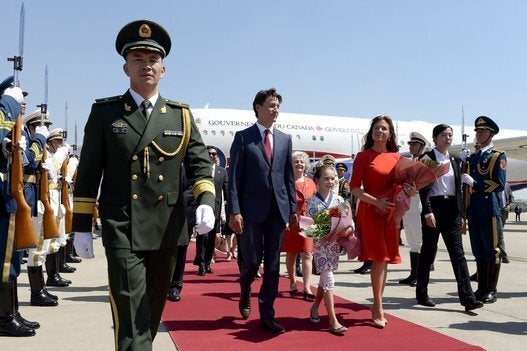 Trudeau Visits China