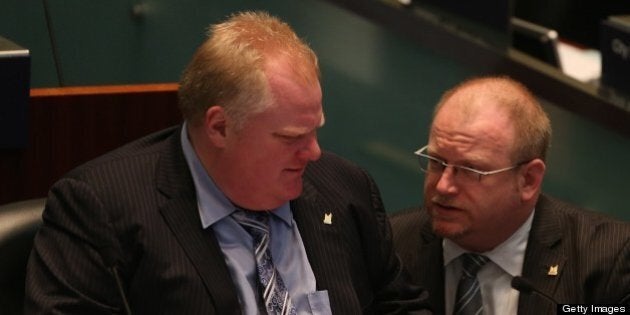 Mark Towhey, Toronto Mayor Rob Ford's chief of staff, has been fired, according to numerous Toronto City Hall reporters.
"I am no longer the chief of staff. I did not resign," Towhey told Global reporter Jackson Proskow.
"I've given the mayor my advice. He can take it or not take it," Towhey said to journalists before leaving City Hall.
A brief statement from Ford's office gave no reason for Towhey's firing but said that deputy chief of staff Earl Provost will take over Towhey's job. Provost had served as interim chief of staff.
Twitter reacts to Towhey's firing. Story continues below slideshow:
Deputy Mayor Doug Holyday expressed shock at the Towhey's abrupt exit from the mayor's office.
"I didn't see this coming," he told CP24.
Towhey took the Chief of Staff job in August, 2012. According to Towhey's LinkedIn profile, he served as Ford's director of policy and strategic planning before taking the top job in the mayor's office.
Towhey's exit comes at a critical time for the Ford administration. Last week, the Toronto Star and Gawker reported on the existence of a video that allegedly shows Mayor Ford smoking crack. Ford has been quiet about the allegations, only issuing a brief statement calling the matter "ridiculous." On Wednesday, his brother, councillor Doug Ford, made a full-throated statement defending the mayor, calling the allegations a media vendetta against his brother.