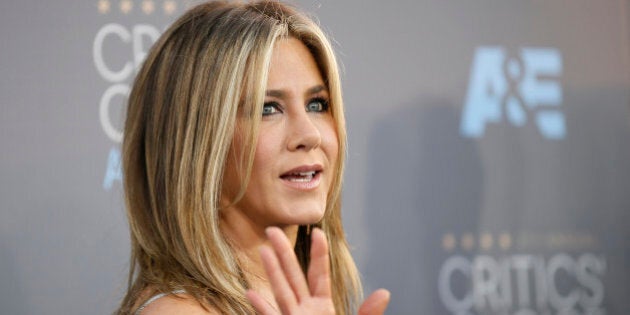 According to the tabloids, Jennifer Aniston has been pregnant forever.
When it's not about her being with or without child, it's about judging her marriage, her previous dating life, her body and so on.
Aniston shut all that sh*t down in a well-written rant for The Huffington Post called "For The Record."
This past month in particular has illuminated for me how much we define a woman's value based on her marital and maternal status. The sheer amount of resources being spent right now by press trying to simply uncover whether or not I am pregnant (for the bajillionth time... but who's counting) points to the perpetuation of this notion that women are somehow incomplete, unsuccessful, or unhappy if they're not married with children. In this last boring news cycle about my personal life there have been mass shootings, wildfires, major decisions by the Supreme Court, an upcoming election, and any number of more newsworthy issues that "journalists" could dedicate their resources towards. -- Jennifer Aniston
Why is the media so interested in Jen's baby making organs?
It all boils down to the fact that she's finally in a happy marriage and seeing her "complete" would mean to grow her family. Plus, she's 46 now they say, she should have a kid.
Which leads into the topic of societal pressures of getting married and having kids. Society doesn't just pressure Aniston, this is the case for millennial women, specifically South Asian millennial women, like myself.
The Indian marriage system is highly influenced by society. If a woman is not "settled" by the time she hits her 30s, everyone around her that is married will pressure her to do the same.
The long distance phone calls from relatives in India always end with "so when are you getting married?" It's never "is everything good? Are you happy?"
A few weeks ago at a wedding, I overheard an Indian aunty (not my real aunt, we refer to every female that is older than us as "aunty" as a sign of respect) say to my mom "if the children don't find someone by their early 20s, well then they won't find anyone at all." I know this made my mom's heart hurt a little, although she shouldn't have taken it to heart in the first place. And f*ck that aunty for making such an bold statement in such a confident tone, like it was a fact. Indian strangers don't hesitate to jump in and add fuel to the fire and walk away. Case and point above.
Back in the day, it was all about arranged marriages.
A handful of my female friends and I fit into the following category: we're in our 30s, independent, outgoing, have careers, side interests and side hustles, but we can't seem to find a life partner that will truly be our ride or die.
Often our parents and relatives glaze over the fact that we're doing relatively well in life and are fixated on the marriage and offspring part.
[Side note: Life in the eyes of typical South Asian parents have four major stages: school, career, marriage and babies. They forget that real life is not so linear.]
Just for the record, most of us South Asian women aren't opposed to getting married, we just haven't found "the one" because of one main reason: The landscape of dating has changed immensely.
Back in the day, it was all about arranged marriages. Before the internet came along, it was about going out to meet people in person or being set up. And now we have online dating apps and sites popping up like weed dispensaries in Toronto. They're all the same and they're all just a game.
Being a woman on multiple dating sites, we come across many characters: the douche, the profile liar, the one that takes no initiative, the moron, pervert, the one with no manners, the one that can't string a proper sentence together, the one that never has anything enticing to say and so on. These people exist in real life, but we come across them more often when we're online dating.
Tinder has more than 50 million users and when you match with someone, the option is to either send a message or keep playing. Even the creators behind Tinder treat finding love (or a life partner) like a game. I know Tinder is rarely about finding long term love, it's more about finding that 24 hour love.
Look at Tinder's spin off Bumble, most of my male friends swipe right to every female just to see which one actually makes the first move. Bumble's marketing tactic is all about the women having control, which is true but when the other person is a) swiping right to everyone, b) doesn't take the time to respond or continue the banter, or c) magically disappears, well we end up with the same old cat and mouse game.
I've been on paid dating sites as well and they're not much different. I've had matches galore but they all felt the same, with the same generic profile that looks great on paper. They're all like chocolate chip cookies, you can never go wrong with a chocolate chip cookie, but I don't want to settle with a classic crowd pleaser, I'm looking for that salted caramel chocolate chip cookie, with tiny bits of pretzel thrown into the mix to make things interesting.
The pressure to get married for a South Asian woman is also due to the fact that our biological clock is a factor.
I've met people for temporary love affairs on these sites that make for some pretty entertaining stories, but the intention was always to go into it hoping to meet someone real for an adult relationship.
Online we have access to more single people, as does everyone else, which means the competition is getting fierce. Dating apps are becoming oversaturated and matches are easily being created, it's become a numbers game. The fact that it's more of a game, it's hard to find someone that wants to settle down, give up their comfortable bachelor life and doesn't cringe when they hear the word "commitment."
Although us women want to meet someone organically, as we get older our circle of friends gets smaller, so there's less people to be introduced to. In our 30s, trying to meet someone in a rowdy, sweaty bar is no longer something we have the patience for. This is where online dating comes in, and it looks a lot like this: you match with someone, you meet up for a drink, maybe another two dates, you hook up or not, and you part ways.
The pressure to get married for a South Asian woman is also due to the fact that our biological clock is a factor. I understand that. But I also know women that are over 35 having healthy babies, if they choose to do so. It may take longer, there may be some issues but it's not impossible. Plus, having kids in your 30s makes sense from a financial standpoint; you're more settled in your career, more mature, yet still young and energetic enough to keep up.
South Asian mothers are uncomfortable with the idea of their daughter(s) not being married or being mothers themselves. They can't image that someone can be happy without children, let alone not being married, because that's the way they were raised, and their parents before them and so forth.
"We are complete with or without a mate, with or without a child. We get to decide for ourselves what is beautiful when it comes to our bodies. That decision is ours and ours alone...We don't need to be married or mothers to be complete. We get to determine our own "happily ever after" for ourselves." -- Jennifer Aniston
Well said Jen, well said indeed.
Follow HuffPost Canada Blogs on Facebook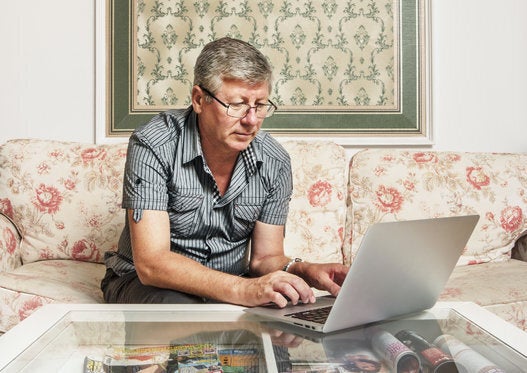 How To Master The Art Of Online Dating