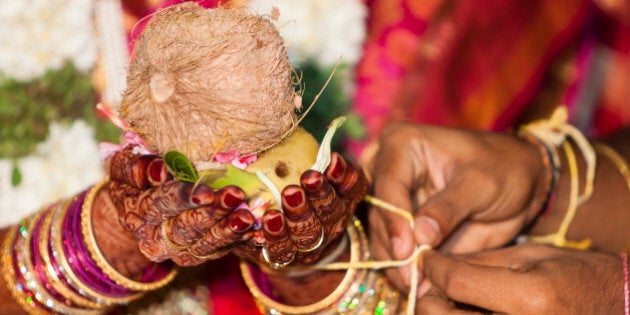 Desi Globetrotter visits Maui's top resorts and wedding planners for an inside look at why Maui is quickly becoming the island of choice for South Asian brides looking to infuse Indian traditions with the Hawaiian tropics.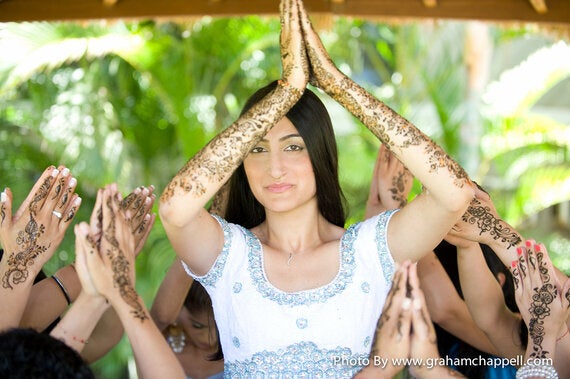 Amy's mehndi ceremony in Maui. Photo by www.grahamchappell.com
Indian destination weddings have been trending among Canadian South Asian brides and grooms for the past five or so years. With accessible, inexpensive and direct flights available to sunny destinations and newly engaged couples hearing about beach-side nuptials through word-of-mouth, it's no surprise big, fat Indian weddings are turning into experiential, intimate vacay-weddings instead -- a refreshing trend indeed.
Imagine having your mehndi party on a cliff overlooking the ocean or your groom-to-be gliding in on a private catamaran to the trumpet-like sounds of the pu - a ceremonial Hawaiian conch shell. Your parents are relaxed, enjoying their time with family and guests with mai tais in hand. You wake up on the morning of your waterfront laavan with a view of the ocean and tropical green mountains greeting you. Your wedding menu is filled with authentic Indian and Hawaiian options -- from pakoras and pineapple lassi to pao bhaji and mahi mahi.
Ocean-side manicured lawns dotted with swaying palm trees and flaming tiki torches set the mood for the evening -- the destination becomes your décor and its people, culture and food your inspiration. Over cocktail hour, experience the magic of the glowing sun setting in the horizon with your close guests in attendance. Start the night with spectacular Polynesian fire knife dancing and end it with what you know best -- bhangra and Bollywood dance.
In 2009, Amy and Navi Dherari of Langley, BC began planning their dream destination wedding in Maui for July 2010.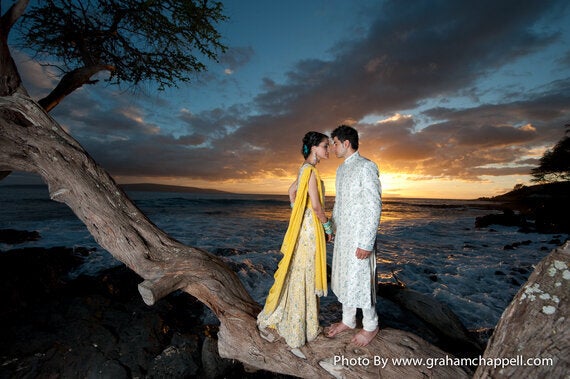 Amy and Navi Dherari have a traditional Sikh wedding in Maui. Photo by www.grahamchappell.com
"I thought the island was really beautiful and very different from Waikiki/Honolulu, which is really touristy. And the Polynesian culture is very beautiful. I wanted to go somewhere different," explains Amy.
"The culture in Maui is like no other; it's such a chilled out place to lounge and relax. There are no aggressive beach vendors. Everyone's on Hawaiian time. It's super chill and there are nice little shops," adds Navi as I sit down with the couple to find out more about their Sikh destination wedding.
It wasn't easy convincing their parents at first, especially when thinking of wittling down a possible 1200-people wedding to a 100-200-people one. "My side of the family had said no at first. This was way out of the box for them. They didn't travel much and they wanted a large wedding for me," says Navi.
With no decision in sight, one night, after much debating at Amy's house, it came down to asking her 94-year-old grandmother, the matriarch of her family, to make the final decision. Amy was nervous asking at first, but she soon found out sometimes grandmother does always know best.
"Beta (dear), we have seen so many weddings here. Let's go to Hawaii."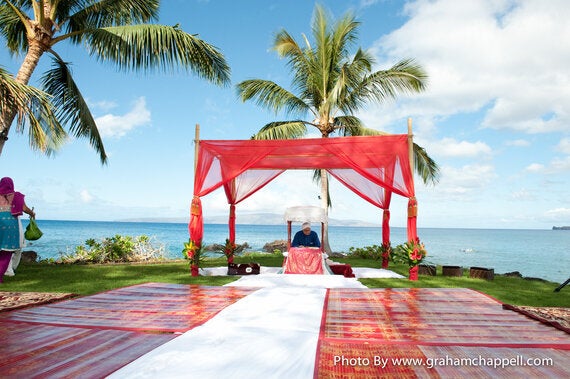 Amy and Navi's oceanfront ceremony site for a traditional Sikh wedding in Maui. Photo by www.grahamchappell.com.
The matter was settled -- the wedding would be in Maui. Amy promised her in-laws that they would have an "experience of a life time."
With pressure on them to ensure their parents' happiness with this "out-of-the-box" Indian wedding, Amy and Navi rolled up their sleeves and got to work, managing most of the details themselves -- even with a Hawaiian wedding planner.
"Our venue didn't have an on-site wedding planner, so we got a wedding planner out there, but there was a lot of coordination. She wasn't experienced in Indian weddings and didn't realize how large of a wedding it would be. We did a lot of micro-managing back then, even sending her pictures of what the inside of a gurdwara (Sikh Temple) looks like," explains Navi. "We found Monsoon India, the Indian restaurant, ourselves and we also flew in a Sikh priest from Honolulu."
Fast forward to 2015 and the Indian wedding landscape in Maui has changed. Now dubbed "The Queen of Indian Weddings" in Hawaii by many of her industry partners, Indian wedding planner Mira Savara offers full-service event planning and design, specializing in Indian weddings in Hawaii through her company Mira Savara Events. She organizes Indian weddings on all of the Hawaiian Islands including Maui and has worked with most of the large hotels such as Sheraton, Westin, Four Seasons and Hyatt brands.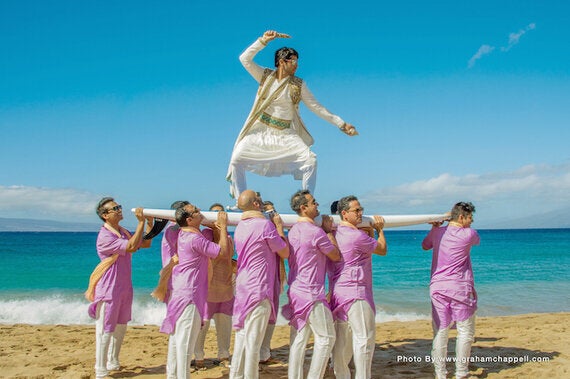 Wedding planned by Mira Savara. Location: Sheraton Maui. Wedding of Sagar and Reshma Patel. Photo by www.grahamchappell.com
To make the wedding seamless, she partners with award-winning local vendors, hotels and chefs. "Nothing can be done without collaboration. I'm very proud to have collaborations with the industry," she says adding, "They have been so willing to learn about our traditions and culture. Food has been a wonderful collaboration."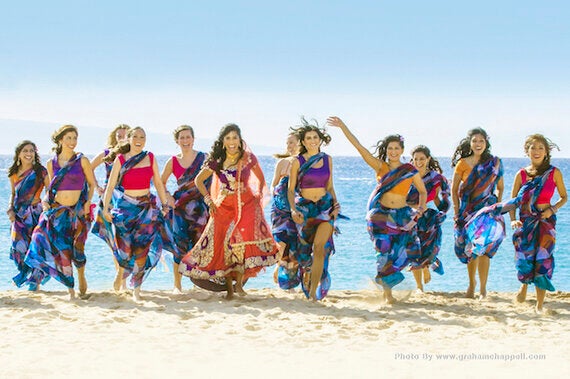 Wedding planned by: Mira Savara. Location: Sheraton Maui. Wedding of: Anita Pardasani & Navin Janapati. Photo by www.grahamchappell.com.
To find out just how much the industry has grown to cater to South Asian weddings, I make my inaugural trip to Maui as a guest of the Maui Visitor Bureau. From lively Kāʻanapali to the quieter, secluded shores of Wailea, here are my top resort picks that had my heart beating to be a bride again:
Located at Kāʻanapali's historic Black Rock cliff (Pu'u Keka'a), the Sheraton Maui Resort & Spa's 23 oceanfront acres flow gracefully from the crest of Black Rock to the shores of Ka'anapali Beach. Eighty-three per cent of the 508 rooms and suites directly face the Pacific ocean.
Since the Sheraton is a part of Starwood Properties, the one advantage it has for Indian weddings is its access to resources. Although, Sheraton has worked with Mira Savara on Indian weddings, they are also investing in in-house staff training. "Starwood rolled out an Indian-wedding training seminar on their u-portal last year. The training talks about differences between each ceremony. We learned all the names and procedures, so we got some background from that, but our number-one rule is having an open mind, providing the right information and the experience the brides are looking for. Our entire team is flexible, open minded and we work with all budgets," explains Emily, Sheraton's wedding coordinator.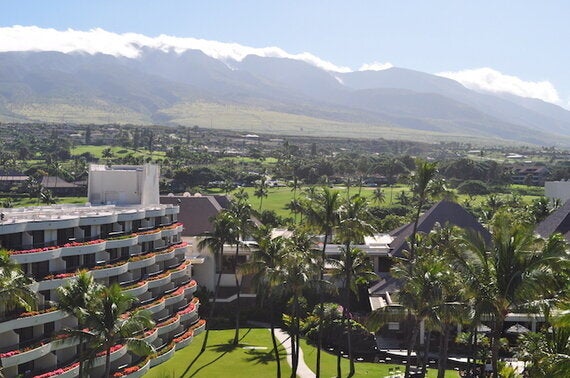 Lush tropical view from the Sheraton Maui. Photo by Desi Globetrotter
Known for: Its Spa & In-House Wedding Office
Only a few minutes away from the Sheraton is its sister Starwood property, the Westin Maui Resort & Spa, an eclectic 759-room resort with a 15,000 sq ft spa and in-house wedding office. As I enter the hotel, I hear the gushing sound of waterfalls, the centrepiece of the lobby. Surrounded by lush gardens, pools and exotic wildlife, this 12-acre beachfront resort reminds me of a tropical rainforest.
The Westin can arrange for wedding room blocks and because there are three Starwood properties (the Westin Maui Resort & Spa, the Westin Kaanapali Ocean Resort Villas and Sheraton Maui Resort & Spa), they can transition wedding parties between the sister resorts much more easily.
"For example, the wedding ceremony can be at the Westin, the sangeet at the Sheraton and rooms booked at the Westin Kaanapali Ocean Resort Villas. A complimentary shuttle goes between each hotel," explains Ku'uipo, Westin's wedding coordinator.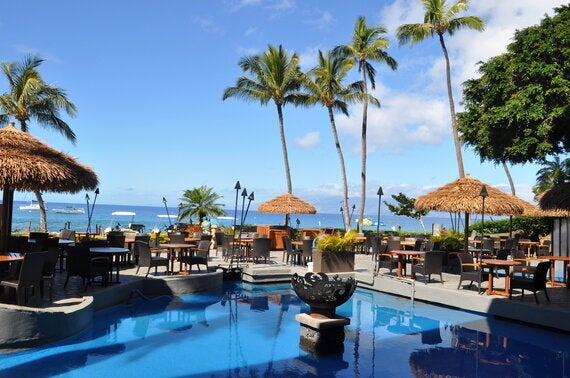 Westin Maui Resort & Spa. Photo by Desi Globetrotter
Although I didn't personally visit the Hyatt due to time constraints, it's worth a mention as it's situated on the same resort row as the Westin and Sheraton, and is the largest of the three with 806 rooms on 40 oceanfront acres along the famed Ka'anapali Beach.
"Generally we will see Indian weddings with 150-300 guests. We have a big outdoor lawn space and large ballrooms; we do tend to attract the bigger weddings," says Brittany, Hyatt's wedding coordinator, adding, "We work with Mira Savara often and although our chef is trained in cooking Indian food, we want to ensure it's authentic; so we partner with Monsoon India. Our head chef works together with them to create a really unique menu."
Known for: Upscale elegance and sophistication, high-end service and Mediterranean-style architecture
The Fairmont captivated me at check-in with their impeccable service, impressive all-white Mediterranean-style architecture, oversized Spanish arches and those white Escalades -- yes, you read that correctly; Escalades are offered as complimentary guest shuttles. You may be paying luxury prices at the Fairmont, but the service and those little details that so often make a big difference is what you will gain in return, threefold.
"Many of the brides who come to us want to incorporate Hawaiian traditions with their own cultural ceremonies," says Veronica, Fairmont's catering and events manager when discussing recent Indian weddings. As seen similar to other hotels in Maui, the Fairmont has a full-time cultural coach to help perpetuate native Hawaiian traditions and they also have key partnerships in place with vendors who cater to both Indian and Hawaiian-themed weddings. The responsibility of being authentic to native Hawaiian culture is a theme I see throughout my week in Maui and I'm impressed with the Fairmont's approach.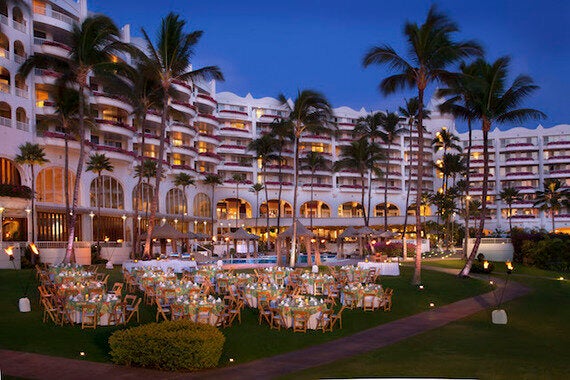 Event set up at the Fairmont. Photo credit - Fairmont Kea Lani
INDIAN DESTINATION WEDDINGS ON TREND
From 2009-2015, Maui's wedding landscape has grown immensely to encompass specialty options for the modern Indian bride looking for customization. Now that top resorts have experience planning Indian weddings and creating partnerships with Indian vendors, perhaps it's time to re-think the big, fat Indian wedding as we know it.
For Amy, it was all worth it. "South Asians work so hard all their life. I told my parents, 'you're going to spend $100K on the wedding [in Vancouver], but people will be complaining and weddings are all the same and blurry. Out [in Maui], I guarantee you people will not complain because that experience they will remember for a lifetime.' To this day, people still talk about it. Everyone had a vacation and a wedding."
"I totally agree," says Navi adding, that's why I think people are trending towards destination weddings because they want it small and personalized."
Well, the trend definitely seems to be going that way.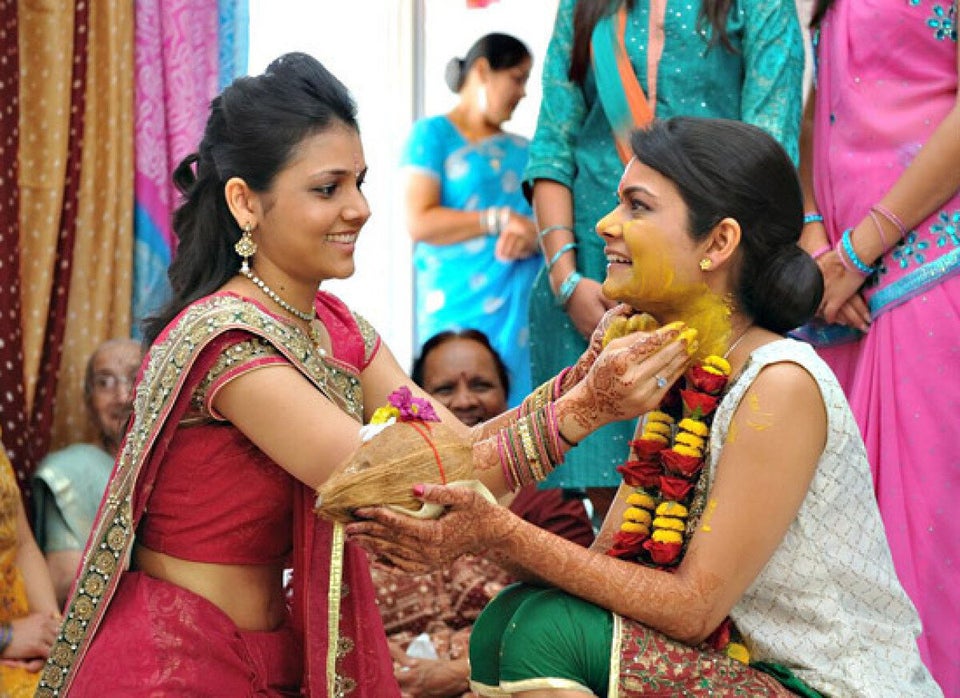 How To Throw An Indian Wedding