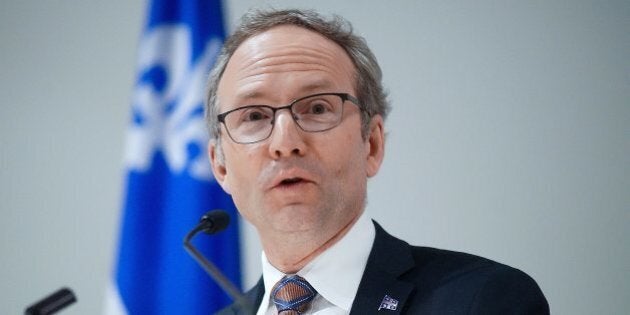 This week, I intended to share with you the extraordinary news from picket lines all across Québec. I had basically finished my blog post when Conseil du Trésor chair Martin Coiteux spoke out and showed his true colours on Thursday. Everyone was talking about it on all the picket lines in Montreal.
Radio-Canada questioned Coiteux about the irony of financing Bombardier so generously at a time when the government is only offering crumbs to public-sector workers. Coiteux was quite clear about it: he continues to try to pit workers against each other. According to him, Bombardier workers deserve this government aid because they pay taxes. If they stop paying taxes, they'll become a burden. For Coiteux, public-sector workers are already a burden.
To quote the chair of the Conseil du Trésor : "The thousands of jobs that are preserved and consolidated in a industry for Quebec like the aerospace sector are the foundation, the cornerstone, that provides the revenue to fund public services."
Some initial observations
I think it is crucial to fully consider and appreciate the position of the government and ruling class on this issue. Here are some initial observations. We workers in the public and private sectors are contributing $1.3 billion to help create a new company. Very serious questions need to be asked about the fact that Quebec is only investing in the riskiest and least profitable part of Bombardier with its half-share of the cost. Bombardier is "protecting" all its profitable branches from the government with the creation of this new company. That's called socializing the risks.
So the government will invest $1.3 billion in a company that will hire 1,700 Bombardier workers -- the equivalent of a subsidy of $704,705 per job. Of course, it's doubtful that this money will go to the workers; it will serve instead to compensate shareholders for their bad decisions.
What's the most upsetting in all this is the speed with which the government invests large amounts in a private company for a high-risk project at the same time as it is loath to invest in public services. Our government of bankers and businessmen should remember that it is responsible for managing for the common good -- period! It's fine with me for Quebec to remain present in what is known as a key industry. But when the current managers continue to administer and play poker with public money, they cross a line that requires serious debate. Especially when all the players in the market, including Quebec's government corporations, have refused to get involved in this very risky venture.
The issue of social inequalities is what our political decisions in the coming years should be measured against. Does investing in Bombardier as the government is doing help reduce social inequalities? What I do know for sure is that investing in our public services is an especially effective way of working for a better distribution of wealth.
Reading between the lines
Mr. Coiteux, I appreciate your frankness (at least since you've been elected -- too bad you weren't so frank during the election campaign). I am in total disagreement with the line you're taking, but at least it's clear. Reading between the lines, you are saying that using public funds to help out affluent private businesspeople is good for Quebec, but meeting the demands of public-sector workers is not.
And to workers in the health and social services and childcare systems, I say you have to stay more determined than ever in order to extract an agreement from this government. What the government showed us this week is that it has lots of other priorities that come ahead of ensuring the sustainability of universal, accessible public services. Then when it comes to public services, all of a sudden there's no more money.
Helping the government find money for reducing inequalities
There is certainly lots of money to respond favourably to our reasonable demands and provide adequate funding for the programs that move us forward as a society, like health care, social services, child care, education, community services, etc.
Where can this money be found? Coiteux knows perfectly well where, but let's help him out a bit with some reminders.
The government could begin by requiring banks to come and testify to a parliamentary committee about tax havens. It could demand that Bombardier and other big Quebec corporations tell us how much money they've hidden away in tax havens. It could restore the tax on capital, introduce an entirely public drug insurance plan, and buy back the contracts for the P3 university hospitals. It could increase the number of tax brackets, which would result in fairer tax contributions from the entire population. And that's just a start.
In conclusion, I would like to congratulate the thousands of members of the FSSS-CSN and the entire Common Front whom I saw on picket lines in various corners of Quebec.
Friends, let's be clear: we didn't win the battle this week. We still have a lot of work ahead of us. But you have convinced me more than ever that we can do the work that needs to be done to win this round of collective bargaining and protect our respective public systems!