During the Bush Era, "West Wing" President Jed Bartlet offered left-wingers a refuge from reality—much as Fox News does for conservatives today.
But Martin Sheen, who turned his late-career turn as Bartlet into his signature role, had already been a liberal icon for decades before the show, thanks to his political activism and his performances in counterculture classics such as"Apocalypse Now."
Today, however, Sheen finds himself frustrated with fellow progressives over their disappointment that Barack Obama's real presidency hasn't matched the heights of his imaginary one.
"It's unrealistic," Sheen told The Huffington Post Canada in a backroom at Montreal's Theatre St-Denis after speaking at Free the Children's latest We Day youth rally. "I wonder how many of those progressives are black? How many of those progressives understand historically what happened?
"There's one face in that crowd that night in Lincoln Park that was the expression of absolute miraculous reality when Barack Obama took the stage with his family as president-elect. Did you see that night when they showed Jesse Jackson?" he asked, mentioning the civil rights icon who spoke earlier at the same event. "I wonder how disappointed Jesse is with Barack Obama?"
Sheen dismissed the complaint from the left that Obama has failed to match the intense umbrage of his Republican opponents. "People say he ought to start getting mad and start yelling at these people," Sheen said. "He didn't get here by showing an angry man; this is a very important job. The whole world is watching every move, listening to nuance that he breathes in public."
The actor pointed his finger squarely at Republicans for Obama's problems, arguing that they have been an unprecedentedly obstructionist congress, especially since the 2010 mid-term elections.
"It's been fighting tooth and nail to get anything on the table with these morons," Sheen groused, adding that the GOP is being directed by the Tea Party, which he called "the professional against-ers who are really to be identified as radical extremists who have no agenda and no purpose."
As for the Republican candidates currently battling it out for the chance to challenge Obama in the general election -- a field which remains crowded after Rick Santorum claimed three states, Mitt Romney six and Newt Gingrich one on Super Tuesday -- Sheen isn't concerned.
"It does not shift the balance of reality. You can listen to any one of those four nominees talk about the [economic] situation and none of them is really in touch with what the hell people are facing, you know? They keep knocking the president, and yet they can't find any fault with him regarding the specifics of the programs that he's initiated in opposition to them."
Despite the seemingly never-ending Republican primary, Sheen said he predicts Romney will wind up the ultimate nominee. But the actor said the former governor of Massachusetts will enter the general election hamstrung by what he's had to say to compete in Tea Party-influenced primaries.
"Who the hell is going to be able to really believe anything Romney says when he stands next to someone who comes from a place and stands for it and risks his life to achieve it? You know, Obama rarely raises his voice, but he rises to every occasion
"Of course, he's going to win. When he gets Romney one on one then you'll see the quality of the man, where he comes from, what he stands for and where he wants to take us. Romney's got a big wallet and a lot of campaign rhetoric, but what's he going to stand on when he stands next to Obama and debates?"
Besides, Sheen said, progressives can also take heart that Occupy Wall Street has halted the rightward swing after the mid-terms and set Obama up to knock the pins down during the election.
"I cannot begin to tell you how encouraging and refreshing the Occupy Movement is to us old-timers, because it came about from a totally new, unconnected generation to us. It came of its own volition, dealing with its own issues. This message that, 'we are divided in a lot of very fundamental ways. There's the 1 percent and the 99.' That is on the agenda now. That cannot be erased.
"It's like you cannot un-ring the bell. They rang the bell on Wall Street, if you will, and that clang reverberated around the world."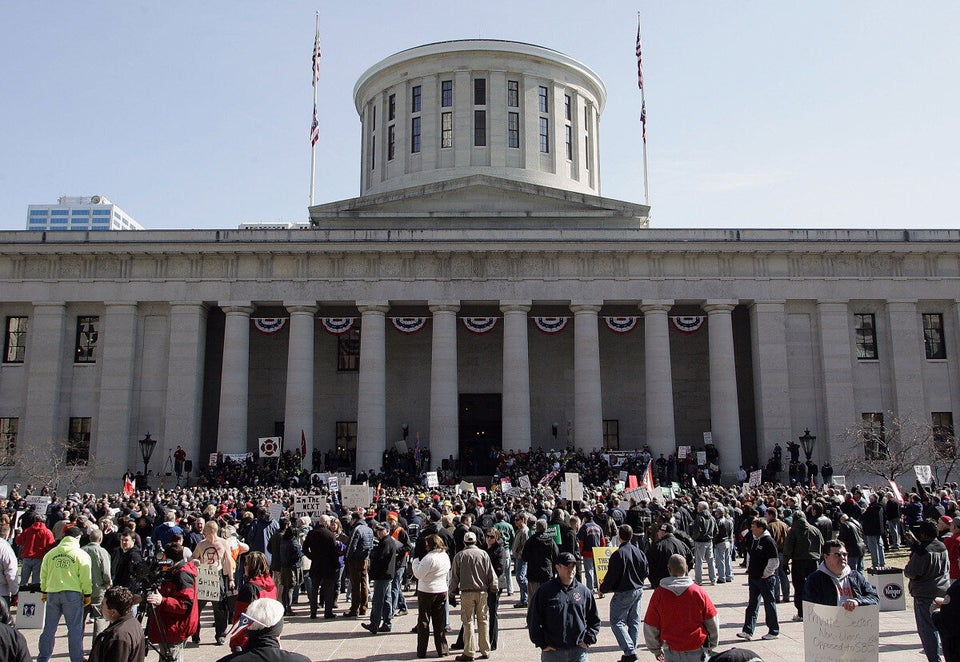 Super Tuesday Winners & Losers(CLONED)