The democratic institutions minister says she doesn't like referenda — but would have a hard time saying no to one if the all-party committee recommending changes to Canada's electoral system deems it necessary.
Maryam Monsef took part in a digital town hall on electoral reform organized by The Huffington Post Canada, where young Canadians pressed her on the Liberal government's pledge that the 2015 election will be the last under the first-past-the-post system.
Conservatives and some academics have said that a national referendum is necessary before any changes are made to the way Canadians vote, arguing that anything less will raise doubts about the legitimacy and fairness of the new system.
"I don't like referenda," Monsef conceded. "I don't think that they are the best way to engage Canadians in a discussion about really important and complex public policy issues like electoral reform."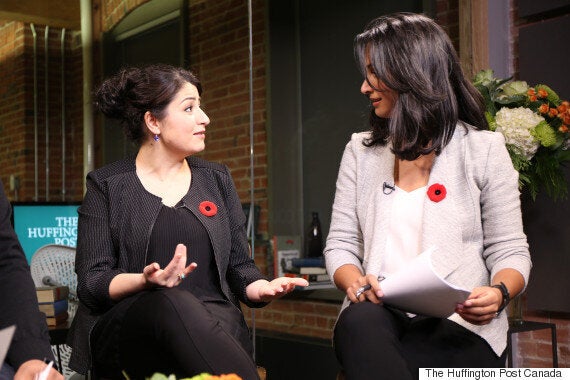 The minister said such votes have a tendency to divide communities.
"That said, if the committee comes back — and this is how much respect I have for this committee's work — if the committee comes back and says a referendum is the only way to legitimize this process, then I have to take that very seriously," she said.
Monsef added that she would "most likely" say yes to a referendum if the three Tory MPs on the committee somehow convince the five remaining Liberals, two New Democrats, one Bloc Quebecois MP and Green Party Leader Elizabeth May that it is essential.
"It will be really hard to say no," she said. "I don't want to say yes, but it would have to be taken very seriously."
But if the past is any indication, a referendum could mean that electoral reform won't happen. Voters in British Columbia, Ontario, and Prince Edward Island have all rejected proposed changes to their voting systems when given the chance to weigh in on the matter.
Monsef pressed on personal preference
The minister has just wrapped a cross-country tour where she held public consultations. At a town hall meeting in Victoria, B.C. last week, Monsef told the crowd that while Trudeau has a "preference" when it comes to a new voting system and that she was also "arriving at a preference," Liberals would not ram through changes without "broad support."
The remark has raised red flags among New Democrats who have long advocated for proportional representation, and fear Liberals are determined to usher in the ranked ballot system about which Trudeau has spoken positively in the past.
Such a system lets voters rank their choices in order of preference. If no candidate wins a clear majority, the last-place candidate is eliminated and the second choices of his or her supporters are counted. The process continues until one candidate emerges with more than 50 per cent of the vote.
Centrist Liberals, the thinking goes, would be the natural second choice of many NDP voters on the left and of Conservatives to their right.
"My preference is for a system that is in the best interests of Canadians."

— Maryam Monsef
However, on Thursday, Monsef refused to disclose what system she is starting to fancy, despite repeated pressing by HuffPost's Ottawa bureau chief Althia Raj.
"My preference is for a system that is in the best interests of Canadians," she said, later adding that citizens want to feel more connected to their representatives.
Monsef also rejected the suggestion that by not telling the public where she is leaning, she was allowing doubt to be cast on the process. The minister said it would be "unfair and irresponsible" to weigh in before the committee comes out with its report next month.
"But do you understand why your vagueness is making people concerned that the system is not fair, that it's not being transparent, that the Liberals are cooking this up for their own political gains?" Raj asked.
Monsef called that "quite a bit of a stretch," and said Liberals aren't cooking anything up.
"This actually isn't about my personal opinion," Monsef said. "It brings some weight, but I can promise you that at the end of this process, this isn't about me."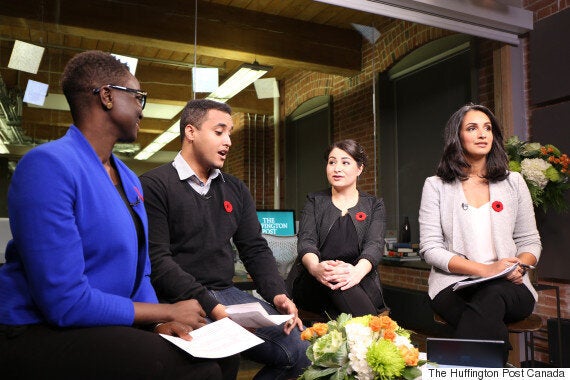 A little later, town hall participant Rudayna Bahubeshi was able to get Monsef to elaborate on the potential benefits of ranked ballots.
Bahubeshi said she read that Trudeau prefers the system and suggested it would benefit Grits more than other parties.
"Folks that vote Conservative, their second choice is going to be Liberal, and folks who vote NDP, their second choice is going to be Liberal," Bahubeshi said.
"Maybe," Monsef replied. "Maybe. 100 per cent?"
Bahubeshi said that while there are exceptions to the rule, the Liberal party's place on the political spectrum could make a new ranked system "convenient" for the government.
"Folks that vote Conservative, their second choice is going to be Liberal, and folks who vote NDP, their second choice is going to be Liberal."

— Rudayna Bahubeshi
Monsef countered there is no data to support that ranked ballots will automatically benefit Liberals because "no one can predict what is going to happen in the future" and the circumstances behind each election are different.
"A ranked ballot rewards those parties that are conciliatory, that are willing to work co-operatively and collaboratively and with civility," she said. "It's not necessarily the Liberal party."
Watch some of the exchange:
Monsef also responded to concerns from some HuffPost readers that Trudeau might be opening the door to backing away from electoral reform entirely. Trudeau raised eyebrows recently when he told La Presse newspaper that the "motivation to change the electoral system is less compelling" now that Canadians are happy with their government.
Raj asked: "For those who are watching and who really care passionately about this issue, can you tell them whether or not 2019 will be held under a new voting system?"
"That's what we're working towards," Monsef replied, adding that the government remains committed to the task.
The committee, she said, is working hard and will to come to an agreement on a proposed change.
"And 2019 will be the first election conducted under a new system," she said.
But the minister also suggested that Liberals will move to address two other thorny democratic issues — the voting rights of Canadian expats and the controversial Fair Elections Act left behind by the previous Tory government.
Monsef was asked if Liberals will work to ensure Canadians who have lived outside of the country for more than five years can vote in the next election, a practice that is currently prohibited. Two Canadians living in the U.S. are challenging the ban at the Supreme Court in February.
Monsef said that, as a millennial, she recognizes many young Canadians want the right to live abroad and still participate in Canadian democracy.
"There's legislation we're reviewing that may address needs of these highly-mobile Canadians," she said.
Liberals also pledged in last year's campaign to "repeal the anti-democratic elements in Stephen Harper's Fair Elections Act." The controversial law brought in stricter identification requirements for voting that many feared would disenfranchise indigenous Canadians on reserves and other Canadians, such as students, who might struggle to establish their addresses.
Monsef said Liberals will move on that pledge "very, very soon" and suggested a debate and vote in the House of Commons isn't far away.
"I'm working on it, man."
With files from The Canadian Press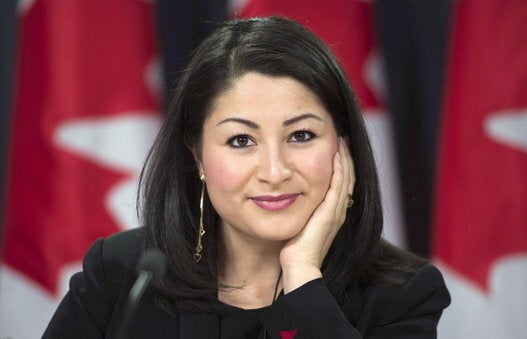 Maryam Monsef, Democratic Institutions Minister
Popular in the Community