OTTAWA — Democratic Institutions Minister Maryam Monsef had nice things to say about each one of her colleagues Wednesday when she appeared before a special committee on electoral reform, but she refused to provide clear answers to any of their questions.
"In what was an amazing tour de force, the minister did not say yes and not say no, over and over and over again, despite repeated questions," Conservative democratic reform critic Scott Reid told reporters after the hearing.
Electoral reform is a complex file and not a simple black-and-white issue, Monsef said, by way of explaining her vague answers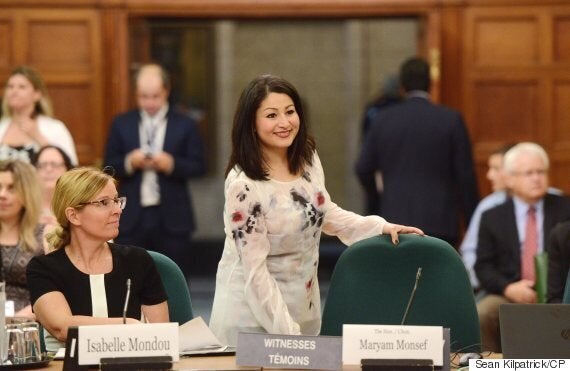 Democratic Institutions Minister Maryam Monsef appears as a witness at an electoral reform committee on Parliament Hill in Ottawa on Wednesday July 6, 2016. (Photo: Sean Kilpatrick/CP)
"It's not as simple as yes or no," Monsef responded to Tory MP Blake Richards when asked whether she would support holding a referendum on electoral reform, if that's what the committee recommends.
"There are a diverse range of opinions," the minister said. "I'm open to all opinions."
Monsef refused to say, when asked by Green Party Leader Elizabeth May, whether she would champion whatever system the committee recommended.
The minister also declined to say whether she believes in the principle of proportional representation, and that a party should receive 30 per cent of the seats in the House of Commons if it wins 30 per cent of the vote in an election.
She did tell MPs she wasn't prepared to update the Referendum Act — legislation that is more than two decades old — because that would be putting the "cart before the horse."
The Tories believe, based on comments from Elections Canada, that not updating the Act could rule out holding a referendum due to time concerns.
Updating the Act after the minister brings forward legislation next spring could take an additional six months, another few months would be needed for a referendum, and then there might not be enough time for the election agency to have the two years it previously said it needs to get ready for possible boundary changes.
Prime Minister Justin Trudeau promised during the 2015 election campaign that it would be the last election under the first-past-the-post system.
While the Tories argue a referendum is required before any changes are made, Monsef laid her best case so far for why she thinks one isn't needed.
Yet, she refused to rule it out categorically.
Sixty-three per cent of Canadians voted in the last election for parties who promised to scrap the current system and replace it with something else, she said. The NDP, the Greens, and the Liberals all promised some form of electoral reform during the campaign.
"In what was an amazing tour de force, the minister did not say yes and not say no, over and over and over again, despite repeated questions."

— Tory critic Scott Reid
"Referenda do not easily lend themselves to effectively deciding complex issues," she told the committee. "They can and have often led to deep divisions within Canadian and other societies, divisions which have not been easily healed," she added, perhaps alluding to the United Kingdom's recent example with Brexit and its slim majority decision to pull the country out of the European Union that has created economic and political chaos.
In Canada, Monself noted, half of eligible voters had not voted in provincial referenda on electoral reform. She said the federal government needs to ensure that those who previously chose to remain voiceless are included in this new process.
Pointing to a 2011 election study by Statistics Canada, Monself noted how those under 45 years of age, those without high school diplomas, and those who rent instead of own homes tend to vote in lower numbers. Single parents, new immigrants, the unemployed, and those in rural and remote areas also have lower participation rates than their married, Canadian-born or well-established immigrants, employed and urban counterparts.
Changes don't require a referendum
"We can imagine this could be similar in a referendum context," she told the committee. "My apprehension with a referendum is the possibility that it will provide an incomplete picture of what Canadians want."
Parliament, she said, made fundamental changes to the electoral system without seeking approval from the populace in the past. In 1874, Canada had adopted the secret ballot and in 1918, women were given the right to vote, she said.
"These changes reflect the nature of a representative democracy like Canada and, although some were controversial in their time, in retrospect seem like obvious reforms undertaken by the Parliament of Canada," Monsef said.
Does government need at least one other parties' support?
The minister said she hoped the committee would be able to work collaboratively and not issue five minority reports where members from each political party held to their partisan lines. She stressed the importance of working by consensus.
But she declined to say, when asked after the hearing by The Huffington Post Canada, whether she felt the government needed at least one other political parties' support before moving ahead with electoral changes.
She repeated what she had told the committee, that the government would not move forward without the "broad support of Canadians." She did not say what that meant.
She also suggested — by refusing to answer May's questions — that the committee's report would be non-binding and would serve to influence her recommendations to cabinet.
Monsef and her parliamentary secretary, Mark Holland, have a large budget to travel coast to coast to coast across the country to engage in their own separate consultations.
'It doesn't look good for the Liberals'
By refusing to commit herself to any promises, Monsef could be leaving the door open to manipulating the electoral system in a way that serves her party, suggested Reid.
"If it doesn't look good for the Liberals, it's not going forward, that you can be sure of," he said.
Both he and May said they were "disappointed" by the minister's lack of answers.
The all-party committee is charged with studying different electoral systems by taking into account, for example, that votes are fairly translated into seats and that there are fewer distortions that do not reflect the popular vote.
Monsef asked the committee to consider voting systems that foster greater civility and collaboration in politics, increases social cohesion, offers more inclusion to underrepresented groups, and ensures a strong link between MPs and their communities, all while avoiding an unduly complex system.
The committee is expected to broadly consult with experts and stakeholders and launch a national engagement process with Canadians online. It is urging Canadians to communicate through social media by using the hashtag #ERRE.
Wednesday, Monsef also tabled a "dialogue guide" for the public and MPs — if they wish to use it in their consultations with their constituents — on how to hold successful conversations on electoral reform.
MPs are expected to hold town halls and provide written reports by Oct. 14. Some, such as Liberal MP Greg Fergus and parliamentary secretary, Karen McCrimmon, have already began their talks.
Fergus held three discussions so far. McCrimmon told HuffPost that more than 150 people showed up at her a town hall meeting in April. The residents of Kanata–Carleton expressed a desire for an electoral system that cost less money and fostered co-operation and collaboration between MPs, the Ontario MP said.
McCrimmon said she fears the first-past-the-post system will lead to the polarization of Canadian politics, just like what is happening in the United States.
"It's kind of like a horror story happening down there right now."
The special committee on electoral reform was struck last month after the NDP pressured the Liberal government into giving up its majority and offering all parties voting seats. The group is also examining mandatory voting and online voting.
The committee's final report is due on Dec. 1, 2016. Monsef promised legislation before next summer.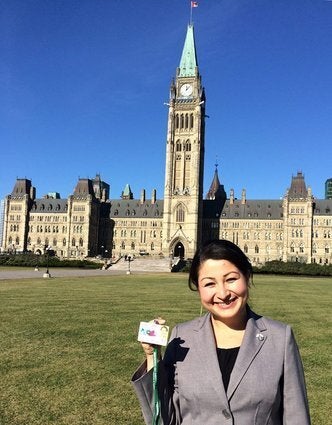 Rookie MPs To Keep Your Eye On