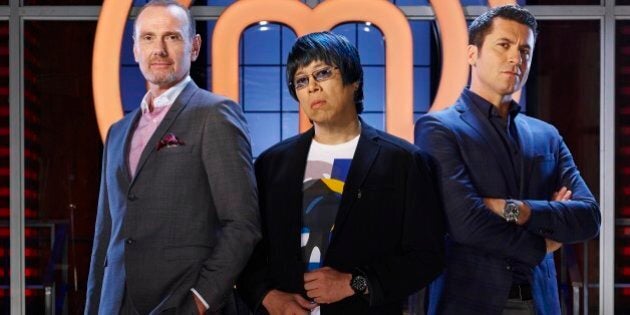 A food fight has broken out.
No, not the cafeteria variety where lunch items are lobbed across a crowded room. Instead, this is "MasterChef Canada," a television competition in which home cooks participate in weekly culinary challenges and are eliminated each round. Up for grabs is $100,000 and the "MasterChef Canada" title.
On a September afternoon in 2014, Season 2 production of "MasterChef Canada" is underway. Today, the 13 remaining contestants have been tasked with preparing a delectable artisan pizza. It's not as easy as slathering on some tomato sauce and adding pepperoni. The trio of judges -- Claudio Aprile, Michael Bonacini and Alvin Leung -- are expecting the home cooks to elevate the fast-food staple. With only 60 minutes to whip up their dish, the cooks scramble. One contender turns to Chanterelle mushrooms, caramelized fennel and figs for his masterpiece. Another participant is counting on a combination of peaches, walnuts, pancetta, basil and a balsamic glaze to win the day. During the process, the judges visit each baking station to ask the cooks questions about what's being baked, braised, fried or heated.
After the time has elapsed, the judges sample each pizza and offer comments or criticisms. Then, they debate and deliberate before declaring a winner for the round.
"MasterChef Canada" kicks off its second appetizing season on February 1 following the Super Bowl. HuffPost Canada sat down with Aprile, Bonacini and Leung on the set to discuss the home cooks, pizza, taste vs. presentation and predicting a winner.
HuffPost Canada: These contestants seem pretty talented. How does this crop of home cooks compare to last season?
Claudio Aprile: They have an understanding of the show and how difficult it is, how challenging it is, but more importantly, how rewarding it can be. I think they are pushing really hard. We're seeing a much higher calibre of home cook.
Michael Bonacini: They are incredibly energetic and enthusiastic. They all have that attitude that they've got what it takes, that they have something to prove to someone out there -- family, friends, neighbours or themselves -- that they can do this. The ones that they have to prove it to are us.
Alvin Leung: It's more real this year. After watching last year's show, a lot of the home cooks did so well. I'm not just talking about Eric [Chong], who won it and is now doing his own restaurant. You have other home cooks, such as Marida [Mohammed], who is doing some catering. You have Dora [Cote] opening a restaurant. I think they are a lot more serious this year, especially on the food. This is good for us. We have to take less antacids. Overall, I think it's going to be a lot more competitive.
What does a pizza challenge allow the home cooks to showcase and tell you about themselves?
Bonacini: At first glance, you look at a pizza challenge and a lot of people at home may think, "That seems pretty simple. We eat pizza every day." But, there's a lot of bad pizza out there. What we were looking for was an artisan-style pizza, that's using top-quality ingredients that shows who they are, innovation and creativity. They still have to provide an aesthetically good-looking pizza, but more importantly, an amazing-tasting pizza. That's not an easy thing to do because it's so easy to get carried away with a little more sauce. Some will add this meat and that vegetable and that cheese with this different oil and that vinegar. You build these layers of flavour and suddenly, it's just too over the top. You bury the purity and honesty of a great artisan pizza.
Aprile: People seem to underestimate simplicity. In cooking, little things make a big difference, and make a big impact, on whether the dish is going to become an utter failure or an absolute success. Pizza is a great challenge because it's a blank canvas for the home cooks to convey what their style is, who they are, whether they are taking a safe route, or being innovative, or a combination of both.
Leung: Pizza has to be up there as one of the most popular foods in Canada. For me, it's one of my favourites. Having something like this is a good challenge because the viewers can relate to it much better. Right away, we know what a good pizza is. Most people love pizza. People at home, as well as us, are all qualified judges because we all know what we like. For us, it's not just about what we like. It's about what we perceive that everybody out there would like. It's the cheese, the textures, the flavours, the combinations and the execution.
What are some of the biggest pitfalls these home cooks face?
Aprile: One of the biggest challenges is time management. In the "MasterChef Canada" kitchen, hours feel like minutes. It goes by so quickly. They don't realize that until they are halfway through the competition. Ultimately, we're looking for really delicious food. Some people can create that in minutes. Some people take the full hour. It's amazing to see how when we do the time checks and look in their eyes, when they realize they only have five minutes left, it's complete shock.
Bonacini: I do think there is a tendency to overthink and over-complicate things. Again, that is easily done when you are trying to impress three judges, who we like to think have a great deal of experience. One of the home cooks' goals is to try and impress us. In order to do that, they often think more is more, while less is more.
Leung: I think sheer nerves. You can physically see home cooks shaking. It's like a professional kitchen. When the going gets tough, the tough get going. There's a lot at stake. The title. A hundred grand. They are nervous, so can they preform when they are that nervous? Can they reach their current potential? Sometimes they falter because of this. They make decisions like putting too much of something on. "I can do this perfect at home, but would they like it? Let's add more to it."
When someone presents a dish to you, what criteria do you consider? Taste gets emphasized, but the old slogan goes, "You eat with your eyes first." How important is presentation?
Aprile: It's all important, which is why I think cooking as a profession is the most-judged, most-scrutinized and most-subjective career path that anyone could ever take. What we do affects all the senses. There are so many different criteria that go into making a dish successful.
Bonacini: Certainly when a dish comes up in front of you, you eat with your eyes first. That either says to you, "I think I'm going to like this," or, "This doesn't look so great. I'm not sure it's going to taste so good." Sometimes those preconceived notions might take a second longer to digest until you eat that first bite and go, "Not only does it look great, it tastes even better." Or it could look great, but it doesn't deliver on the taste. Sometimes you have those polar opposites happening and that's always disappointing. When you look at a plate and it looks amazing and tastes lousy, your heart sinks. But when something looks great and then tastes even better, that is a euphoric high that is absolutely amazing. We look for taste, texture, flavour, use of ingredients and innovation.
Should the home cooks take into consideration your likes and dislikes?
Leung: First of all, when we do judging, there's three of us. It's very difficult to satisfy everybody. Life is funny. They have to figure out what we like, while we're figuring out what all of Canada likes.
Aprile: At the end of the day, if I could give the home cooks any advice, or even give my younger self any advice, it's don't try to be everything to everyone. Just cook what you feel. It's something that you understand and you enjoy making and think other people will enjoy making. As a home cook, it's virtually impossible to please the three of us all the time.
Are there any ingredients that you hate to see come up on a plate?
Aprile: I had the misfortune of being forced to eat liver when I was a young boy. A message to all wannabe home cooks, who are thinking about "MasterChef Canada," is think long and hard before you serve me calves' liver.
Leung: You are looking at the Chinese. We eat everything.
Bonacini: There's nothing I don't eat. I'm not a huge fan of eggplant. I enjoy eggplant when it's cooked really well, but there's a texture about badly cooked egg plant parmigiana… It's a texture thing.
Leung: What I don't like to see, or rather what I don't like to eat, is foie gras with caviar on a filet mignon with lobster on top. You don't need to put all the luxury together and think it's going to taste like a million dollars. Truffle oil is also a no-no.
Listening to you guys banter is like watching a comedy routine. Are you having more fun now that you've gotten to know each other?
Bonacini: We're getting along like a house on fire. The relationship and bonding is way stronger than it was last year. I'm looking forward to having many more weeks of fun. We'll have our internal debates about various dishes and ingredients and dining experiences. That's part of the recipe that makes the show interesting to watch.
Leung: Last year was horrible because I hated these two. Since then, they increased my salary. They doubled my salary and theirs stayed the same.
Aprile: Alvin is the Asian brother I never had. Life is short. I think it's mandatory, not an option, to have fun at work. You need to have a great time. There's no doubt there is a chemistry between the three of us that really works. We don't agree on everything, which makes it fascinating to watch. We look out for each other. There are other formats out there where there isn't the same cohesiveness that we have. That's part of the reason this show has been embraced so well.
Is it too early to look at the contestants and tell who the top contenders are?
Aprile: You think you can. One of the biggest factors of the show is you have no idea what's going to happen. It's not predictable. You don't have the quintessential plots that happen. You can be up one moment and then gone the next. That makes it the kind of television that you cannot turn away from.
Bonacini: Like everyone, these home cooks have strengths and weaknesses. There are times when a challenge plays to their strengths and other times a challenge shows their weaknesses. That's the roller-coaster ride you saw Eric go on last year. If I'm being honest with you, we do try and say, "We think so-and-so will make it into the top 10 or the top eight or the top five." Then, all of a sudden, the rubber hits the road and they fall apart. "Oh geez. We have to rethink that one." It's an ever-changing landscape. It's as fascinating for us to try to figure out who is going to make it through to the top three, four or five. I personally think it's still a little early.
Leung: Last year, I supplemented my salary by making bets with these two on who would be out next. It's like the Olympics. It's not "Who is the best now?" It's "Who is the best at the end of the day?" Everybody is trying to peak, but it's no good to peak this early. You need to peak at the right time.
"MasterChef Canada" premieres on Sunday, February 1 following the Super Bowl on CTV.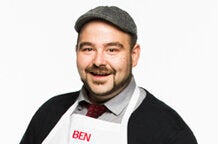 Who's On MasterChef Canada?