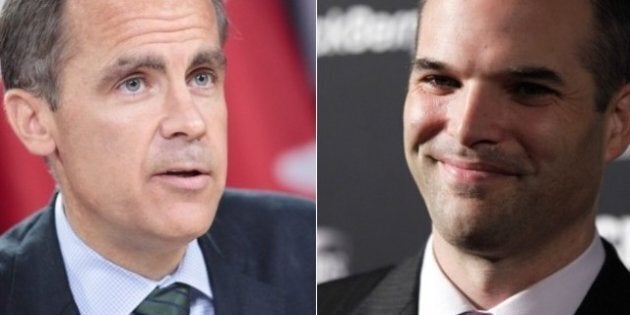 Matt Taibbi, the Rolling Stone finance writer who rose to fame with his description of Goldman Sachs as a "vampire squid," set his sights on Mark Carney in a blog post Thursday.
Clearly, Taibbi is no fan of the current Bank of Canada governor and soon-to-be Bank of England governor.
Taibbi added: "He'll likely be another central banker in the mold of Ben Bernanke, who's used endless rivers of cheap loans and money-printing programs like Quantitative Easing to keep floating corrupt banks all night long, for as long as they want to keep playing the roulette table."
(STORY CONTINUES BELOW SLIDESHOW)
As backing for his argument, Taibbi points to an opinion piece in The Guardian that argues Carney's Goldman Sachs pedigree means the U.K. will see only more of the same from its central bank with Carney at the helm.
"So be very afraid. Business-as-usual will prevail. And nothing will be done to constrain the City, and therefore to prevent the next collapse of the financial system."
The argument that Carney is tainted by his Goldman Sachs background is not new, but it ignores the sometimes surprisingly populist attitudes Carney has expressed in his post-Goldman years, particularly as head of the Bank of Canada.
He caught more than a few people by surprise last year when he described the Occupy Wall Street movement as "entirely constructive."
History seemed to be on Carney's side on that one. A few months later, the U.S. announced it would implement the Basel III rules, and a few months after that, Carney was appointed the head of the Financial Stability Board, a global group that, along with the Bank for International Settlements, oversees the implementation of the Basel III rules.
What the banking system really needs is a guy who will step in and force bankers to go back to being boring, risk-averse drips who lend businesses money to buy new equipment or fleets of trucks or whatever. What we have instead are coked-up wannabe big shots straight out of Boiler Room who are washing Mexican drug money and laundering Middle Eastern cash and playing around with wild price-fixing schemes – pretty much everything you can think of that isn't quietly counting beans and helping grow the economy.
Read the whole thing here.