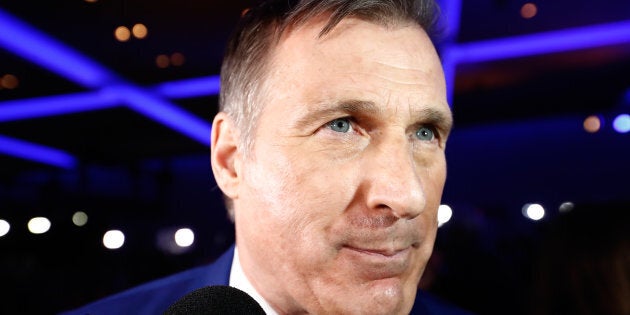 RED BAY, ONT. — Some Conservative members may be keen to move on from Maxime Bernier, but the Quebec MP is seemingly having a hard time letting go of the party.
Bernier, the former Conservative MP, was trolling Andrew Scheer Saturday on Twitter providing snarky commentary in response to smiling pictures of his former leader with members of the Dairy Farmers of Canada.
Scheer joked last year that his leadership win was because of support from dairy farmers. Advocating free markets, Bernier insinuated that supply management is a system that puts "politicians in their pockets."
As much as Bernier seems to enjoy dishing insults, he told The Evan Solomon Show Friday that he also loves the criticism thrown at him by his former caucus colleagues over his decision to quit the party.
"It's typical of a loser. The losers are doing that," the outspoken politician told host Evan Solomon. "They don't want to have real debate."
Since Bernier made his announcement Thursday, the first day of the party's biennial convention in Halifax, he's been reamed by Scheer, Conservative MPs, and senators for calling the party "intellectually and morally corrupt."
Conservative immigration critic Michelle Rempel said she was caught off guard by Bernier's tweets last week about immigration that earned harsh rebukes by Tories as well as Liberal and NDP MPs.
"That was the first time I think in three years he's talked about that particular topic," Rempel told HuffPost Canada. "I'm sure if you pressed him on the functionality of policy mechanisms he would have some difficulty answering that."
The Conservative party is overly concerned with public opinion polls and lacks "courage" to debate issues such as supply management, Bernier said.
"They know that most Conservatives agree with me. They know that. And they don't have the courage to do these reforms. They don't have the courage to speak about that. And they cannot fight me on real issues."
The Beauce MP will continue to sit in the House of Commons and intends to run in the next election as a member of his new federal party. The name of the party will be revealed in upcoming weeks, he said.
Bernier, who recently paid off his $275,000 leadership debt, said he's confident financial support won't wane going into the next election now that he's no longer a part of the Conservative caucus.
"People are giving money for the ideas. They don't give money because they like my face," he said.
With files from Althia Raj