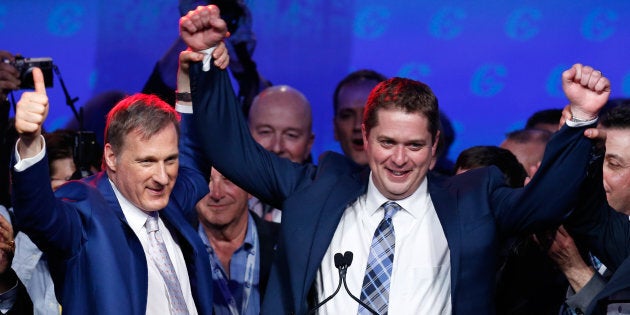 OTTAWA — Conservative MP Maxime Bernier fired back Thursday morning at his party leader Andrew Scheer, insisting he is not engaging in "identity politics" as the top Tory suggested.
He also pointed a finger at Tories by saying they were equally guilty of pandering to ethnic groups for electoral gains as the Liberals.
In his latest string of tweets, Bernier said he has repeatedly stated that he believes it is reductive, divisive, and destructive to focus on cultural and ethnic identity in political discussions and that it will lead to less social cohesion.
Bernier said that unlike "all political parties" who engage in the pervasive practice to "buy votes," he's advancing "the opposite of identity politics'' by focusing on policy solutions that concern all Canadians.
In a series of tweets posted Sunday, Bernier said promoting too much diversity could have the effect of dividing Canada into "little tribes'' that cause division and erode Canada's identity and he wondered: "where do we draw the line?"
Scheer said Bernier "does not speak for the Conservative Party on any issue" and stressed that his MP holds "no official role" in caucus.
"Personally, I disagree with politicians on the left and the right when they use identity politics to divide Canadians. I will not engage in this type of politics," Scheer added.
On Thursday, Scheer, who is in Saskatchewan with his family, chose to face the television cameras to respond to the brewing political storm. Yet he declined to say how exactly he planned to deal with Bernier.
Scheer called his former leadership challenger "an an individual member of Parliament" who "doesn't speak for the party" and only "speaks for himself."
Scheer said he asked his caucus to work together as a team, to share information, and that there is an expectation to "ensure that we are all rowing in the same direction."
"I believe that is the best way to win the next election," he told reporters.
Scheer declined to say what feedback, if any, he has received from other MPs. He also refused to say whether he was surprised by Bernier's comments or whether he intends to have him expelled.
"I do not wish to discuss internal caucus issues but I can tell you that there is an expectation that all MPs work together, work as a team on all issues in order to send a message that we are a government in waiting," Scheer repeated.
He also stated that "each member of Parliament wants to see the rest of their colleagues doing the same thing."
The Tory leader also took the opportunity to stress the party's friendly stance towards immigrants.
"The Conservative Party of Canada has always celebrated people coming from all over the world to come and share in what this country has to offer," Scheer said. "The fundamental difference between our party and the Liberals is that we believe you can have both diversity and unity. You can promote integration and... promote the embracing of the fundamental Canadians principles that have made our country great.
"I'm glad that I live in a country where people can come, practice their faith and pass on their cultural traditions and that is important."
The Conservatives, under former prime minister Stephen Harper and minister Jason Kenney, spent years reaching out to ethnic communities that proved instrumental to the party's electoral success.
Trudeau: Same old Harper party
Bernier's comments come as Scheer prepares for the party's biennial convention in Halifax next week. This will be Scheer's first time addressing an expected 3,000 Conservative members since he narrowly won the party's leadership against Bernier last year.
At a news conference in Saint-Eustache, Que. Thursday, Prime Minister Justin Trudeau was asked to weigh in on Bernier's comments.
Trudeau said the issues showed "the Conservative Party hasn't changed much" since it was led by Harper.
"They still look at the politics of division as a way of drawing political advantage, by pitting Canadians against each other," he said. "New Canadians against people who have been here for a generation or two, against people who have been here for centuries or even millenia."
While the "politics of division" can work in the short term to help a party get elected, Trudeau said, "it doesn't help you govern" and solve problems.
"Our focus as a government is always on bringing people together and recognizing that different perspectives, different backgrounds is a source of strength," he said.
"And this government, and quite frankly Canadians, will always stand firmly in understanding that different perspectives make the richness of this country."
The Liberals have been fundraising on Bernier's tweets using them as a wedge issue to draw out more supporters to the governing party.
With files from The Canadian Press
Popular in the Community