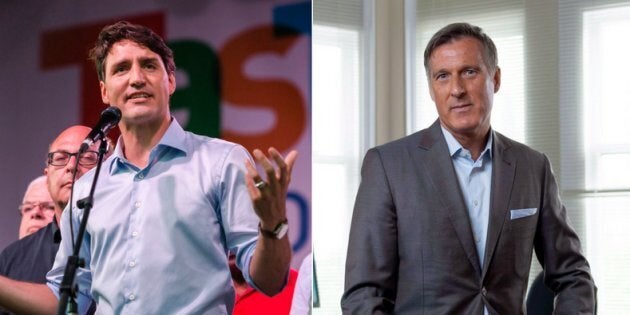 OTTAWA — Conservative MP Maxime Bernier accused Prime Minister Justin Trudeau on Monday of pushing a "radical multiculturalism" agenda with his continued support for "more diversity."
Bernier waded into an ongoing immigration debate by suggesting advocacy for a society that's "infinitely diverse" will endanger Canada's core identity.
The comments pick up on statements Bernier made Sunday, acknowledging that Canada is a "huge and diverse" country. He criticized remarks Trudeau said in Toronto on Friday at the opening of the Taste of Danforth street festival — near the site where a gunman opened fire on diners last month, killing two and injuring 13 people.
Trudeau told the crowd that resilience comes from "different perspectives, different backgrounds, different cultures coming together and celebrating the same things." Differences are a source of strength and "never a source of weakness," he said.
"Having people live among us who reject basic Western values such as freedom, equality, tolerance and openness doesn't make us strong," Bernier tweeted, adding that those who do not integrate and adapt Canadian values "don't make our society strong."
Conservative Leader Andrew Scheer has not commented on Bernier's tweets as of publication.
HuffPost Canada has reached out to Bernier and the Prime Minister's Office for comment.
Liberals promptly weighed in on Bernier's tweets. Toronto MP Adam Vaughan called the statements "racist." Whitby MP Celina Caesar-Chavannes called Bernier's remarks "toxic and damaging."
The Liberals later released a fundraising message critical of the Conservatives and called on supporters to donate to "ensure that positive politics wins the day."
"Once again they're showing that they are entirely out of touch with Canadians and this country's commitment to inclusion," it read.
Tory MP says Bernier's views don't reflect party
One Conservative MP says Bernier's comments do not reflect a view held by the party as a whole.
Newcomers hesitant of integrating into Canadian society applies to a "minute number of people coming to Canada," Calgary Forest Lawn MP Deepak Obhrai told HuffPost Canada in an interview.
"Most people coming to Canada seek freedom, opportunity, like all other Canadians who have come here before that have come to this country," Obhrai said, warning that it's important to recognize this trend, but to avoid falling into a "trap" of generalizing the habits of a few.
Watch Trudeau pitch diversity to NYU graduates
Immigrants are attracted to Canada because of what the country offers, the former Conservative leadership candidate said. Obhrai said his opinion on the issue has been shaped by his own experience as a minority, and from his travels around the world on behalf of the government.
"Yes, there is discrimination in this country; yes, we have seen that happen," he said. "But gradually we are overcoming those barriers and we are becoming a country that is admired around the world."
The Beauce MP's views have previously clashed with the party leadership by holding views contrary to the party line.
Bernier lost his role as innovation critic for the Official Opposition earlier this year as punishment for sharing a chapter from his book on his website, opposing Canada's supply management system.
Obhrai distanced himself from Bernier's comments.
"Mr. Bernier has just said what he wants to say. That's his view."