Maxime Bernier has named his new upstart group the "People's Party of Canada."
The veteran Quebec MP made the announcement at a press conference in Ottawa Friday where he unveiled a party logo, new website, and the opening of party headquarters in Gatineau, Que.
Bernier said the name highlights how the movement aims to put power back in the hands of people.
"It is time that the government put the Canadian people first when they make decisions or set public policy," he said.
Bernier, who finished a close second in last year's federal Conservative leadership race, left the party last month just ahead of the Tory policy convention in Halifax, N.S. The MP blasted the party, led by Andrew Scheer, as too "morally and intellectually corrupt to be reformed."
Speaking Friday, Bernier said that traditional politics has been hijacked by special interest groups, lobbyists, unions, corporations, and bureaucrats that ensure government keeps growing.
While slamming the current Liberal government as out-of-touch, Bernier said the "old parties" all pander to various groups and divide Canadians "into little tribes" to be bought with taxpayer money and promises.
Ex-Tory leadership hopeful's platform will be key
"Nobody speaks for all Canadians. Nobody speaks for the people."
The former cabinet minister under Stephen Harper said his party will attract support from people who never vote in elections, disaffected Tories, and Canadians who are fed up with Liberal deficits.
The People's Party will denounce programs that protect industries from competition and create barriers to trade, he said. Bernier's opposition to Canada's supply management system for dairy and poultry — something he calls a government "cartel" — was a major source of friction with Scheer, who supports the status quo.
Bernier says he has raised $140,000 for his new party and will have a candidate in every riding in next fall's federal election. He also confirmed there will not be a leadership race for the new party.
Bernier said immigration shouldn't be a "taboo subject" to debate and denied he was using coded language for Muslim newcomers.
While saying he would prioritize economic immigrants, Bernier seemed to struggle to share concrete instances of "extreme" diversity. By way of example, he said Canada should not accept an immigrant who believes gay people should be hanged.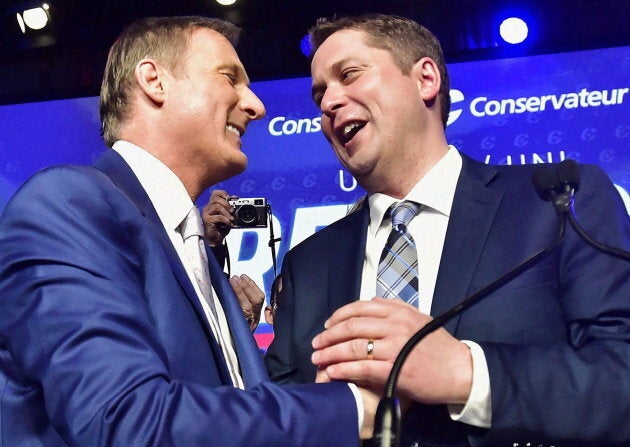 Bernier said he was proud that people come from all over the world to join Canada. Though NDP Leader Jagmeet Singh accused Bernier this week of seeking to form an anti-immigrant party, Bernier said xenophobes would not have a place in the group.
"I don't share those values. It's clear," he said.
In the Tory leadership race, Bernier spoke out against the push by rival Kellie Leitch to screen newcomers for so-called "anti-Canadian values." When asked how to square that position with his current approach, Bernier said his party will come forward with more "specific" ideas.
Bernier took a number of shots at his former party, charging that Tories base decisions around polling instead of principles. Scheer's team is too afraid to debate the big issues, he suggested.
Conservatives worried about splitting the vote in 2019 should join his party, Bernier said, because it will be the "real alternative" to Trudeau's Liberals.
He offered a firm "no" when asked if he was wooing anyone from the Tory caucus to join his venture, saying he wants to "attract the base" instead.
"I'm not looking to have the support of my former colleagues. I respect their position. I didn't call them. I didn't ask them for their support. I don't have time for that, actually," he said with a laugh.
"I'm very busy (speaking) with people who are calling and want to help."
Popular in the Community