HALIFAX — Maxime Bernier is forming his own pan-Canadian political party.
Hours before the Conservative caucus was set to discuss in Halifax what to do with their controversial Quebec MP, Bernier held a press conference in Ottawa announcing that he is quitting the party and plans to start his own in time for next year's election.
"I have come to realize over the past year that this party is too intellectually and morally corrupt to be reformed," Bernier told reporters.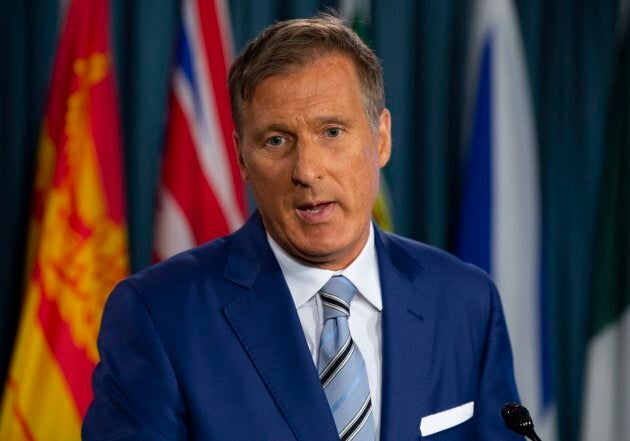 In a scathing attack of the Conservatives, Bernier said the party, for which he has been an MP since 2006, had changed under the leadership of Andrew Scheer.
"This party, intellectually, they just want to try to please everybody." Making decisions based on public opinion polling to try to please everybody just leads to pleasing nobody, he said. "So I prefer to do politics differently, and to speak about what I believe."
In Halifax, where some 3,000 party members are gathered, Bernier's former colleagues and some Tory delegates wished him good riddance.
Montreal delegate Kathleen Maher Wagner wore a sign around her neck with the words: "By By Bernier."
"Someone told me, I was missing an 'e'," she said laughing. "It represents how I feel. I'm very glad that he made the decision and that he's left. I think it will be better for the party that he takes his ideas and does what he wants with them. He never wanted to support the leader."
Former prime minister Stephen Harper tweeted that it is clear that Bernier had never accepted the results of the last leadership contest and only sought to divide Conservatives.
Those words were echoed on the convention floor.
"I don't think the leadership convention had been settled, so now it's settled," Alan Williams, a Nova Scotia delegate from Dartmouth–Cole Harbour told HuffPost Canada. "It helps the party to move on, and, I think, it will actually unify the party."
Scheer defeated Bernier by less than two percentage points during last year's Conservative leadership contest.
Bernier chose '
coward's way out': Clement
Conservative MP Tony Clement, who backed Bernier during the race but has since distanced himself from Bernier's views on immigration, said he was disappointed in his former caucus teammate.
"I think he's taken almost the coward's way out rather than fight for what he believes in within our party, where he was welcome to do so," Clement said. "I feel sad for him.... I don't think anybody will join him. He has insulted our caucus. He has not talked to our caucus.He hasn't talked to me in weeks, so I had no idea he was planning this little plot. And, I think, we are actually bound together more tightly because of this."
Conservative Leader Andrew Scheer also said he expected none of his MPs to follow Bernier out the door.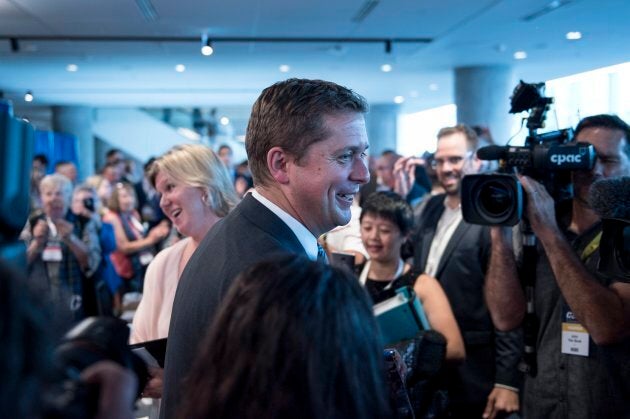 Bernier had chosen to put himself "above" the Conservative party, Scheer said in response to the MP's surprise announcement on the first day of the Tories' biennial policy convention.
"He has decided to help Justin Trudeau and abandoned the best alternative to this Liberal government," Scheer said.
But when pressed about whether that meant he thought Bernier's new political party would split the Tories' vote — as the Reform Party and the Canadian Alliance had hurt the Progressive Conservatives and led to three majority Liberal governments — Scheer said "no."
"More and more Canadians have a sense of urgency about replacing Justin Trudeau," he said. He was confident that those who want to see lower taxes, a balanced budget, an end to the carbon tax, and planned orderly and lawful migration would support his party, he said.
Some Tories disagreed. Harper's former policy director, Rachel Curran, tweeted that the Grits had just secured the next election.
Saskatchewan Premier Scott Moe tweeted about the lessons of history Thursday.
The leader of the United Conservatives, Jason Kenney, who is in Halifax, said Bernier had placed himself on the margins of the Tory caucus with policies none of his teammates wanted to support. He called the pending party "a joke."
"Conservatives need to be united to win and I think they are united. I think one man's ego is not going to change that," Kenney said.
How Bernier came to his decision
Bernier told reporters he concluded after speaking to Scheer nine days ago that he could no longer work within the Tory fold.
"After that discussion, I realized I don't have any place in that party anymore."
After spending a year, he said, fighting internally for bolder reforms on, for example, ending supply management and scrapping government subsidies to big businesses, he had come up empty-handed.
"I was not successful, as you know," he said.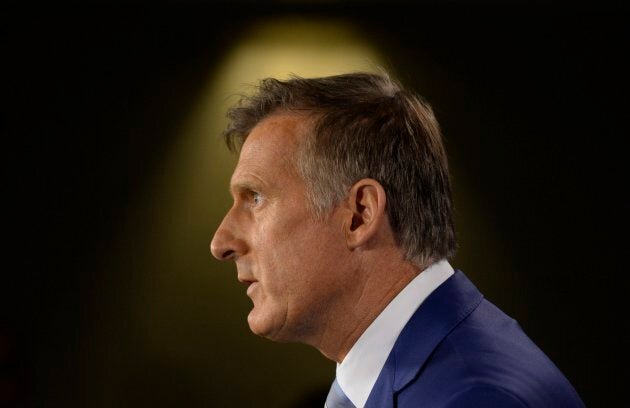 Several Conservative MPs, including Scheer, dismissed that notion, saying Bernier had never lobbied for his ideas before caucus.
"All the things he is talking about, he's never actually brought up in caucus," Manitoba MP James Bezan told HuffPost. "This is a guy that is narcissistic — it is all about him and not about the team."
Bernier portrayed himself as the lone MP in the House of Commons crusading for consumers against what he called the dairy cartel, and said he was the only voice arguing against a trade war with the United States.
Without support, Bernier told reporters he decided: "I would best serve Canadians if we create a new party."
He dismissed concerns he might split votes on the right of the political spectrum by saying he thought "true Conservative reformists in Canada" would join him.
I don't know what's going to happen. It's a big gamble.
A close adviser to Bernier told HuffPost the new party would be similar to Alberta's defunct Wildrose and that they plan to run candidates across the country.
"I don't know what's going to happen. It's a big gamble," the source said. "But Maxime, he is there to defend his ideas. He doesn't want to make any more compromises."
Up until two weeks ago, Bernier fully intended to run as a Conservative in the next election, he said, and planned to challenge the Scheer after the next election, should the Liberals win again, which would automatically lead to a leadership review.
But after Bernier sent a series of tweets criticizing the Liberals for embracing too much diversity, the source said it became clear that the former cabinet minister might get kicked out of the caucus and that his views were not welcomed.
"The tweets unleashed a response that made it that this was no longer possible," the source said.
Establishing a new party had always been a secondary option "if, for example, Bernier was kicked out of caucus." And, the source said, that crystallized as a possibility after Bernier was removed from the shadow cabinet for promoting a chapter from his impending book in which he accused Scheer of winning the race after signing up "fake Conservatives" interested only in defeating the Beauce MP's supply management plans.
"He is 55 years old ... [and has no] more time to waste," the adviser said. "He does not want to spend another 10 years repeating lines that seem like they come from a Conservative party but are actually focus-grouped platitudes to ensure they are inoffensive. He doesn't want to do this anymore."
Bernier had been approached to join the Libertarian party, but he felt the party was too restrictive. "It would look too much like he was joining a marginal party. We need to aim much higher than that. The goal is to get the most support as possible."
On the question of multiculturalism, the source said, many in the Libertarian party also disagreed with Bernier.
Earlier this month, Bernier sent a number of tweets attacking Prime Minister Justin Trudeau for supporting what he called "extreme multiculturalism."
Scheer responded later that week — after his chat with Bernier — to say he did not share his MP's views on diversity and that the Quebec MP — while still a member of caucus — was speaking for himself.
Bernier's senior adviser, Martin Masse, quit his job this week at the Montreal-based MEI, a think-tank devoted to more market-based principles, to devote himself fully to their project.
Bernier said Masse, his long-time friend, would continue to tweet on his behalf and that the two share the same beliefs.
While factions of the conservative movement haven't seen recent electoral success, Bernier's adviser was confident this project might see a different fate.
"Our goal is to go all the way and not to rejoin the Conservative party eventually. There were tentatives that didn't work. It doesn't mean that this one won't."
But back in Halifax the mood was dismissive.
"Maxime will be lonely," said Rick Roberts, an Ontario delegate from Leeds–Grenville–Thousand Islands and Rideau Lakes.
With a file from Ryan Maloney.
Popular in the Community