OTTAWA — In an effort to attract donors, former Conservative cabinet minister Maxime Bernier will officially throw his hat in the Tory leadership contest Thursday.
Bernier will march into the Conservative Party headquarters Thursday afternoon, hand over $25,000 and paperwork that includes 300 signatures from Tory members, and formerly launch a campaign that is expected to last more than 13 months.
The popular Quebec MP told The Huffington Post Canada Wednesday that he decided to join the race early because he's ready.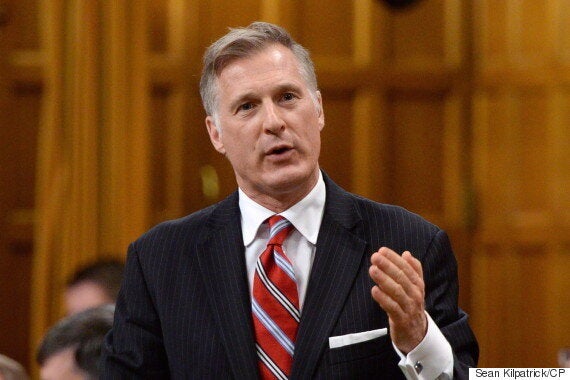 Maxime Bernier speaks in the House of Commons in Ottawa on Thursday, June 4, 2015. (Photo: Sean Kilpatrick/CP)
"Why wait when you are ready? I did a lot of consultations across the country with a lot of members, and my program is ready. I know that I can raise money for that leadership and my organization is ready all across the country so why wait? I want to be out there speaking about my vision for the country and what I believe as soon as possible, because that is important for me."
But Bernier also acknowledged the giant financial advantage a candidate may gain by declaring sooner than the others. Receiving earlier access to Conservative membership lists means a leadership contestant can tap potential donors sooner, max out their donation limit and lock them in for the year preventing other contenders from tapping the same source of income.
"One person can only give $1,525 each year," Bernier said, his blue eyes sparkling and a smile on his lips.
"People said I would not be re-elected. I was re-elected with the biggest majority in Quebec every time. I'm very popular in Quebec, outside Canada."
Elections Canada rules state an individual can donate a maximum of $1,525 in total to all leadership contestants in each calendar year.
This week, another former cabinet minister, Kellie Leitch, became the first to file her papers and is launching her bid for the leadership. Conservative party members will choose their next leader on May 27, 2017.
The Conservative party has set the entrance fee at $50,000 — half of which is payable immediately. Another $50,000 is requested as insurance that a candidate will abide by the party rules. The campaign spending limit has been set at $5 million.
Bernier told HuffPost his campaign will focus on individual freedoms, personal responsibility, fairness, and also respect.
"I think more personal freedoms will bring more prosperity," he said.
"When I am speaking about respect, I'm speaking about respecting the Constitution — that will be important — respecting the taxpayers, respecting the members of our party and respecting the diversity of our country and its different regions, so I will have policy that will be based on these four themes. I'm ready with the ideas, and I'm looking forward to going out there and speaking with our members and Canadians about what I believe."
Open to discussion of pot legalization
Bernier said he will not interfere in areas of exclusive provincial jurisdictions such as health care and education.
"In health care," he said, "the [Liberal] government wants to give money with conditions. That is a provincial jurisdiction. The provinces are the experts, they are the ones who manage the hospitals."
Bernier, a well-known and self-promoted libertarian, told HuffPost that he will not be calling for the legalization of all drugs but he will wait and see what the Liberals do with marijuana before pronouncing himself specifically on pot.
"Forbidden drugs will be forbidden, but … for marijuana, I'm open to having that discussion, and I'm going to wait [to see] what the government will do."
'Nothing there' in 2008 scandal
Bernier made national and international headlines in 2008 after it was revealed that, as foreign affairs minister, he had left briefing documents at the home of his then-girlfriend, Julie Couillard, who had links to the Hells Angels. Bernier resigned and was sent to the ministerial dog house — a junior portfolio as minister of state for tourism and small business.
"It's a fact of my political career, and it's there. I think I've managed it pretty well since that time. For me, there is nothing there," he said.
"People said I would not be re-elected. I was re-elected with the biggest majority in Quebec every time. I'm very popular in Quebec, outside Canada. I'm popular with the members of our party but maybe not with the population of Canada."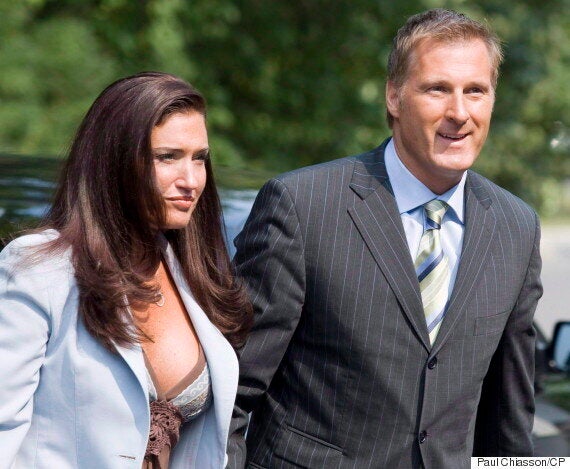 Maxime Bernier is shown arriving to be sworn in as the new minister of foreign affairs, accompanied by Julie Couillard, in Ottawa on in this Aug 14, 2007 file photo. (Photo: Paul Chiasson/CP)
The demotion allowed Bernier to continue to build a profile for himself across Canada. He toured, promoted his blog and his ideas of limited taxation and increased personal freedom. He became a popular fixture at the Manning Centre conference, an annual gathering of Conservatives and conservative-minded people in Ottawa.
At Manning in February, Bernier all but announced his plan to run. He came out with a team of young people wearing 'Maxime For Leader' T-shirts and handing out cards to his new website.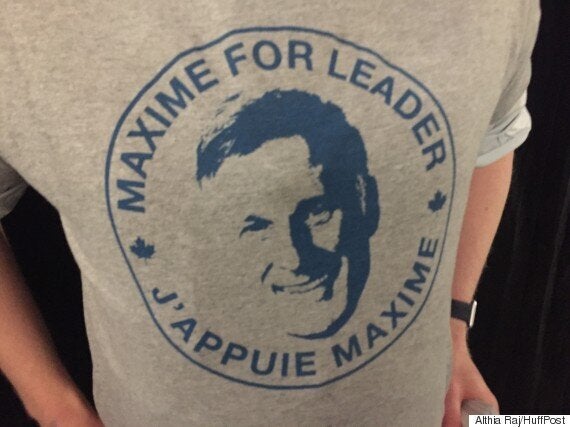 (Photo: Althia Raj/HuffPost)
Bernier said he is joining the race "to win" and believes that after four years of a big spending Liberal government, Canadians will be itching for a government with a smaller footprint.
"Justin Trudeau told us that we were only going to have $10 billion deficit every year, and now it's triple that. People know that today's deficits are the taxes of tomorrow," Bernier said.
"The spending isn't for infrastructure as people think it is, two-thirds of this spending is on social programs, so the young generation will have to pay a bill, and they won't benefit from that – and I think that will be very important four years from now."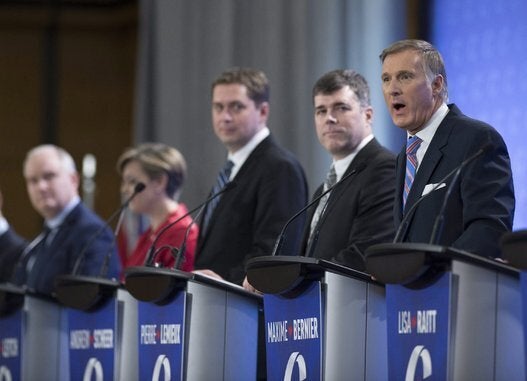 Conservative Leadership Candidates