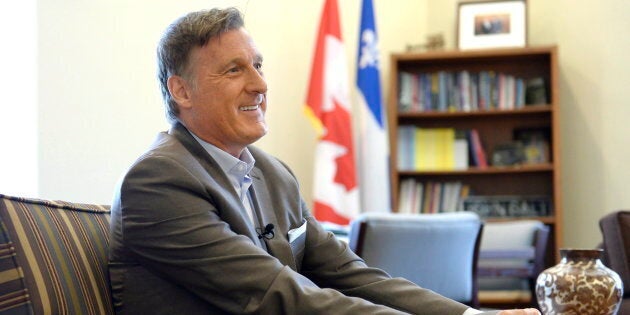 Conservative MP Maxime Bernier is once again lambasting what he sees as "extreme multiculturalism" and political correctness as other senior Tories appear to be distancing themselves from his views.
Bernier took to Twitter Tuesday night and Wednesday morning to comment on a Winnipeg park recently named in honour of Pakistan's founder, as well as a possible new statutory holiday marking the shameful legacy of residential schools.
The comments come on the heels of earlier eyebrow-raising tweets in which the veteran Quebec MP accused Prime Minister Justin Trudeau of pushing "ever more diversity" that could divide Canadians into "little tribes that have less and less in common."
'Canada under extreme Liberal multiculturalism...'
Khalid tweeted in May to mark the inauguration of a Winnipeg park named after Pakistan founder Muhammad Ali Jinnah.
"Canada under extreme Liberal multiculturalism: While a statue of our country's founder is being removed in one city, a park was recently named after Pakistan's founder in another, in the presence of M103 Liberal MP sponsor," he wrote. "Pakistan independence from India led to 1M deaths."
Bernier was referencing the City of Victoria's recent move to take down a statue of Sir John A. Macdonald because of the role Canada's first prime minister played in establishing residential schools.
Though the step was taken as part of a reconciliation campaign with local Indigenous communities, Tory Leader Andrew Scheer said it was an example of political correctness being used to "erase history."
Bernier also shared his thoughts Wednesday on a report from The Globe and Mail that said the Trudeau government will declare a new statutory holiday marking the pain caused by residential schools, as recommended in the Truth and Reconciliation Commission. The MP called instead for something celebrating the "heritage and renewal" of Indigenous cultures.
"Cult of victimhood and obsession with past wrongs instead of focus on the progress made and to come are another sick characteristic of extreme PC and multiculturalism," Bernier wrote.
Liberal MP Arif Virani, the parliamentary secretary to the heritage minister, is now calling on the Conservative leader to boot Bernier from caucus.
In a letter released Wednesday, Virani accused Bernier of attacking "all Pakistani-Canadians" and new Canadians with his recent comments.
"I urge you to remove Mr. Bernier from your caucus immediately, otherwise Canadians will be forced to conclude that you accept his backward views," he said.
Bernier, who finished a close second in the Tory leadership race last year, seems more emboldened to speak on contentious issues since he was dumped from Scheer's shadow cabinet in June.
In a fundraising pitch this summer, Bernier said he is the only politician in Ottawa who truly wants free trade with the U.S. because he would scrap Canada's supply management system for dairy and poultry. President Donald Trump also wants the system axed as part of NAFTA negotiations.
His comments led Tory MP James Bezan to tell The Canadian Press that he wishes Bernier would "show some loyalty to our leader." Scheer is an ardent supporter of supply management.
Bernier's earlier comments this week on "radical" multiculturalism yielded a response from Scheer's office.
"Canada has been built by people from all over the world coming here to enjoy the freedom, prosperity and equality that our country offers," Scheer spokesperson Brock Harrison told HuffPost Canada in an email Monday. "Conservatives will continue to recognize and celebrate the contributions made to Canada from people from diverse backgrounds that have enriched our history and our society."
Tony Clement, who endorsed Bernier in last year's leadership race after abandoning his own bid, joined the fray with a series of tweets Tuesday.
"Mr. Bernier has latched onto diversity as if it's a threat and that is false," Clement wrote.
Conservatives will have ample opportunities to hash out these issues next week when they meet in Halifax for the party's biennial convention. It will mark the first policy convention since Scheer became leader.