OTTAWA — Conservative leadership candidate Maxime Bernier says he wasn't fundraising off of his support for guns — but now he is.
In his latest fundraising note to Tory members, Bernier took aim at some of the pundits on Wednesday's edition of "Power & Politics," the daily political show on the CBC News Network. Bernier said the commentators were "freaking out" because he was fundraising from firearms.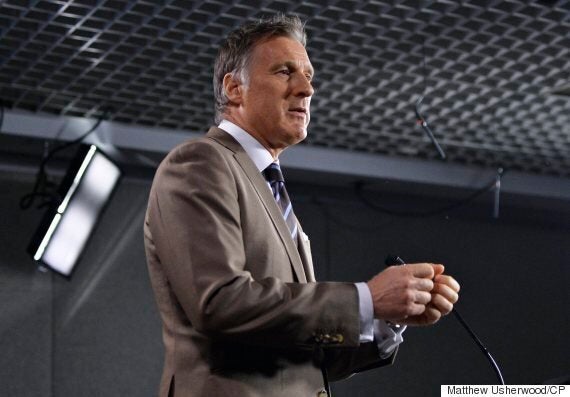 Conservative leadership candidate Maxime Bernier holds a press conference in Ottawa on Oct. 17, 2016. (Photo: Matthew Usherwood/CP)
"Did you see the news?," Bernier asked in the note, sent on Thursday, which continued:
"Three talking heads on CBC lit their hair on fire because I'm standing with firearms owners.

"They said things like nobody should own a gun unless they hunt for food.

"They said Canadians shouldn't own assault rifles.

"Who in Canada owns an assault rifle?

"These guys are completely out of touch."
He said he was "worried" Prime Minister Justin Trudeau's government might try to take people's guns away or re-classify them and prevent them from being used for hunting. He pledged to stand with gun owners — and then asked them to pitch in $5 so he could win the Tory leadership race.
Bernier's note on Thursday also asked for $5. He wrote that his last missive wasn't an effort to fundraise from firearms, but "THIS is fundraising from firearms."
Panel discussed Bernier's pitch
The Huffington Post Canada wrote about his pitch, and the panel on "Power & Politics" discussed the story.
During the segment, Liberal supporter Lindsay Doyle said Bernier's note was spreading misinformation, and the Liberals had been clear they would leave the classification of firearms with the experts.
"For $5, Maxime Bernier will help you protect your guns and assault weapons, so a pretty disgusting fundraising ploy if you ask me," she said.
"I understand that people are able to legally own weapons and firearms but again I would hope that the experts at the RCMP are going to be the ones to determine [the classification] — and not the politicians," she added.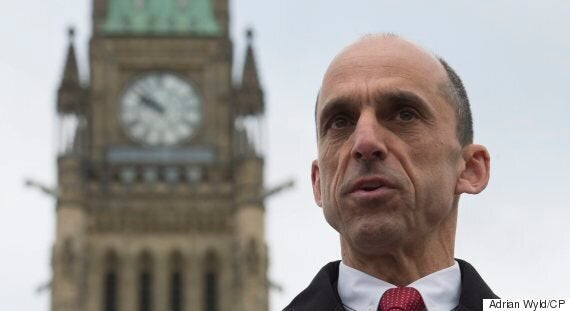 Tory leadership candidate Steven Blaney speaks during a news conference on Parliament Hill on Oct. 24, 2016. (Photo: Adrian Wyld/CP)
NDP supporter Ian Capstick said he wanted to see "a lot less guns" on the market.
"I want to clamp down on more guns," he said.
Capstick said he believes there are many firearms in Canada that are available for purchase "that should not be available for purchase."
"We need to take a serious look at the type of guns that are available in stores right now, in urban centres, and ask: 'Do they really need to be there?' Unless, you are going out to hunt for food. I'm having some grave difficulties understanding why a good chunk of these guns are available for purchase at all."
"If the Conservative party was a musical genre, it would be country music."

— Tim Powers
Conservative Tim Powers noted that Bernier might be reaching out to Western farmers and hunters who might have viewed him as too urban to consider as a Conservative leadership.
"If the Conservative party was a musical genre, it would be country music," Powers said. "And the more you talk about guns and you sing that country music tune, you do well, and that is what Maxime is trying to do. It is all about getting votes," Powers said.
This reporter, who was also on the panel, said Bernier might be trying to steal some of newly declared candidate Steven Blaney's thunder — the former public safety minister who loosened gun restrictions.
Bernier spokesman Maxime Hupé told HuffPost Thursday that the fundraising note contained an "error" and it should have said two pundits rather than three pundits.
"Never did Maxime [Bernier] authorize and never did the campaign want to treat a journalist or a former member of the Progressive Conservative party in that way. We are in an ideological disagreement with the Liberals and the NDP," he said.
Five bucks would help Bernier protect firearm owners from "champagne-sipping liberal elites who don't understand anything outside of their bubble," he says.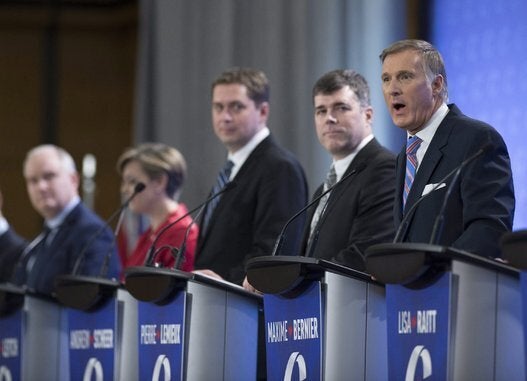 Conservative Leadership Candidates
Popular in the Community