McDonald's says minor tweaks to the way it prepares hamburgers are adding up to a hotter and juicier product for customers.
Nicola Pitman, director of menu services for McDonald's Canada, says the company is always looking for ways to improve.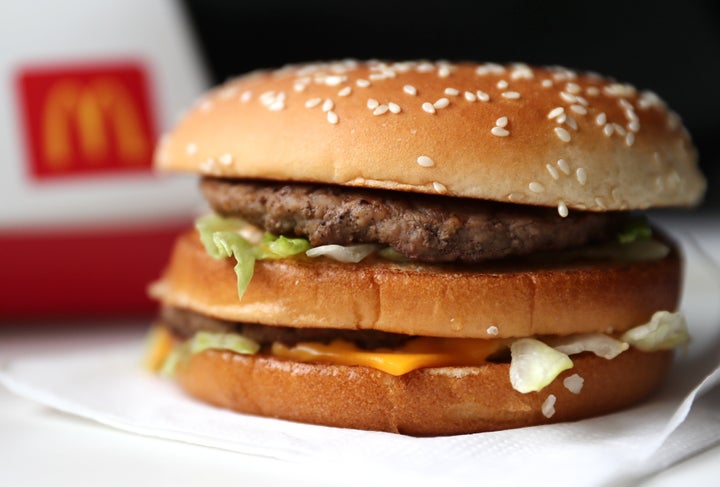 "There's quite a few smaller changes that really make that one big taste difference," Pitman told HuffPost Canada.
Instead of jumping on the vegan craze, McDonald's is doubling down on their "beef focus."
The changes will impact menu staples such as the Big Mac, Quarter Pounder, McDouble, double cheeseburger, cheeseburger and hamburger. McDonald's is calling this their "remastered burger lineup."
"The first big change is the way that we're cooking the meat," Pitman said. She details how a clamshell grill comes in hot to sear the outside of the patty like you would with a steak before lifting away from the patty to allow the beef to cook through in a way that allows it to retain its juices. The onions are then added to the patty where they'll receive a slight caramelization while absorbing moisture from the beef.
Storage changes will also ensure fresher and crisper produce, the company says.
"The Big Mac bun has a nice, buttery note to it now, so it helps compliment the additional Big Mac sauce that we're adding because our guests are saying: 'We really want to have Big Mac sauce in every single bite,'" Pittman said.
The burger chain says it will still be using frozen patties in its more than 1,400 locations in Canada, which it claims are made with 100 per cent pure Canadian beef, sourced from ranchers mostly in Alberta and Saskatchewan.
The chain reveals it is embracing new technology in its kitchens to cook in smaller batches, which allows it to cook more frequently while getting products to the guests quicker. Pittman says this is all a part of their efforts to continually update and improve products for the sake of quality and taste.
"The classic, iconic flavour does not change."
The restaurant chain also has a new recipe for the buns for its sandwiches, which means you might be noticing tweaks to chicken sandwiches, as well.
"We wanted to get a much hotter bun," Pitman explained. "It's the first thing you touch as a customer."
McDonald's says these changes have been introduced in Canada over the last couple of months, and Australian locations have joined them in the rollout.
The company says it opted to make small tweaks rather than completely overhauling its burgers.
"The classic, iconic flavour does not change," Pittman said. "It just gets enhanced a little bit."
If you're looking to taste the difference for yourself, McDonald's is offering $3 Big Macs nationwide from Aug. 13 to 19.