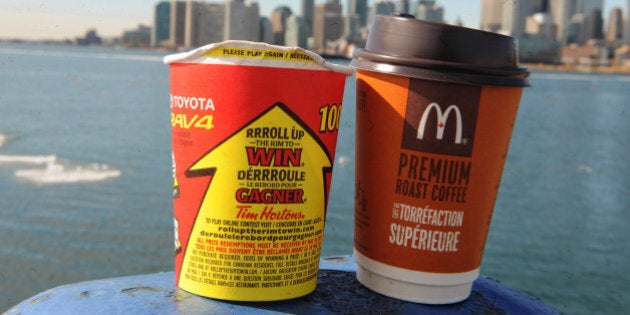 McDonald's is set to make its McCafé coffee available in Canada's grocery stores starting Sept. 29, the company announced in a Tuesday news release.
"There is no better way to connect with Canadians than with a great cup of coffee," McDonald's Canada president and CEO John Betts said in a prepared statement.
The company plans to offer McCafé Premium Roast in ground coffee and in single-serve formats that can be made with Tassimo and Keurig machines, the news release said.
McDonald's Canada's move represents a challenge to Tim Hortons which, though it has sold single-serve original and decaf coffee in grocery stores since June, had plans for a wider rollout in supermarkets by the end of 2014, Global News reported.
And there's plenty of market share up for grabs.
The Canadian Coffee Association reported last year that 78 per cent of coffee drinkers consumed the beverage at home while 37 per cent drank it elsewhere.
When it comes to brewing, 53 per cent of Canadians prefer a drip coffee maker, while 25 per cent like single-serve machines.


Popular in the Community