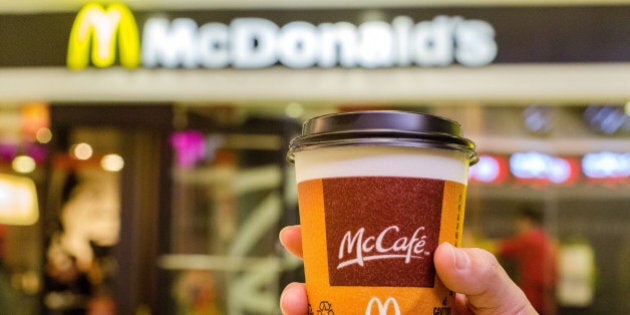 McDonald's of Canada is taking the coffee fight right to the front doors of Starbucks and Tim Hortons.
In what the company says is a North American first, it has unveiled a standalone McCafe location, in Toronto's Union Station, a busy commuter hub.
The chain plans to follow that up with a second location in Toronto's First Canadian Place (the Bank of Montreal building) in 2016, but hasn't said anything about any further expansion plans.
The McCafe locations will offer some items from the McDonald's breakfast menu, such as Egg McMuffins, but won't have a full McDonald's menu. Instead, they will serve typical coffee shop fare, such as croissants, bagel sandwiches and salads.
It's all part of an increasingly aggressive strategy by the restaurant chain to transform itself in an era of changing consumer tastes.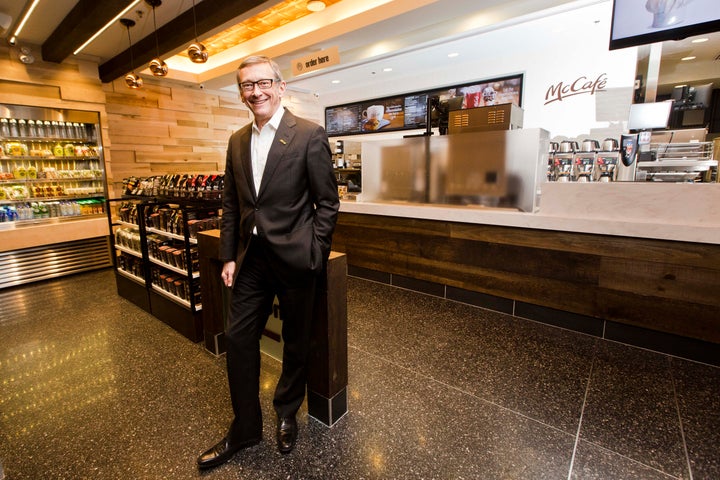 John Betts, President and CEO of McDonald's Canada, opens the first Canadian standalone McCafé in Toronto's Union Station.
McDonald's has seen its earnings eaten into by the rise in popularity of coffee shops, as well as "fast casual" restaurant chains like Chipotle.
The chain began opening McCafe stands inside restaurants in 2011, accompanying it with aggressive pricing and promotions intended to take a chunk of the coffee market away from established players like Second Cup and Tim Hortons.
The company says it has given away 138 million free cups of coffee in Canada over the past six years.
The standalone McCafes also signify a shift in strategy for McDonald's. McCafe locations are smaller than regular restaurants, allowing the chain to establish itself in smaller, urban locations.
With so much of Canada's urban development now taking in city cores, many retailers are looking at how to move into these increasingly dense urban centres.
Loblaws' purchase of Shoppers Drug Mart in 2013 was seen as being partly an urbanization strategy: Shoppers locations are smaller than Loblaws supermarkets, making it easier for the retailer to move into urban centres.
Popular in the Community