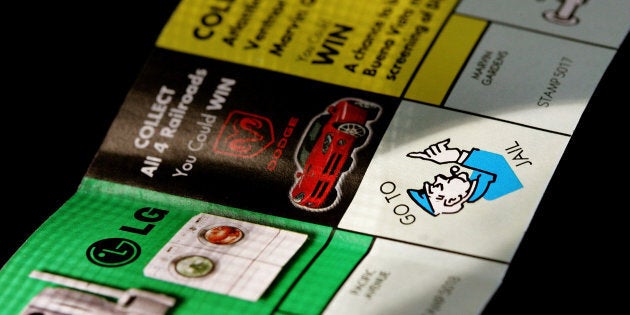 It's not just in your head. For a time, McDonald's Monopoly really was rigged.
The long-running contest, which involves collecting Monopoly "pieces," or stickers that correspond to spaces on the popular board game, was nearly impossible to win from 1995 to 2001. Players earn prizes by finding winning stickers on McDonald's food packaging, or by collecting a set of properties.
Sooner or later somebody was going to be asking questions about why there were no winners in Canada.Jerome Jacobson
One of the men, Jerome Jacobson, apparently realized the game was already rigged against Canada and decided to get in on the action, according to a feature this week in The Daily Beast.
A former police officer, Jacobson was the chief of security at Simon Marketing, the company that ran the McDonald's Monopoly promotion in the late 1990s. In 1995, when a computerized prize draw selected a Canadian factory to distribute some high-level game prize pieces, company executives re-ran the program until it selected an area in the U.S., reported The Daily Beast.
"Sooner or later somebody was going to be asking questions about why there were no winners in Canada," said Jacobson, who was sentenced to three years in prison for his role in the conspiracy.
He stole documents proving the alleged conspiracy against Canada. Over the next several years, he stole game pieces for various amounts of money — including the coveted $1-million prize piece — and gave them to friends in exchange for a share of the winnings. A total of US$13 million in prizes was obtained fraudulently.
2012 winner in Manitoba
After the scandal, McDonald's apologized to its customers and launched a giveaway with cash prizes valued at $10 million. It also honoured a $1-million prize piece that had been sent to a children's hospital.
It's not clear how long executives had been allegedly ensuring McDonald's winners were in the U.S. and not Canada. But in 2012, a Selkirk, Man. man became an instant millionaire after peeling the winning sticker off his morning coffee.
And in 2017, a Canadian vlogger with the username Furious Pete tried to take advantage of the company's one in five chances of winning by purchasing 100 large fries and a large drink.
HuffPost Canada has reached out to McDonald's Canada for comment.