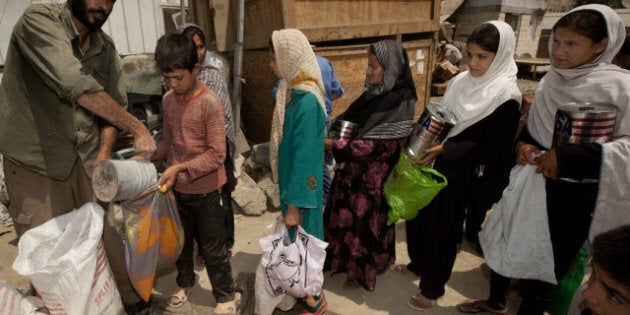 Craig and Marc Kielburger, founders of Free The Children and Me to We, check in with some of their favourite actors, singers and activists to find out how they are changing the world.
Robin Wiszowaty left the gleaming strip malls, street grids and coiffed lawns of suburban Illinois for the wilds of rural Kenya in 2002. And she's never looked back. What was meant to be a brief exchange from the University of Illinois to the small Nkoyet-naiborr community in Kenya's Maasai Mara has morphed into her life's adventure.
She heard hyenas cackle outside her mud hut at night. She suffered malaria, typhoid, a parasite, Kenya's tumultuous national elections and times of drought -- and never once thought of leaving. She's since become Kenya Projects Director for Free The Children and an author and speaker for Me to We.
Here, Robin Wiszowaty tells us how she fell in sync with the heartbeat of Africa, and how she found her home.
Kenya is our second home. We fall in love with the country all over again every time we visit -- but we still feel the need to come home to Canada. For you, what was it about Kenya that made you want to live there permanently?
It is not every day that I have felt a sense of home in my life. Even growing up, as all youth would, you find yourself in situations where you feel like you don't belong -- whether with friends or because society is projecting values that are different from your own. But going to Kenya and being unconditionally accepted -- despite being the complete opposite of everything [the locals] know -- words like community and generosity and hospitality were literally being redefined for me.
[In rural Kenya], you have obstacles to survival all around you, but in one of the most abrasive settings, I found one of the most gentle approaches to humanity. These values were being lived so openly. In our culture, we don't get the chance to live those values. Instead we value independence -- which is great, I also value my own independence. But to be able to have my own independence and be vulnerable to a community: I found that in Kenya.
You've been living in Kenya for a decade -- through tumultuous national elections and last year's drought. How have you witnessed the country change since you first moved there in 2002?
The country has drastically changed from what it was 10 years ago. When I came to Kenya, all education was tuition-based. Now there is free primary education so there are one million more children sitting in classrooms than there were 10 years ago.
[In Nairobi], street children were a major problem. They were spread out begging in groups of 10, then 100, and then in bands of 1,000, in gangs traveling in the middle of the night. You'd see a little 12-year-old steal the pants off of an eight-year-old. The government has done a lot for street children and set up homes in these areas. Nairobi has changed. The government is paying more attention to it.
Kenya as a whole has changed. Ten years ago it was under a dictator, then the coalition government across all of the opposition forces banned together. Then the coalition fell apart, then during the next elections everything fell further apart -- surprising everyone. Now it's being rebuilt again. There is once again hope, humility. Kenya is going through the process of infancy in its democracy. It's becoming a country that stands up for its people and they're making great strides.
Early on in your Kenyan adventure, you contracted malaria, typhoid, and a parasite in quick succession -- basically the worst fears of an international traveler realized. What made you stay?
Never once did I want to go home. I was humbled every day. Because while I might be uncomfortable with typhoid or malaria, I remembered the time Samuel [a good friend from my village] had been throwing up blood for three months before [his family] realized that it was time to sell chickens so they could afford to visit the doctor. Or the fact that we'd be living through drought and I'd watch my sister [from my adoptive Kenyan family during my home-stay] give up her small portion of food to her brother because he was growing.
It was no longer about my hunger, it was no longer about my growling stomach. Because I had the $8 in my bank account to access medication when I needed it, whereas not everyone did. I was not after comfort. I was after learning things that I didn't know I needed to learn.
You're the author of a memoir, My Maasai Life: From Suburbia to Savannah. What's your favourite memoir?
There's one I'd recommend called Mountains Beyond Mountains, and it's about [ Dr.] Paul Farmer but written by Tracy Kidder. It's about the story of Paul Farmer growing up in a mobile home outside of Boston, working super hard, putting himself through med school. He decided to go to Haiti and start an organization that is now one of the leading organizations for health care across the world. It's called Partners in Health. Even though I don't necessarily agree with all of his tactics from the development perspective, his heart is super inspiring. It almost made me want to go to med school so I could join him.
What would your life be like today if you hadn't moved to Kenya?
I almost don't want to imagine what my life would be like if I didn't go to Kenya. I can't imagine that I would be as fulfilled, as happy, as purposeful as I am now, and I'm very proud of who I am now.
Do you still get reverse culture shock when you visit your home in Illinois?
Absolutely. [But] when I first started going back home, the culture shock would be intense and terrible. I would be undone for three days and I would hole myself up in my room. I would walk barefoot, carrying my shoes. I would wash clothes by hand because I thought it would save more water. I would get mad at my mom for running the taps while rinsing the dishes.
Then I realized I was making a mistake. It's not fair to judge them because they didn't have the experience. I learned that instead of judging other people, what I need to do is share stories of hope and potential. And while I've learned to feel that on the inside, that doesn't mean it gets easier to see the disparity. [My adoptive Kenyan family and I] used to take oranges on long walks. We would buy two oranges and slice them into eight segments so that we would each have a segment. But here, you go to the grocery store and you see piles and piles of oranges that are going to go to waste. It doesn't get any easier to come to an understanding about that. But I've learned that I cannot be angry. I've learned to see it as potential. If I see extra, it means that it is possible for everyone in the world to have enough.
Craig and Marc Kielburger are founders of international charity and educational partner, Free The Children. It's youth empowerment event, We Day, is in eight cities across Canada this year, inspiring more than 100,000 attendees. For more information, visit www.weday.com