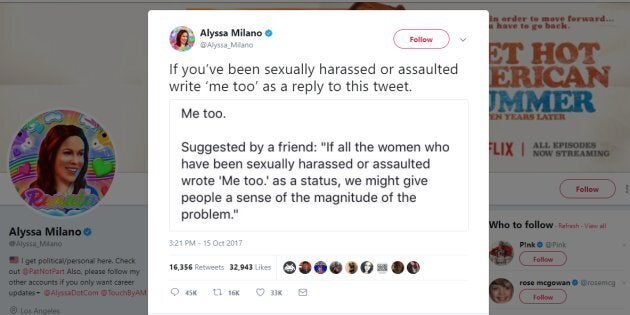 With just two words, women across the world are once again revealing their own experiences with sexual assault and harassment to show the magnitude of the problem.
#MeToo became the top trending Twitter hashtag Sunday night in response to actor Alyssa Milano's call-out for women to speak up and come forward in the fallout of sexual assault and misconduct allegations against film producer Harvey Weinstein.
But the viral Twitter campaign, which comes almost exactly three years after Canada's own #BeenRapedNeverReported hashtag took off globally in response to allegations against former CBC radio host Jian Ghomeshi, is not enough to dismantle rape culture, advocates say.
"We need to take this moment of awareness and transform it to action," Kerner said.
"Women need to group together, and not just on the internet, to hold men accountable."
Women have power in numbers, Kerner said. And as a group, women can confront men, protest at their workplaces and their homes, and they can boycott movies, companies and stores that support or collude with sexist men, she said.
Men must take responsibility
Men have an important role to play in dismantling rape culture, too, said William Fujarczuk, educator with the Male Allies program of the Sexual Assault Support Centre of Waterloo Region in Ontario.
The program encourages men to acknowledge the privilege they have with their gender and use that responsibility to speak out against the normalization of sexual and gender-based violence such as that often seen in offensive jokes, T-shirts, and video games, Fujarczuk said.
"We try not to dissociate ourselves, as men, from men who are perpetrators of sexual violence — not calling ourselves 'the good guys' and calling them 'the bad guys,' but recognizing more how we as men have been socialized and what we do in our day-to day-lives that could perhaps be contributing to this culture of sexual violence," Fujarczuk said.
The conversation now needs to shift from "Me too" to "I will," Fujarczuk said.
"So, I will not be a passive bystander. I will call out my friend when he makes a sexist joke. I will call out guys when they're cat-calling on the street," Fujarczuk said.
Rape culture isn't a trend
But sexual assault is the symptom, not the cause, of a society that's "horribly out of whack," Zerbisias wrote in a private Facebook status in response to #MeToo that she shared with HuffPost Canada.
Women deserve a fighting chance, but they have to fight for it, she wrote.
"I am pretty sick and tired of the media kicking up a once-a-year fuss about rape culture or whatever the hashtag of the moment is and not dealing with the outright misogyny, sexism and other problems women of all race and social status and income face," Zerbisias told HuffPost Canada.
Fighting — hopefully with male allies — for equal rights, subsidized daycare, and more women in positions of power are just some of the practical solutions, Zerbisias wrote on Facebook.
"We still do more for less, still face ageism and other -isms, still have men decide our reproductive and other rights, still are denied our seats at the boardroom table, still look over our shoulders, still are killed at the hands of our partners, still face belittlement, interruptions, idea theft and other indignities in the workplace," Zerbisias wrote.
"It's about a lot more than sexual harassment."
Sexual assault rates haven't improved
Sexual assault is still a huge problem in Canada, Kerner said.
The Vancouver Rape Relief and Women's Shelter takes about 1,200 sexual assault calls a year, Kerner said, and that's just one centre in one city. There were about 636,000 incidents of sexual assault reported in Canada in 2014, and that number hasn't changed since 2004, according to recent data published by Statistics Canada.
Women are having a moment of catharsis in response to the Harvey Weinstein scandal because they knocked down one man with power, Kerner said. But they must be careful not to conflate one moment with actually transforming the power relationship between men and women, she said.
"We live in a society where men as a class have power over women as a class. And all women are kept hostage by that situation," Kerner said.
"All women's lives are shaped by rape or by the fear or threat of rape. That's what it means to be a woman in this world."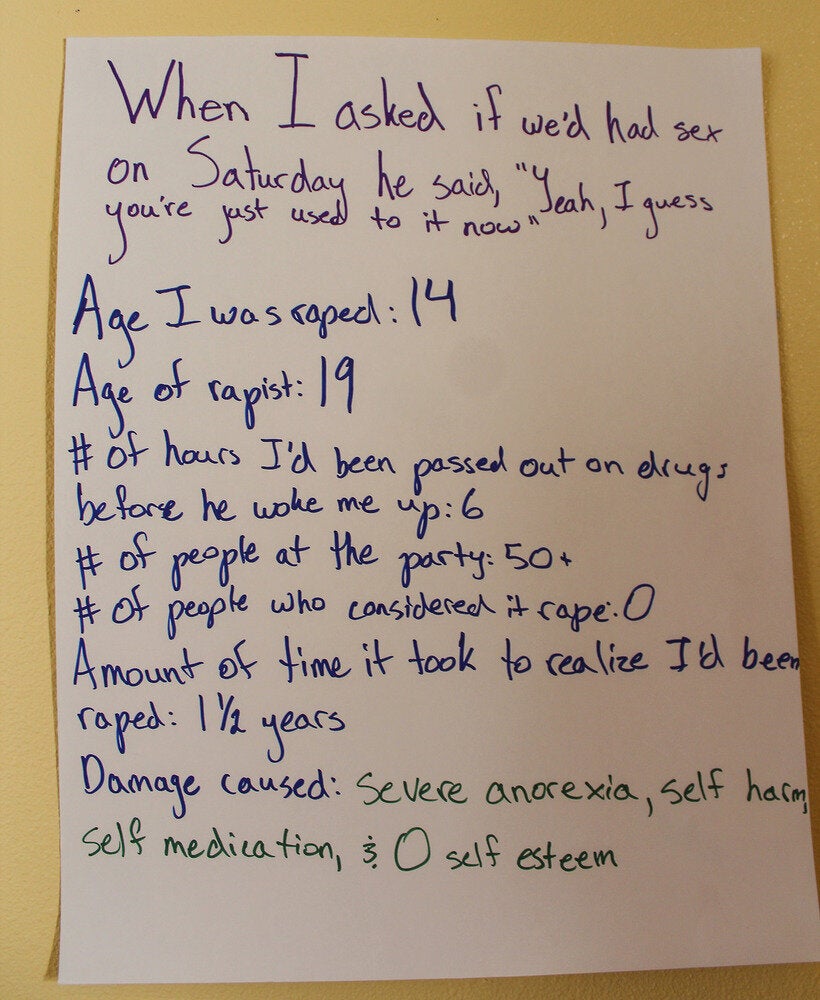 Images From 'Surviving In Numbers' -- A Project Highlighting Sexual Assault Survivors' Experiences