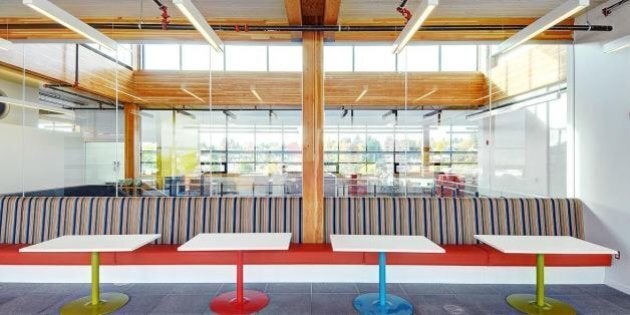 Employees at Mountain Equipment Co-op (MEC) will be the subject of office envy among many Vancouverites as they move into their new 112,000 sq.-ft. office in False Creek.
"Large windows flood the interior with natural light and allow a lot of fresh air to flow in. The use of wood inside structurally creates a warm feeling," Tim Southam, Public Affairs Manager at MEC, told The Huffington Post in a phone interview.
The folks at MEC had two objectives in mind when designing the new office space: build an energy-efficient facility, and create a workplace that supports an active lifestyle.
Amenities such as a rooftop patio and bouldering cave serve as opportunities for employees to socialize with colleagues or engage in some friendly rock climbing competition.
Other office perks include a yoga and fitness studio, shower and change facilities, a large community room, and an indoor storage facility that can hold 128 bikes.
Story continues below slideshow: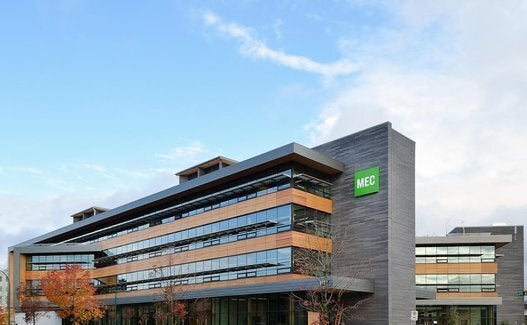 MEC's Vancouver Headquarters
The company is also proud of its Blue Roof System, which collects and manages rain water.
"It's a system that allows us to reduce potable water use by 60 per cent and uses stored water for irrigation on our planters in our rooftop patio," said Southam.
"We are all very excited. Until we get into it and experience it, we're not going to realize all that it provides."
The new head office is designed to achieve LEED Gold certification and is estimated to be 70 perc ent more energy efficient than other conventional buildings. Southam said once the facility is evaluated, it should exceed LEED's minimum standard for elite certification.
MEC has outgrown its old facility in South False Creek; the new building will house approximately 300 employees.
"We know happy and healthy employees that enjoy where they work in terms of physical space," Southam said.
"We know that space supports them to do good work for our business and it will ultimately support MEC in the long term."


Popular in the Community