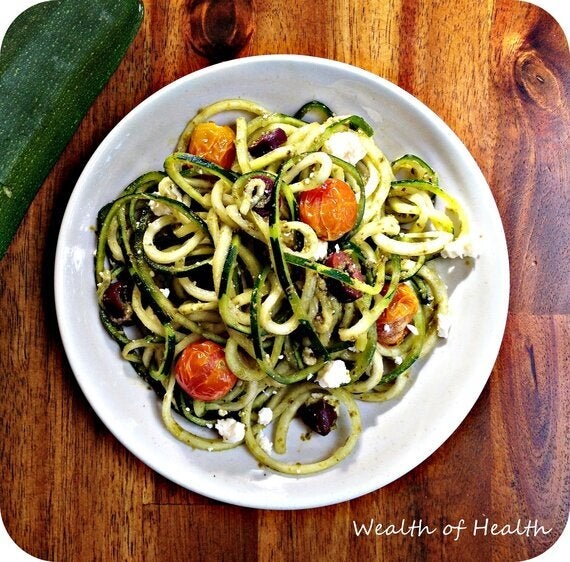 I recently bought a new kitchen gadget that makes zucchini noodles, aka "zoodles." What a cool and inexpensive contraption! And I love the "no cooking" part. I put a Mediterranean twist on this recipe, but these zoodles are so versatile and can replace any pasta recipe. Pasta sauce, meat sauce, seafood sauce and alfredo sauce are all delicious.
Zoodles are a great way to get in more veg and fiber. Yes! Two things that us dietitians are always harping on people about =).
Also, the large volume of vegetables in this meal will keep you feeling comfortably full and satisfied for hours, so don't be afraid to fill your plate this time.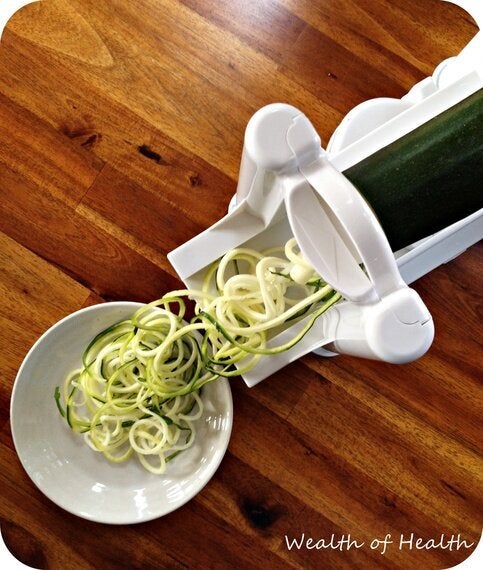 Makes: 2-4 servings (culinary spiral slicer required)
1/3-1/2 cup pesto (store bought or homemade)
10-15 cherry tomatoes, raw or roasted
1/2 cup feta cheese, crumbled
1/2 cup kalamata olives, chopped
1/4 cup pine nuts, toasted
1. Preheat oven to 350 F. Place whole tomatoes on a baking pan and drizzle with olive oil. Bake for 5-10 minutes, until tomatoe skin cracks and juices are running out.
2. Using the culinary spiral slicer, make the zoodles. Place zoodles in a large bowl.
3. Add pesto to the zoodles and toss with a fork until coated. Add the remaining ingredients and toss. Eat the pasta as is, with a fork and spoon, or cut the zoodles into smaller pieces using a knife and fork.
Note: The longer the zoodles sit, they release moisture. So it is desirable to eat immediately after preparing. Drain any excess water in the bowl before preparing.