Have you ever watched a TV commercial for international aid and wondered how people's donations work in developing countries? Before I travelled to northern Uganda as part of a team of volunteers with the Canadian Co-operative Association (CCA), I did. But on that trip I met many Ugandans whose lives are being improved with the help of generous Canadians, and my outlook was forever changed.
I'll introduce a few of those inspiring Ugandans in this post, but first I'll set some context. About 80 per cent of Ugandans are rural farmers and 25 per cent live below the poverty line. To help them, the Uganda Co-operative Alliance (UCA) created the Integrated Finance and Agriculture Production Initiative, which CCA supports with training and funding.
This initiative helps farmers increase and diversify their crops through village co-operatives that offer training and support, get a better price for their crops through marketing co-operatives, and borrow and save money through savings and credit co-ops. As a result, many Ugandans have begun or improved farming practices and/or opened local businesses.
The CCA team visited co-op members in the towns of Masindi, Lira, Nebbi, Alito and Arua. Every day we witnessed terrible poverty. But also we heard inspiring stories from people like Rebecca Aorih, whose lives are turning around thanks to UCA and CCA.
Rebecca is a young orphan and single mother of three who was subsisting on her income from cassava farming and was at a loss as to how she could improve her circumstances. She wanted to build a house for herself and her children but as interest rates at Ugandan banks can reach as high as 30 per cent, she wasn't sure how to access funds.
Then a friend introduced her to the Koboko savings and credit co-op, which has helped Rebecca and in many ways has become her sole support. Through a series of loans from the co-op, Rebecca has been able to buy bricks and lay them herself to build her home. She has also taken out loans to pay school fees for her children -- private education is important to Ugandans as the public school system is notoriously overcrowded and underfunded.
Christine Iagamugisa is the vice-chairperson of Bweyale Co-operative Enterprise. She has six children and is paying their school fees on her own. A few years ago she was inspired by the biblical verse Acts 4:32 to organize local farmers in her region. UCA took note of Christine's group and formally organized it into a co-op, training them in best farming practices and bulking their produce, and establishing a relationship with the local savings and credit co-op. UCA also gave the co-op an ox for ploughing and the group has plans to buy a tractor.
Christine said, "I'm proud that this thing has helped me. Before I joined the co-op I was down and now I'm at least in the middle with others. I was in a rental house but now I own my own land." She added that she was once very thin and with obvious pride she said, "You see, now I'm fat; I'm happy."
The person who really touched my heart was Salvatore, a member of the Akoloda marketing co-op in the town of Alito, which was at the heart of the fighting during a long civil war. Salvatore described in sad detail how he was captured and tortured by Joseph Kony's men. When he was freed he returned to Alito with a baby boy, Bob, whose parents had been killed in the fighting. Salvatore approached the co-op for help and was given maize (corn) seeds. His first planting yielded a bumper crop and with the profits he purchased another 32 sacks of seeds and established a successful farm. With his newfound security Salvatore was able to put Bob through school. Bob is now in college and Salvatore has since had two children of his own.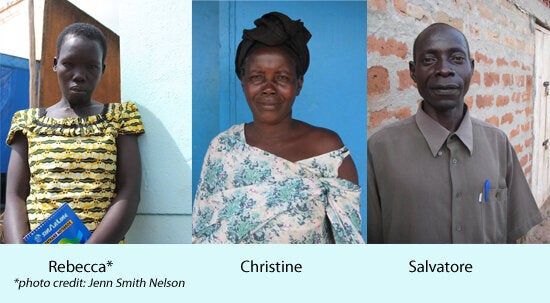 Although I was fortunate to also go on a safari and a Nile River cruise, my favourite part of travelling in Uganda was meeting Ugandan co-op members. As an employee of Vancity, Canada's largest community credit union, every day I hear and tell stories of the beneficial impact Vancity is making in the community. And that is incredibly rewarding. But Vancity has decades of experience and in general Canadians have some prosperity to start with. It was a powerful experience, therefore, to hear from Ugandans who had very little that their fledgling co-ops are improving their lives. (Incidentally, I'm proud of Canadian co-ops like Vancity for their support of CCA, both financially and in allowing employees like me to volunteer their time and expertise.)
CCA was the only international partner to stand by UCA during a period of political turmoil and civil war in Uganda, providing guidance and funding, and UCA credits CCA for its survival during this period. CCA receives generous funding from Foreign Affairs, Trade and Development Canada and it works closely with the Co-operative Development Foundation, a charitable organization that raises money for poverty alleviation around the world. I donate monthly to CDF and feel secure knowing that my contributions are directly benefitting people like Rebecca, Christine and Salvatore.
By Deborah Chatterton, Communications Consultant, Vancity; CCA volunteer, and President, Canadian Public Relations Society (Vancouver). Deborah's trip blog is Lessons from Uganda.