Unfortunately for Canadians, owning a place to call your own in the city isn't very cheap.
Cue Kasita, a U.S. startup aiming to "solve the urban sustainability crisis; allowing you to own an ultimate smart home."
Kasita's modular homes fit into a "stack" that can occupy space once filled by a single-family home. Each unit can be moved from one stack to another, so that — if eventually enough of these stacks are built — you'll be able to take your whole home with you when you move.
So he'd probably know a thing or two about what it takes (and how much space you need) to make a home.
"The average American has 12 pairs of shoes and the average American house is 2,480 square feet," he told The Washington Post. "We can happily live with much less than that."
By comparison, a Kasita is 208 square feet with 10-foot ceilings. Units include a walk-in shower, washer, dryer, and full kitchen that hides a slide-out queen size bed.
"What's interesting about this is it's really testing the limits of what you need in a home," Wilson wrote on Kasita's website.
The Kasita is also a smart home. It can welcome you by adjusting the temperature, lighting, and playing your favourite music. It also has hands-free voice commands available, so you can roll out your bed with ease.
There are options to rent or purchase a Kasita.
The company aims to have it's first "rack" of Kasitas available in downtown Austin, Texas next year for about half the market rate (thanks to local partnerships) for a studio apartment — around $600USD.
They plan to have Kasita's available in 10 other cities starting in 2017.
Check out the slideshow the see what's inside a Kasita.
What do you think? Would you live in a Kasita? Let us know in the comments below.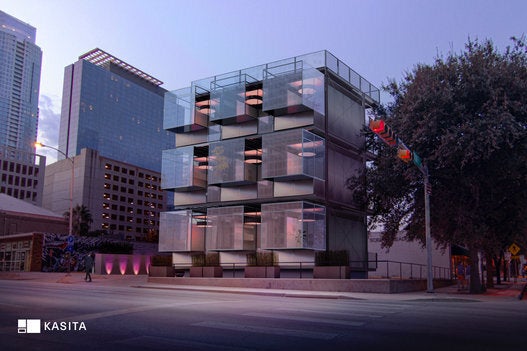 Kasita
Popular in the Community