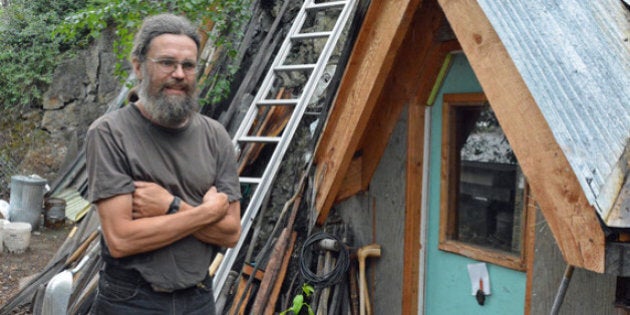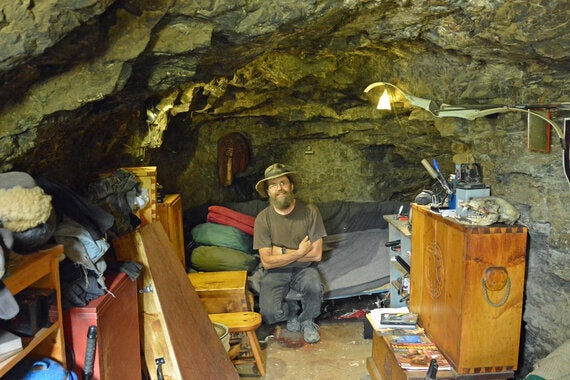 For the past 18 years, "Caveman Bill" Donaldson has lived in a cave above the Yukon River in Canada's North.
Yup, this is for realsies. His cave is fully equipped with two small LED lights, a woodstove, cooking facilities, and a bed. There are also two dogs who live under his mattress. Outside, Bill operates a small wood-working shop for building and selling customized furniture, as well as a chicken coop.
"When I first got to Dawson City, I was looking at a bunch of different options," said Bill. "Tent City was going at the time. Around 300 to 500 transient workers set up a camp down by the ferry land. But it was a bit too much a zoo for me. My friend Kevin suggested that there were some caves across here. So I came over, checked them out. And once the river broke, I threw in my canoe and paddled over and moved on in."
His home is located directly across the river from Dawson City, a small town in Canada's Yukon, which was once the Klondike Gold Rush's epicentre. You can see the outside of Bill's abode from a boat cruise out of Dawson City -- and maybe even see Caveman Bill himself. Or you can watch this short video interview with Bill to get a glimpse into his way of life.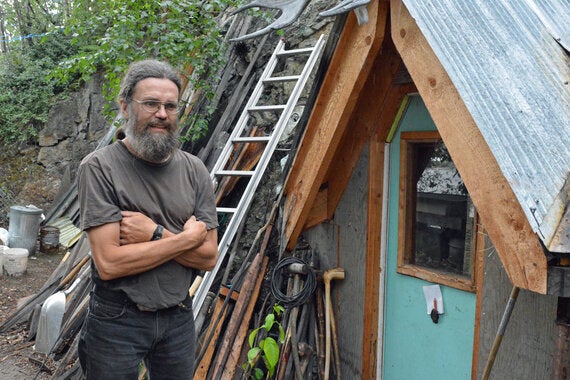 Over the years, Bill converted the cave into a home and built furniture for the dwelling.
"As I lived here longer and longer, of course you just start naturally making it more comfortable," he said. "A friend of mine gave me a woodstove. Then I put in a door, and the next thing you know there's carpet down. And that carpet eventually evolved into a full on floor. I started building more and more furniture."
"But I manage to do most of what I need by myself. Obviously, some things you've gotta buy, you can't make for yourself. It's kind of hard to cobble together a computer."
What's most surprising? Bill is just an ordinary guy...who happens to live in a cave. He doesn't preach a "cave dwelling lifestyle" or reject modern thingamajigs. He enjoys watching Dexter on his laptop, has 510 Facebook friends, and bikes into town to visit his buddies. He's well-known around town as a skilled handyman and wood-worker, as well as a celebrated tourist attraction.
"I think having a more off the grid existence helps you to hone down a lot of the stuff that you don't really need," Bill said. "Electricity-wise, here, I use in a week what probably most people use in a couple of hours. And you don't need to!"
While cave-dwelling isn't for everyone, Bill certainly gives an opportunity to reflect on our own lifestyles. As Bill's story shows, it's possible to pursue a different way of life - including one that's "off the grid" - and still be a functioning member of society.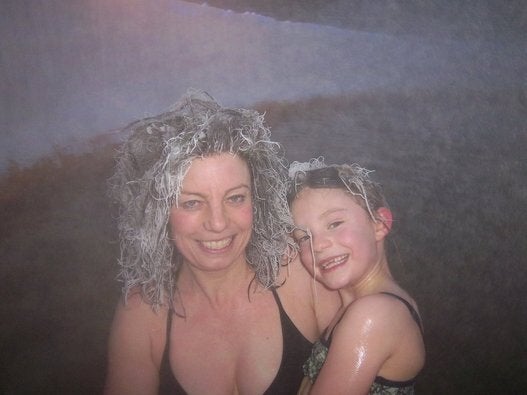 Frozen Hair at Takhini Hot Pools in the Yukon
Popular in the Community