An hour and a half north of Toronto, residents of a quiet rural community are pitted against Ontario's largest potato grower and the multi-billion dollar hedge fund that backs it over a proposed "mega quarry" in some of the province's best farmland.
At stake, locals claim, is a way of life and the potential contamination of the community's water supply — fears the company dismisses as unfounded.
On a dirt side road in Melancthon Township, an hour and a half northwest of Toronto, the cold fall wind whips through the bare limbs of two trees that line an old farm lane. The trees are like grave markers; the last hint of an extensive farmstead that once stood at the end of the drive before it was razed to the ground.
With towering silos and sprawling outbuildings, farmsteads are the castles of Ontario's rural townships. A farmer will tell you that his job is different from any other vocation; that there is something uniquely tangible about tilling the soil, caring for livestock and witnessing first-hand the cycle of life. Farmers are the businessmen of life's essentials, but they often speak of their vocation like romantics.
Melancthon wasn't the sort of community that looked for conflict – an unpretentious farming township more in tune to the turning of the seasons.
But sometimes the allure of riches will sway even the romantics.
Just down the road are two other bulldozed farmsteads, among 30 that have disappeared in the last few years due to a new member of the community: The Highland Companies.
The project would be the largest of its kind in Canada, drawing from a one billion-tonne reserve of stone tucked away under the potato fields now owned by Highlands.
Over chili and biscuits at Ralph and Mary-Lynne Armstrong's kitchen table, conversation goes right to the subject of the proposed quarry.
"The corporate thoughts of what they should do here and what the community thoughts are ... they're not the same," says Ralph, who grew up on the farm.
In their late 60's, the couple raises beef cattle, sheep and pigs on about 200 acres located within sight of property owned by Highlands.
Based in Melancthon, representatives of Highlands first appeared in 2006 and started buying up farms for a world-class potato operation (the area is a major source of potatoes eaten in the nearby Greater Toronto Area). For those accustomed to the vagaries of farm income, it was a tantalizing offer of quick riches. In a span of just more than five years, Highlands came to own and manage a combined 8,500 acres, much of it from Ontario's dwindling stock of prime agricultural land.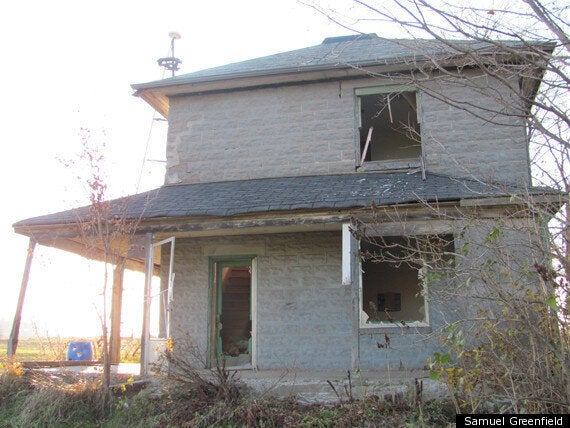 "At the beginning it was a lot of confusion because we didn't know who was selling or who wasn't selling," says Ralph. "Some of us felt that it was aggregate [materials such as gravel used in construction] that was coming down the tube somewhere," adds Mary-Lynne.
The Armstrongs were approached by three different Highlands representatives offering to buy their farm. They held out. The property had been in the family for more than 150 years and they aimed to keep it that way. The couple has five daughters – one might take over the farm with her husband. They recall how one of the Highland representatives told them they might as well sell because they didn't have any boys to take over the family business.
"As if daughters couldn't take over the farm," says Mary-Lynne.
True to their word, Highlands started growing potatoes – so many of them that they became the largest potato grower in Ontario, producing more than 45 million kilograms (100 million pounds) annually. That also made them a major property owner, taxpayer, and a sizable employer in the sparsely populated township.
But some residents felt there was something strange about Highlands: There was the demolition of the farmsteads and fence rows; the wide swaths of empty space clear-cut through bush lots; the archaeological walks and the digging of test wells.
By March 2011, when Highlands officially filed a 3,100-page application for a 2,316-acre quarry, their intentions had been known for a while. Still, locals said the company had not been forthcoming when they first snapped up farmsteads – a claim Highlands disputes.
"At the time of purchase they [company representatives] were keeping all options open and they were always very clear to people when questions were asked," says Lindsay Broadhead, of the public relations firm Hill and Knowlton Canada, which speaks for Highlands.
Opposition to the quarry has grown steadily. Anti-quarry lawn signs popped up throughtout Melancthon, and in Toronto as well, as activists tried to make it an election issue in the fall campaign.
Foodstock, an event held in the area last October to oppose the mega-quarry, featured big-name chefs and drew an estimated 28,000 people.
"The media to date has created [...] polarized position[s] on this. So it is an 'us versus them' [situation]," says Broadhead.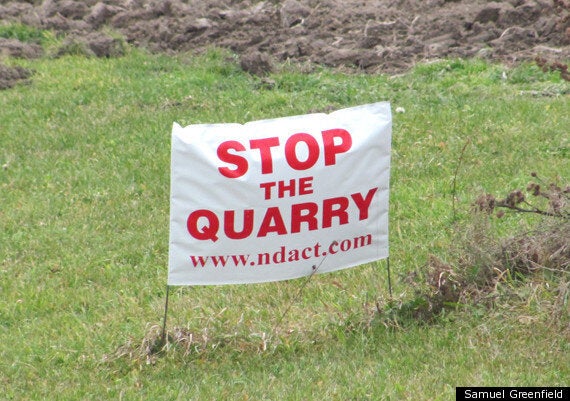 Chief among residents' complaints is the alleged threat to the community's groundwater.
In Melancthon, water is never far away – just a few feet below in some places. Locals say it practically bubbles out of the earth, feeding the lakes, ponds and rivers that are everywhere in the area. The high water table, combined with excellent soil, is a boon to local agriculture.
For a simplified understanding of what a water table is, imagine digging a hole in the sand at a beach. You've hit the water table when water begins to seep in and form a pool.
Melancthon's potato fields are part of a 15,000-acre plateau of Honeywood silt loam soils bordered to the east by the Niagara Escarpment. This soil is ideal for potatoes: It's a fertile mixture of sand, silt and clay that provides superb drainage.
The rock below is dolomite limestone. The carbonate rock is soft and porous. Water gets into the pores, and over time, slowly dissolves the rock. This rock formation is known as a karst. It is full of fractures and cavities of varying sizes through which water readily travels.
This subterranean water can be under great pressure as it moves from high pressure to low pressure areas. Melancthon's high elevation makes it something of a geological water tower for surrounding watersheds as water flows with gravity.
Although the water is good for local agriculture, it makes quarrying a complicated venture – especially since Highlands wants to scrape and blast up to 60 metres (200 feet) below the water table. In order to keep the quarry dry enough to extract stone, the company would need to pump up to 600 million litres of water out of the pit every day – about 7,500 backyard swimming pools worth of water.
Highlands, which is backed by the Baupost Group, a multi-billion dollar U.S.-based hedge fund, plans to put water back down into the aquifer through a number of recharge wells. The company insists ground water will not be contaminated and the quarrying will have no significant impact on water in the surrounding areas.
"No project can go ahead unless it meets all the standards," says Broadhead. "This isn't something that's going to happen tomorrow. And all that testing needs to be validated by government bodies at the end of the day."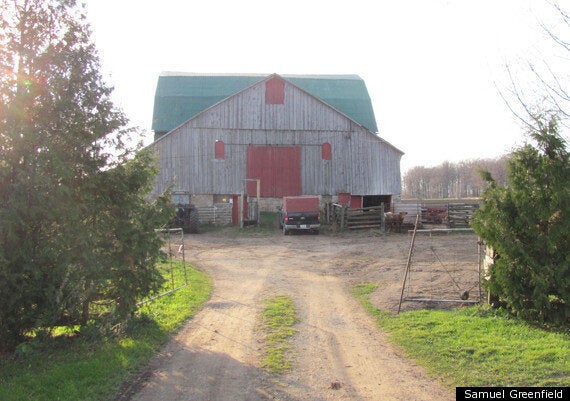 The company paints a rosy picture in which the quarry floor will be rehabilitated into productive farmland. Concerns about excessive dust, contamination of groundwater from explosives (ammonium nitrate and diesel fuel) and increased local traffic from up to 150 heavy trucks entering and leaving the quarry every hour are all addressed by the Highlands – even though not all the locals are convinced.
"There are dust regulations, there are noise regulations, there are traffic regulations; all of those have to be met. In every case I think Highlands has been very vocal in its commitment to either meeting or exceeding every one of those standards," says Broadhead.
Any discussion that does not address the need for aggregates leaves an important element out of the debate, notes Broadhead.
"If there is indeed a need for aggregates, where else do you dig? Can you dig anywhere else?" she says. "Is it better to go farther north to disrupt a similar but different community and transport it over longer distances?"
A promotional video on the company's PR website entitled "The choice is clear" suggests that the Melancthon quarry is a better alternative to digging rock out of the Niagara Escarpment.
But local rancher Carl Cosack doesn't share Highlands' optimism.
"This is the crux of it: They say, 'It [the water] can run the way it is today, we can collect it, then re-pump it [and it] will continue like it was before'. It won't. You don't have to have a PhD to see that this isn't going to be this way," says Cosack.
Cosack's skepticism is echoed by Emil Frind, a hydrogeologist at the University of Waterloo who wrote a letter to Ontario's Ministry of Natural Resources outlining his concerns with Highlands' proposed quarry.
"They are brushing everything off, they say everything is going to be fine, but they really don't have any proof," says Frind. He wants to see the company prepare for the worst-case scenario, such as the failure of equipment designed to inject water back into the aquifer. If that were to happen, Frind believes a depression in the water table could occur, extending for kilometers around the quarry.
Further complicating the matter is that the area sits at the headwaters for several rivers and their watersheds. Anti-quarry activists are concerned that if the project goes ahead as planned, those areas downstream could be adversely affected.
Meanwhile, they've vowed to keep the debate going in what is very much becoming a war of public opinion. Highlands is now treading carefully, reassuring residents of its commitment to the land and the community.
When asked why Highlands demolished the farmsteads, Broadhead says it was because many of the properties were of "low quality" and that the company has converted the space to farmland.
"It would be one thing if they [Highlands] just came in and were digging and leaving. They're farming and they're going to continue to farm, so their neighbours' water tables are also their water tables, their neighbours' quality of soil is also their quality of soil," says Broadhead.
In order to dig, Highlands must first succeed in getting the land rezoned and obtain a quarry licence from the natural resources ministry. The project was also recently ordered to undergo a provincial environmental assessment (EA) – a small victory for activists, since quarries are normally exempt from EA's.
Back in the Armstrongs' kitchen, it seems like a David and Goliath struggle. The couple could have retired from the farm with hundreds of thousands in the bank. Instead they chose to stay and challenge a company backed by billions of dollars because they believed it was the right thing to do.
"If this quarry went through as proposed I think farming, over a period of a few years, will be gone out of this area," says Ralph. "The essentials of life are the sun, the air, and the water and the soil. You can't take any of those away or we'll perish."