Mulroney is a Toronto-based TV host and celebrity stylist who befriended Markle while the actress was shooting the TV show "Suits" in Toronto. Mulroney's father-in-law is former prime minister Brian Mulroney.
Senior royals were reportedly caught off guard by Wednesday's announcement that the Sussexes wanted to seek a "progressive new role" and divide their time between Britain and North America.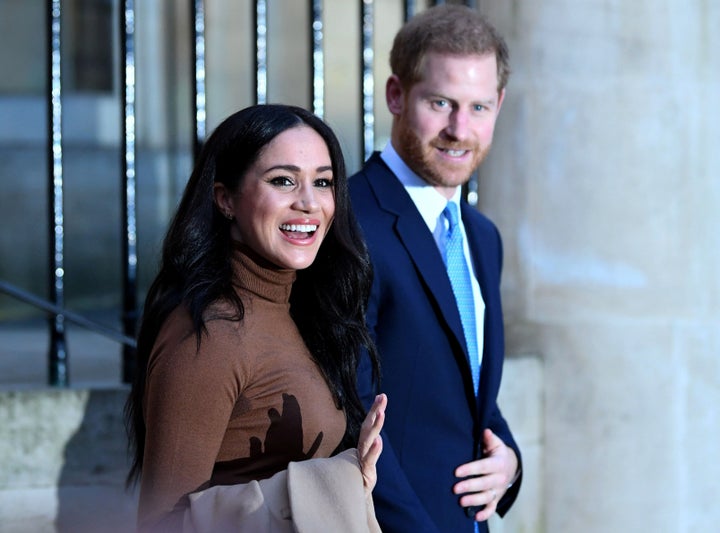 "We intend to step back as 'senior' members of the Royal Family and work to become financially independent, while continuing to fully support Her Majesty The Queen," the couple said on Wednesday.
"This geographic balance will enable us to raise our son with an appreciation for the royal tradition into which he was born, while also providing our family with the space to focus on the next chapter, including the launch of our new charitable entity."
Buckingham Palace responds
Just a couple of hours after the Sussexes made their announcement, Buckingham Palace released a statement in response, which said: "Discussions with The Duke and Duchess of Sussex are at an early stage. We understand their desire to take a different approach, but these are complicated issues that will take time to work through."
Scobie reports that conversations between the couple and members of the Royal Family had been happening for the past few months, and that the duke and duchess had been planning to reveal their plans to the public once all the details had been finalized.
However, that plan changed when the U.K. tabloid The Sun leaked information about their plans, forcing the couple to make their announcement earlier than they would have originally liked.
"It was a case of act now or lose control of something they had spent a long time working on," a source told Scobie.
And although their announcement came as a surprise to the Queen, and other senior royals, they weren't angry with the couple. The reaction, according to a high-ranking palace aid, was "far from the dramatic emotional response described by some — nobody was 'incandescent with rage' and nobody is about to punish anyone."
While other members of the Royal Family have had paying jobs, such as Princess Eugenie and Princess Beatrice, it was not immediately clear how Harry, 35 and sixth in line to the throne, and Meghan, 38, could become what royal biographers said was effectively "half-royal" — and who would pay for their transatlantic lifestyles.
Public relations experts said they could use their global fame to make large sums through public speaking, endorsements, or their own TV production company.
"The monarchy needs to be asked serious questions about what they're up to, it's not good enough to be told to wait for clarification or to be left reading the tea leaves to work out what their intentions are," said Graham Smith, from campaign group Republic, which wants to abolish the royals.