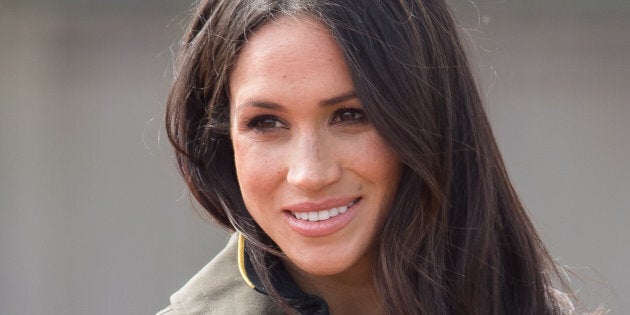 With just weeks to go until the royal wedding, we've been wondering: how has Meghan Markle's dog been settling into his new, posh life?
Markle's rescue pooch is clearly a huge part of her life (he's already moved into Kensington Palace!), and HuffPost Canada has the exclusive story behind his adoption. Markle, who will marry Prince Harry on May 19 at Windsor Castle, adopted her rescue beagle, Guy, in 2015 through an adoption event between a Pet Valu store in Milton, Ont., and the rescue group, A Dog's Dream Rescue.
The former "Suits" star's compassion for rescue animals is one of the qualities that stood out for Alison Preiss, marketing manager at Pet Valu.
"I think that Meghan has definitely shown that she is the type of person who believes in a kinder way of life," Preiss told HuffPost Canada in a phone interview.
"We heard about her wedding cake, for example, having seasonal, more natural ingredients, so I think [adopting] was important to her, a chance to give back by adopting two dogs." (Markle also had another dog, a labrador-shepherd called Bogart, who now lives with her friends.)
According to Preiss, it was love at first sight for the former actress when she met Guy. "She zoned in on [Guy] ... Guy and Bogart were totally into each other," Preiss said.
"She was really well prepared," Preiss added, noting that Markle impressed A Dog's Dream Rescue founder Dolores Doherty with her application. "Meghan got in touch with [Doherty] through Petfinder and Dolores said, 'Here's an application,' and Meghan had hers back within 10 minutes."
Doherty, who said she had never watched "Suits," noted that Markle gave "no indication" that she was a TV star when the two met in person.
"[Markle] came in and she was a very pretty woman, quite striking, and she had her hair all tucked under a black cap, and she had on a flannel top, and a coat and jeans and shoes, nothing expensive looking just a normal kind of person who wants to adopt a dog," Doherty told HuffPost Canada in a phone interview.
"She was just so normal, very intelligent, outgoing, confident-type woman. She wasn't pushy or flouting anything at all ... she was just really a nice person, and I thought, 'Well, I was really happy that Guy would have such a good home with her,'" she added.
"I was waiting in Milton for him to be driven up and his paperwork from the pound just said 'The little guy,' and I tried [some names] but he wasn't responding to anything so I said 'Little guy' and I think he was so used to people calling him it that he responded, so I said 'Your name will now be Guy,'" Markle told the mag.
Guy, who came to Canada from Kentucky, gained mini-fame last year after it was revealed that Markle, 36, took him (but not Bogart) to the U.K. to live with her and Prince Harry at Kensington Palace after having lived with both dogs in Toronto.
"It's an absolute fairy tale when you think about it," said Preiss of Guy's plush new life. "This is a dog in Kentucky that nobody wanted and now he's living in a palace with the Royal Family."
That doesn't mean he's eating as well as the Queen, though. "I don't think he's getting a filet mignon, but I do think he's getting good quality dog food, I'm sure [Markle's] continuing with that," noted Doherty.
Even though Guy may be living his best life at Kensington Palace, Doherty says the Queen's corgis aren't impressed with the beagle, noting that during an interview she did with CNN, the reporter mentioned that she had visited Kensington Palace and was told that the "corgis didn't like Guy."
"But [the reporter] said [the corgis] really liked Meghan and I said, 'Well, that's understandable because she really likes dogs,'" Doherty said.
In Markle and Harry's first joint interview after they announced their engagement last year, Harry brought up the moment his fiancée met the royal corgis. "The corgis took to you straight away," Harry said to Markle. "I've spent the last 33 years being barked at; this one walks in, absolutely nothing."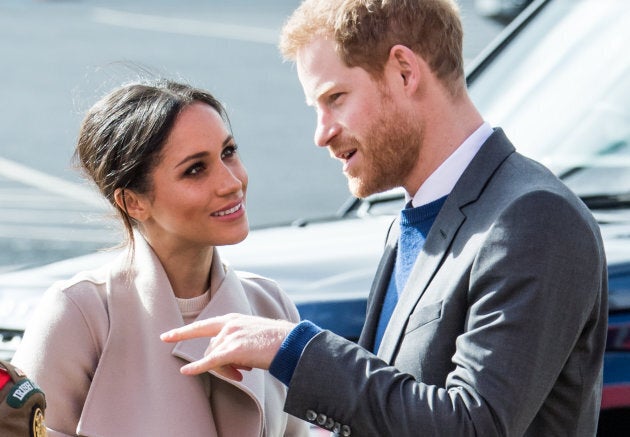 With the royal wedding coming up soon, Preiss says Pet Valu will be making a donation in the form of a gift basket to one of Doherty's available rescue dogs in lieu of sending a gift, as the couple recently requested that members of the public donate to one of their selected charities rather than send them a wedding present.
Although we don't know whether Markle's beagle will play a part in the royal wedding, Doherty thinks if Markle could get away with involving her beloved pet, she would.
"I think it would be great to have Guy come down the aisle dressed as the ring carrier," Doherty said. "If he would be allowed to come and be involved in the reception area, then I do see that. [Markle's] the type that would do that."