She may be in England to attend the biggest wedding event of the year, but Meghan Markle is still bringing the Canadian love with her over the pond.
At the grand event, Markle will be among some of Harry's most prominent friends and family, including Prince William and Pippa's sister, the Duchess of Cambridge. Meghan has reported already met Kate and it went "really well," which is not surprising!
So, how is Markle prepping for Pippa's big day? With a trip to the spa, of course! And though the sight of Prince Harry's girlfriend is exciting for nearly every royal fan, it's Meghan's casual get-up that has Canadians buzzing.
Yup, that's the Toronto-based actress wearing a Toronto Blue Jays baseball hat just a day before the ceremony.
Paired with white Nike's, an oversized black hoodie from Aritzia and cropped yoga pants, Meghan accessorized her Blue Jays look with sunnies and a Mulberry clifton bag in a rosewater colour.
Though Meghan probably won't be repping the Jays at the wedding tomorrow, we are standing by to see what she'll wear to the event!
She may have been born in Los Angeles, but boy, is Meghan sticking to her Canadian roots.
Read more about Pippa Middleton's wedding: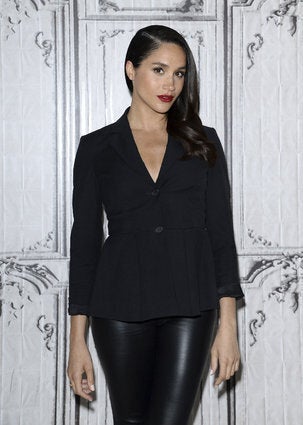 Meghan Markle