"Women come in all sizes," the 44-year-old "Bridesmaids" star said in an interview with Refinery29 on Monday. "Seventy per cent of women in the United States are a size 14 or above, and that's technically 'plus-size,' so you're taking your biggest category of people and telling them, 'You're not really worthy.' I find that very strange."
"If you're going to make women's clothing, make women's clothing," she continued. "Designers that put everyone in categories are over-complicating something that should be easy."
It's not only the designers who McCarthy takes issue with. She said that retailers further segregate women with their "plus-size" clothing sections.
"I don't like the segregated plus section," she told Refinery29. "You're saying: 'You don't get what everybody else gets. You have to go shop up by the tire section.'"
However, McCarthy said that there are retailers who are ready to back her mission.
"I have a couple of very big retailers that I think are going to help me chip away at that in a very meaningful way, and I'm really excited about it."
McCarthy isn't alone in her fight to end the segregation women with the "plus-size" label. Australian Model Stefania Ferrario started the #DropThePlus movement earlier this year, calling on the fashion industry to stop labelling models as "plus-size." She shared a nude photo of herself on Instagram with the words "I am a model." scrawled on her stomach.
She captioned the photo: "I am a model FULL STOP. Unfortunately in the modelling industry if you're above a US size 4 you are considered plus size, and so I'm often labelled a 'plus size' model. I do NOT find this empowering."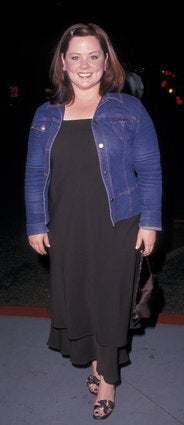 Melissa McCarthy's Style Evolution