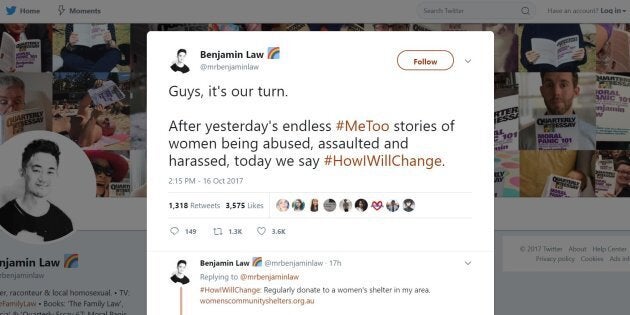 By now, almost every woman you know has likely shared the hashtag #MeToo to illustrate the reality of sexual harassment in the world today. But while the campaign has raised awareness and created solidarity among victims everywhere, many have noted that the hashtag isn't enough to create change.
Writer Benjamin Law came up with the hashtag and shared it on Twitter Monday asking men to share how they will be allies to women.
He then kicked off the campaign by sharing a list of his own plans to be an ally, including donating to women's shelters, calling out sexist men, and reporting rape. But perhaps the most important change he listed was his vow to change his mentality when it comes to sexual harassment.
While Law's Twitter campaign had an overwhelmingly positive response, there were some men who were adamant that they're "not part of the problem." But as Law noted, these people are "the definition of the problem" because of their reluctance to acknowledge the issue at all.
Educator William Fujarczuk, of the Male Allies program of the Sexual Assault Support Centre of Waterloo Region in Ontario, previously emphasized to HuffPost Canada that men play a vital role when it comes to creating change regarding sexual harassment, which is why the conversation shift from "me too" to "I will" is so important.
Popular in the Community