Face it: once they start rolling out the back-to-school ads you know it's game over for summer. Best to just hit play on "Cheerleader" one last time, pour yourself a stiff drink and accept that the next six months are going to be a frost-bitten take on Dante's Inferno.
Joking, of course. If anything, for Canadian menswear aficionados and fashionistas, the next few months are the closest thing we get to heaven. With warm days and sweater weather at night, fall fashion is full of opportunities for layering, playful mix-and-matches with texture and an entirely new colour palette.
Menswear trends for fall 2015 are in keeping with the year's heavy 1970s influences, featuring high turtleneck sweaters, flared and wide-leg trousers and warms tones across the red, orange and brown spectrums. There's also been a return from more unusual materials (read: neoprene) to traditional options like raw denim, suede and leather.
Asia has also been hugely influential this year in menswear, from the Met Gala's theme of "China: Through the Looking Glass" and personified in the rise of Asian male models. Cuts and styles for autumn 2015 are reflective of this, with wider, flowing pant shapes, kimonos for men and Oriental-inspired patterns.
Gender neutrality and street wear are also still going strong, though they are significantly more subdued for fall 2015 than the year prior. While the styles still have their niche in the market, they are following the traditional materials trend and are adhering closer to more familiar cuts and influences (barring of course Rick Owens' NSFW full-frontal fall 2015 look).
While we don't recommend giving up on summer just yet, here are 10 fall 2015 menswear trends to get you excited for autumn.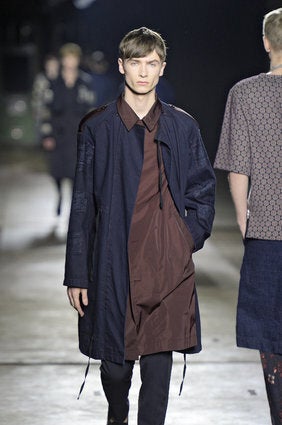 Men's Fall 2015 Fashion Trends